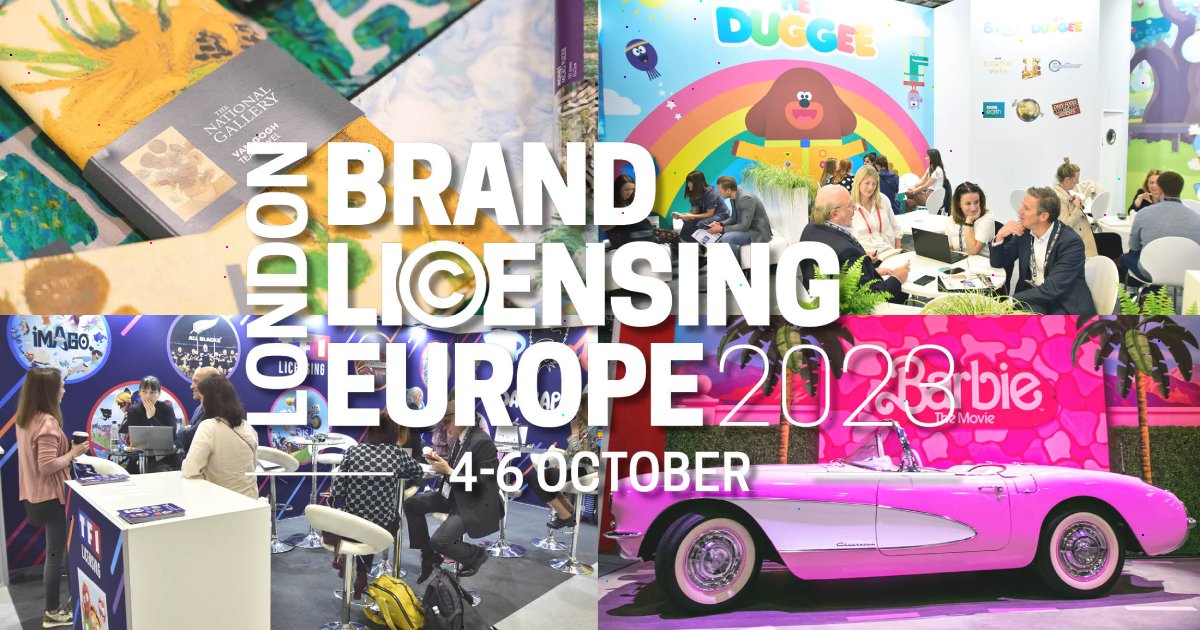 With One Month to Go, Brand Licensing Europe Confirms 251 Exhibitors, 57 First Timers, a New Licensee Pavilion and Advice Centre, and Visitor and Retail Registrations Tracking Ahead of Last Year
London — As the sun sets on summer in Europe, Brand Licensing Europe (BLE) reveals exhibitor numbers have surpassed 250 (14% up on last year) including almost 60 first timers, strong visitor and retail registration and the launch of a new Licensee Pavilion and Advice Centre for 2023.
To date, 251 companies are confirmed to exhibit at BLE next month, including Mattel, AC Milan, Pokémon, Aardman Animation, Crunchyroll, FC Barcelona, Natural History Museum, Gallimard Jeunesse, Hasbro, Jazwares, Le Petit Prince, Paul Frank, Perfetti Van Melle Group, Riot Games, TF1 Licensing, Smiley, Ubisoft, Van Gogh Museum and many more. Over the summer, the numbers were strengthened with the addition of Boat Rocker, Guinness World Records, Milano Cortina 2026, Nine Mile Babies, last year's License This! Winner Spookysaurus, Konami Cross Media and many others.
Meanwhile, visitor registrations from retailers and manufacturers have been steadily rising and are tracking well ahead of last year, with registrations confirmed from Deichmann, Next, Aykroyd & Sons, H&M, John Lewis, Ferrero, Celio, Famosa, Primark, Aldi, Ravensburger, Tesco, FatFace, Lidl, Ackermans, Simba Dickie Group, George at Asda, Liberty London, Goliath Games, Amazon, PepCo, Erve, ASOS, Boots, Panini SPA, Selfridges, Funko,  and many more.  
Category representation is broad with registrations covering toys, apparel, homeware, greetings, stationery, health & beauty, food & beverage, live experiences and many more.
Thousands of meetings have been requested through BLE's online Meetings Platform. Organisers are expecting the Meetings Platform to be incredibly busy from this week and urge visitors to start planning itineraries as soon as possible, and remember to block out 5-7pm on Wednesday 5 October for the free Welcome Drinks on the showfloor.
"Now summer's over and we're just one month until BLE, it's time to get planning: get those meetings booked in before brand owners close their calendars and you miss out, schedule time for shopping the floor for inspiration and relevant education sessions – the agenda is online and our second keynote will be announced next week. They are someone who has never spoken at a Global Licensing Group event before and somewhat of an exciting departure for us," said BLE event director Ella Haynes.  
"Plus, don't forget to block out 5pm-7pm on day one for our showfloor Welcome Drinks. This will be followed by Licensing International's Soho Nights party in central London. Tickets are on sale now, so make sure you get those booked, too."
Also revealed over the summer – a new Licensee Pavilion (C171) and Advice Centre (C230 & C231) for BLE 2023. The Licensee Pavilion has been introduced in response to increasing demand from licensees who want to exhibit, often because they have services to offer the retailers in attendance , and showcase their products to the exhibiting brands.
This year's Pavilion features:
New for 2023: Smash Industries Global

New for 2023: Play Management Company
New for 2023: E plus M
New for 2023: Best of Both Worlds
New for 2023: Park Agencies
New for 2023: KONIX Interactive
Elsewhere on the showfloor, BLE attendees will find more exhibiting licensees including first timers Half Moon Bay, Erve, Outerstuff and StoneK, plus Sun City, Fashion UK, Sabor, Bioworld, Difuzed, Jazwares, which returns with a bigger presence for 2023.
Lucy Earing, head of product, Half Moon Bay: "We've always attended BLE as visitors, but this year we decided to exhibit because we want more people to know about the collaboration service we offer to brands and retailers. We'd love to find more partnerships – perhaps retailers who want to partner on DTR – or brands that need guidance / a partner that can support them in creating assets and want product at retail. Of course, we'll also be there as visitors and will be looking out for licenses ourselves."
Also premiering at BLE this October is the Advice Centre, which launched to huge success at Licensing Expo in Las Vegas earlier this year. Attendees will be able to enjoy free expert advice from suppliers in the centre, including:
Redpoints

and Axencis who specialise in counterfeit solutions
IP tokenisation with NFT verification to remotely sign license agreements from iLicensing Works

PwC

, leaders in licensing agreements and regulatory support within the industry
Visitors can register for a free ticket to attend at www.brandlicensing.eu.
About Brand Licensing Europe
Launched in 1998, Brand Licensing Europe is the only pan-European annual event dedicated to licensing and brand extension. The London event features over 2,500 brands and more than 7,500 licensees, manufacturers, retailers, distributors, and licensing agents. Brand Licensing Europe is a part of the Global Licensing Group at Informa Markets, the licensing industry's leading trade show organiser and media partner. Its mission is to provide licensing opportunities around the world by bringing brands and products together.
About Global Licensing Group   The Global Licensing Group at Informa Markets is the licensing industry's leading tradeshow organizer and media partner. Its mission is to provide licensing opportunities around the world by bringing brands and products together. The following events and information products are produced for the licensing industry by the Global Licensing Group at Informa Markets: Licensing Expo, Brand Licensing Europe, , Licensing Expo Shanghai, Brand & Licensing Innovation Summit License Global magazine, licenseglobal.com and License Global Daily E-News. Global Licensing Group events are sponsored by Licensing International.  
About Licensing International   
Licensing International is the leading trade organization for the $340+ billion global brand licensing industry. Licensing International's mission is to foster the growth and expansion of brand licensing around the world, raise the level of professionalism for licensing practitioners, and create greater awareness of the benefits of licensing to the business community at large. Founded in 1985, more than 1,500 Licensing International member companies in over 40 countries enjoy access to an array of benefits, including extensive educational programming and worldwide networking events. Visit www.LicensingInternational.org for more information.