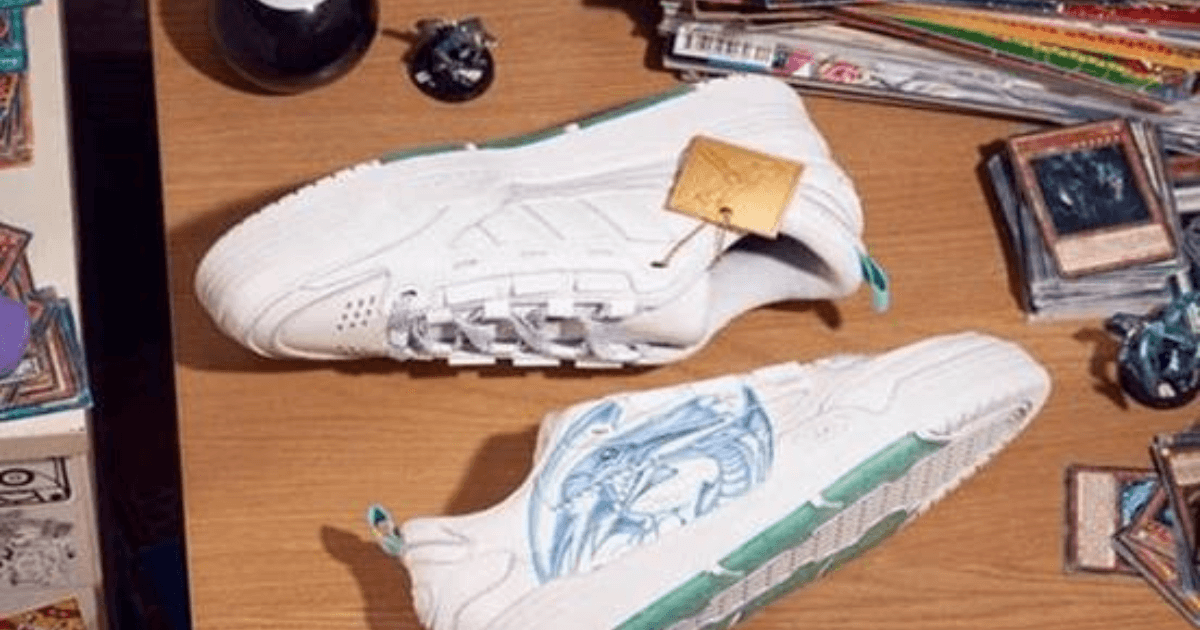 Yu-Gi-Oh! and Adidas Join Forces to Create and Launch New Footwear Styles
"Adidas Originals x Yu-Gi-Oh!" to be Unveiled Online and at Retail on October 7 
New York, NY — Get ready to unleash the 'Duel Magic' as the universes of adidas and Yu-Gi-Oh! have collided; spilling out an array of marvelous monsters, stripes, spells, trefoils, traps and most incredibly, a fresh deck of footwear, ranging from high-energy sneakers to fashionable sandals.
The announcement was made by Jennifer Coleman, Vice President of Licensing Marketing, Konami Cross Media NY, Inc., a subsidiary of Konami Digital Entertainment, which manages the Yu-Gi-Oh! brand outside of Asia.
Available on October 7th, "adidas Originals x Yu-Gi-Oh!" will consist of two Adi2000 styles alongside two Adilette's, designed in collaboration with one of the most recognizable Anime brands in entertainment history.
Taking a step into nostalgia, the Adi2000 is a colorful, skate-inspired shoe that features two of the most well-known monsters from the trading card game and Anime series, with suede, mesh and leather upper, paying homage to its predecessors. The Adilettes are open-toe sandals featuring a rubber sole with inner and outer lining that features slip-on comfort for pairing with loungewear, perfect for Yu-Gi-Oh! fans to wear on their days off.
Adidas Originals x Yu-Gi-Oh!" will feature two of the most legendary and powerful characters in the game; summon the Blue-Eyes White Dragon or Dark Magician through your Adi2000 sneakers or Adilettes. Each comes complete with their own accessory; one piece of the Exodia The Forbidden One as a metal hang tag to add even more magic to this release.
About Adidas Originals:
Inspired by the rich sporting heritage of adidas – one of the world's leading sports brands and a global designer and developer of athletic footwear and apparel – adidas Originals is a lifestyle brand founded in 2001. With the adidas archive at its foundation, adidas Originals continues to evolve the brand's legacy through its commitment to product innovation and its ability to filter the creativity and courage found on the courts and sporting arenas through the lens of contemporary youth culture. Marked by the iconic Trefoil logo that was first used in 1972 and championed by those that continue to shape and define creative culture, adidas Originals continues to lead the way as the pioneering sportswear brand for the street. 
About Yu-Gi-Oh!:
A true global phenomenon and perennial fan favorite, the Yu-Gi-Oh! Anime brand ranks among the top 25 highest-grossing media franchises of all time.  Celebrating over 25 years and amassing a fervent following, the brand continues to flourish with each new series and expansion. To date, fans have engaged by reading the manga, watching more than 900 Yu-Gi-Oh! Anime episodes, downloading Yu-Gi-Oh! DUEL LINKS, Yu-Gi-Oh! MASTER DUEL and Yu-Gi-Oh! CROSS DUEL.  Fans have also supported the brand at the box office, retail and have played with and purchased over 25 billion units of the Yu-Gi-Oh! TRADING CARD GAME!  The future is bright for this Anime franchise with a robust slate of new content, games and merchandise planned for release in 2022 and beyond that will continue to engage and entertain audiences globally.
About Konami Cross Media NY, Inc.
Konami Cross Media NY, Inc. is a member of KONAMI Group and specializes in multiplatform brand management and production. Konami Cross Media NY takes a 360-degree approach in managing the rights to globally iconic IPs such as Yu-Gi-Oh!, BOMBERMAN, CONTRA and Frogger.