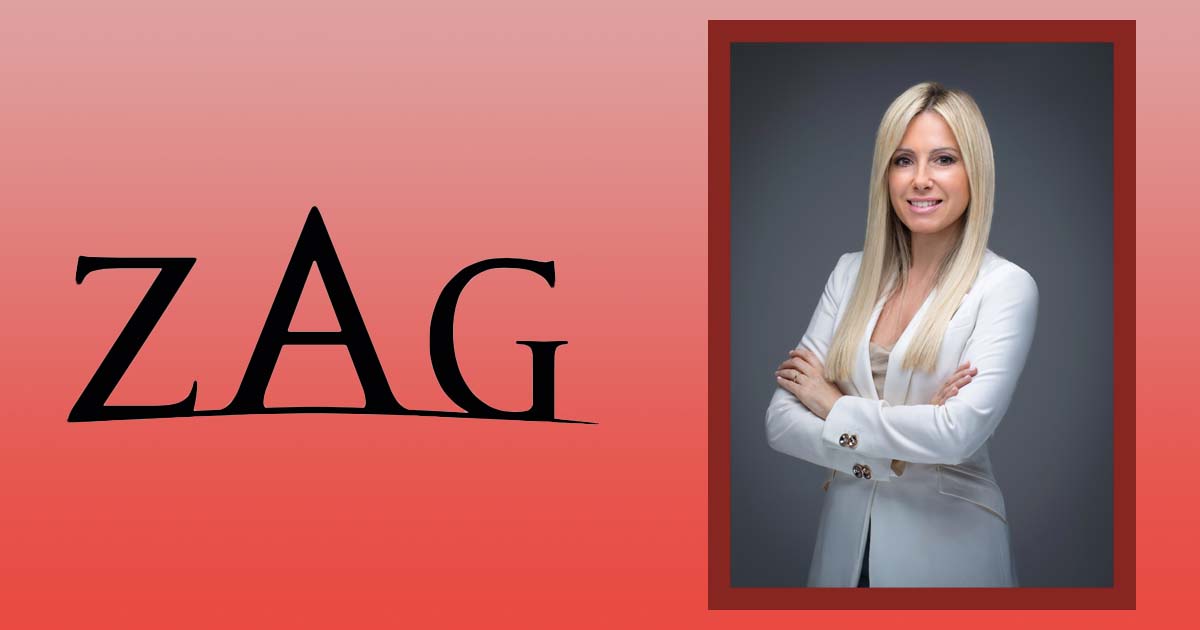 ZAG Appoints First Consumer Products VP For The Middle East And Africa
Former MGA Entertainment and Warner Bros. Executive Carlotta Caracciolo to Oversee Consumer Products' Strategy for the Region
Santa Monica, CA  — Award-winning global independent animation studio ZAG has appointed former MGA Entertainment and Warner Bros. executive Carlotta Caracciolo as its first VP, Middle East and Africa, to oversee the company's consumer products strategy in the region.  The appointment was announced today by Julian Zag, SVP Global Operations and Head of Consumer Products, to whom Caracciolo reports.
In her new role at ZAG, Caracciolo, who will be based in Dubai,  will focus on building a consumer products program for the Middle East and Africa for properties in the ZAG Heroez® portfolio, with an initial focus on Miraculous – Tales of Ladybug and Cat Noir and the company's newest series, Ghostforce.
"The Middle East and Africa have become a top priority for ZAG, and the Disney/MBC combination is a perfect duo for us to reach children and families across the region.  Miraculous is garnering strong ratings, particularly in Saudi Arabia, where the series ranked in the #1 slot on MBC, following its launch in 2018, and has remained among the top programs ever since," commented Julian Zag.  "Carlotta will lead our market expansion in the region and drive the development of licensing partners for our portfolio of brands."
Miraculous has broad reach across the Middle East with the series available on Disney Channel and MBC, whose MBC3 channel for kids is the most popular and biggest in the region.  Combined, Miraculous reaches kids in Arabic across Algeria, Bahrain, Chad, Cyprus, Djibouti, Egypt, Iran, Iraq, Jordan, Kuwait, Lebanon, Libya, Mauritania, Morocco, Oman, West Bank and Gaza, Qatar, Saudi, Arabia, Somalia, Sudan, Syria, Tunisia, United Aran Emirates and Yemen.  In Turkey, the series is available on Disney Channel. South and Sub-Saharan Africa is covered by Disney; with MBC reaching Northern Africa.
Most recently Caracciolo served for the past three years as Head of Sales and Licensing, Middle East and Africa, at MGA Entertainment where she was instrumental in launching the licensing and toy program for L.O.L. Surprise! across the region.  Prior, she was a Category Manager at the licensing agency Shooting Stars, where she managed and developed the softlines' accounts  for clients, including Warner Bros. and NBC Universal, from January 2016 to March 2019 for the GCC region, following her earlier role with Warner Bros. as a category manager based in Italy (January 2015 to January 2016).  She started her entertainment career with Warner Bros. in Italy in 2011 as marketing and retail assistant.
Carlotta stated: "I am thrilled to have the opportunity to work with ZAG, and I look forward to growing the licensing and toy footprint in MEA Region, bringing new and exciting collaborations  across multiple categories for consumers to experience the brand."
About Miraculous™: Tales of Ladybug & Cat Noir (130 x 22')
The 3D-CGI-animated superhero aspirational action-comedy series Miraculous™: Tales of Ladybug & Cat Noir was created by ZAG and is co-produced with ON kids & family (Mediawan Group).
Miraculous™ is everyone's superhero story. The series is ranked by IMDB amongst the Top 10 Best Animated Shows in the last 20 years[1].  Season four of the Miraculous™: Tales of Ladybug & Cat Noir animated TV series started to roll out in over 120 countries across the globe during spring/summer 2021, and ZAG is currently in production on season five of the series.  With a massive fan base of young adult "Miraculers," (ages 15-25), Miraculous has become a digital planetary craze with over 27.7 billion views on YouTube (authorized and user-generated content).  Over 200 million products have been sold during the past four years and retail sales have surpassed US$1B worldwide to date.   Miraculous is the winner of 25 awards, including the 2018 Teen Choice Award for Choice Animated Series.
Miraculous follows the adventures of two seemingly typical teens with secret identities, Marinette and Adrien, who magically transform into superheroes, Ladybug and Cat Noir. As secret superheroes, Ladybug and Cat Noir are partners in the action. But in the daytime, Marinette is just a normal girl, living a normal life. Cat Noir will do anything to support and impress Ladybug, but does not know this is Marinette from his class. Marinette, the regular girl, in turn dreams of Adrien and simply gets little response. When evil threatens Paris, their beloved City of Lights, can they beat the unexpected villains?
About Ghostforce
In Ghostforce, the stakes are high but always incredibly fun!  LIV, ANDY and MIKE are three junior-high school students who secretly form a team of superheroes—the Ghostforce—to fight the ghosts of New York.  Ms. Jones, a brilliant scientist, is the founder and commander of the Ghostforce and does everything she can to better identify the ghosts and has even created a fourth member, GLOWBOO, an Artificial Intelligence running on phantom energy.  With each mission, Liv, Andy, and Mike transform into Myst, Fury and Krush, superheroes armed with the powers of the ghosts they capture and high-tech gadgets invented by Ms. Jones.  They are the only ones who have the ability to hunt down the ghosts and fight them… before they hurry back to school so they don't miss the next science class!
Disney Channels U.S. acquired the series and premiered it on October 4, 2021, on Disney XD.  The series also launched in most European countries with great out-of-home and digital visibility, and subsequently became the market leader in various kids target groups, with single airings reaching up to 40.9% share among all kids 3-14, and 51.2% among kids 6-9!  In Latin America, the series will air very soon on Discovery Kids.
Ghostforce™ is co-produced with De Agostini Editores S.P.A.  A toy line for the series from ZAG Lab and Playmates will be available in 2022.
About ZAG
ZAG America, LLC is a global independent entertainment studio specializing in world-class storytelling across TV, film, and digital platforms. ZAG's foundation is rooted in compelling characters, limitless imagination, and masterful storytelling infused with original musical scores. The company is home to world-class entertainment properties under the ZAG HEROEZ label, including Miraculous™: Tales of Ladybug & Cat Noir as well as new titles Power Players (2019) and Ghost Force (2021). Visionary director and composer Jeremy Zag founded the Zag Kids and Family Entertainment Group in France in 2009, further expanding the company to the USA in 2012 with the Global Brand Franchise office in Santa Monica, California. Based in Paris, the creative headquarters, known as the "ZAG Lab," focuses on developing engaging stories beyond the screen into brands that inspire the new generation to discover their true character.  https://www.zag.com