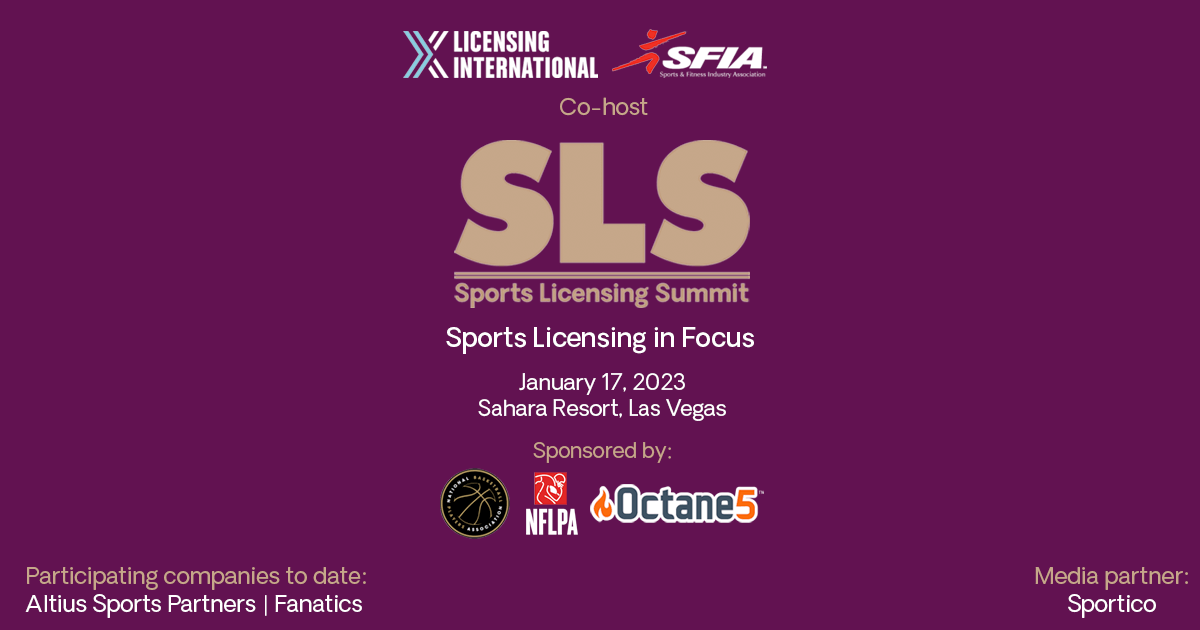 Sports Licensing Summit
Event Time
1:00 pm - 7:00 pm PST
Join Licensing International and the Sports & Fitness Industry Association (SFIA) for the 2023 Sports Licensing Summit: Sports Licensing in Focus. Prior to the Sports Licensing & Tailgate Show in January in Las Vegas, SLS will highlight the trends shaping the future of sports licensing. Interact with industry leaders from companies like Altius Sports Partners, Fanatics, NBPA, NFLPA, and Octane5 as they discuss topics including:
Insights & Intelligence
NIL Licensing
NFTs
Fandom
Retail
Brand Management
Presentations and panels 1-5pm. Cocktails and networking will follow.
Price:
Members: $175
Non-members: $250
SLS Agenda:

| | |
| --- | --- |
| 12:30-1:00 PM | Check-in & Arrivals |
| 1:00-1:05 PM | Welcome & Opening Remarks |
| 1:10-1:30 PM | Keynote- Business as Unusual: Sports Licensing Industry |
| 1:30-1:40 PM | Q&A |
| 1:45-2:05 PM | Panel #1: Fans, Fandom (collector series) Sports Enthusiasts, Lifestyle Sports Consumer |
| 2:05-2:10 PM | Q&A |
| 2:10-3:00 PM | Panel #2: NIL |
| 3:00-3:10 PM | Q&A |
| 3:10-3:20 PM | BREAK |
| 3:20-3:40 PM | Panel #3: NFT's: Dollars and "Sense" Finding Value in NFT's |
| 3:40-4:00 PM | Fireside chat: It's not how much you make, it's how much you keep: brand management and protection |
| 4:00-4:10 PM | Q&A |
| 4:10-4:30 PM | One last thing: Business Insights and Intelligence |
| 4:30-5:00 PM | Thank you to sponsors, Keynotes, Panelists and Attendees: Invite everyone to cocktails |
| 5:00-7:00 PM | Cocktails & Networking |