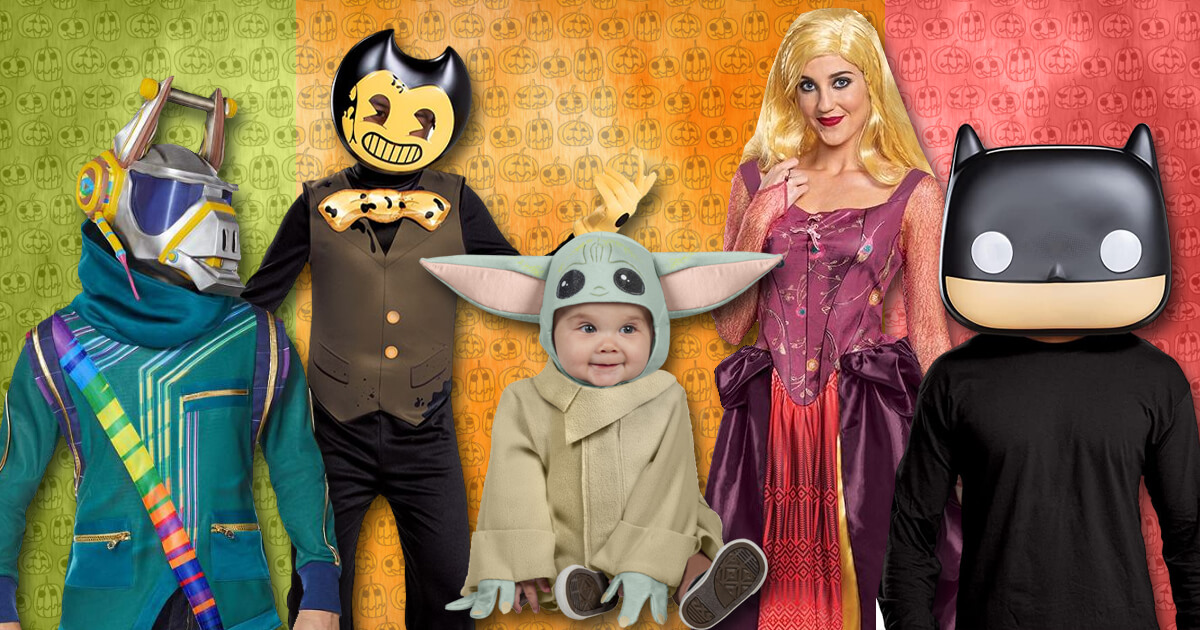 A Reformulated Halloween Is In the Offing
The outlook for the upcoming Halloween sales season is both cautious and optimistic.
Caution is the word when it comes to supply chain issues that have hampered every product category may delay some shipments during the critical 8-10 week sales period. And then there is the question of whether trick-or-treating will return to pre-pandemic levels.
Reasons for Optimism
But optimism is being driven by tentpole films returning to theaters and streaming after a nearly year-long shut and retailers' return to promoting them. Overall, U.S. sales are expected to fall between the $8 billion in revenue last year and the $8.7 billion of 2019, say industry executives. The anticipated strong back-to-school sales also are expected to leave shelves clear for Halloween this year, as opposed to the situation in 2020, when lingering back-to-school inventory delayed Halloween sets at some retailers a month to mid-September.
"Retailers are supporting movie tentpoles so there is renewed confidence in the box office," but the buy in from retailers "is still light compared to 2019 as everyone evaluates what the new normal will be," says Tara Hefter, President and General Manager of Jakks Pacific's Disguise Division. And while retailers are allocating roughly the same amount of space for Halloween merchandise as they did last year, they are "focusing their assortments and taking fewer but bigger bets," says Hefter.
Playing with the Mix
That translates into a similar number of brands represented at retail, but with a sharper focus on a property's most popular characters across a narrower range of prices, say industry executives. That may play out, for example, in retailers carrying Super Mario costumes in stores, but moving Bowser, Princess Peach and other characters to ecommerce, which is expected to account for about 25% of sales this year, according to industry executives.
At Spirit Halloween, which is increasing its number of seasonal stores this year 3% to 1,425, Miraculous Lady Bug and Paw Patrol are expected to be strong sellers for costumes and there's increased interest among consumers in nostalgia-related properties, says Holly Rawlinson, General Manager for Business Development.
"Whether it's dressing up as their favorite childhood character, embracing a princess crush, or being terrifically terrifyingly as the ultimate villain like Cruella – everyone is leaning towards what makes them feel nostalgic and happy," says Rawlinson.
The sharp growth in gaming during the past year may also be reflected in larger assortments of Fortnite, Minecraft, Pokemon and other videogames costumes and accessories. There also could ber a newfound emphasis of children's streaming properties.  The arrival of children's streaming properties in costumes was heralded a few years ago by the likes of Dinotrux (Netflix) and Spirit Riding Free (Netflix) and is expected to pick up speed with Disguise's recent licensing agreement for CoComelon – a YouTube series that recently signed a three-season deal with Netflix — with product expected to arrive in 2022. Disguise also has a licensing agreement for Bluey, which is available on Disney Channel as well as Disney+, Apple TV and Amazon Prime Video steaming services.
"We may not have looked at this category two years ago, because we weren't sure how much preschool children were watching streaming content, which was viewed as being more for adults," says one industry licensing executive. "But now children down to toddlers are watching streaming; that was only accelerated by the pandemic."
Change in the once stable array of Halloween costume suppliers also was accelerated.  Rubie's bankruptcy and subsequent sale to NECA has resulted in some shifting of licenses. Jazwares formed a Costume Play Division, hired former Rubie's and Disguise executive Stephen Stanley as general manager and landed a licensing agreement with Marvel beginning in 2022; it's currently  held by Rubie's.
"Our hope is that 2021 will be stronger and that kids will have the opportunity to be back out trick-or-treating and able to celebrate Halloween – more in-line with Halloween 2019," says Stanley.  "By October 2020, Americans were ready to have some level of normalcy and "trunk-or-treat" events became a more popular trend – we expect it to grow even more this year."
Nevertheless, retailers, having suffered "depressed" sales last year due to the pandemic, are "cautiously optimistic" this year, says Stanley.
One added ingredient to this year's Halloween season will be Disguise's partnership with Funko for Halloween masks that's expected to launch sales on Amazon in September. Under the agreement, the companies will use Jakks' licenses with Warner Brothers(Harley Quinn, Pennywise (It), Stay Puft Marshmellow Man (Sony, Ghostbusters,) and Jack Skellington and Sally (Disney,The Nightmare Before Christmas) to create masks based on Funko's Pop! vinyl figures. The masks are available for pre-order at $19.99. Another 30 styles will be added in 2022.