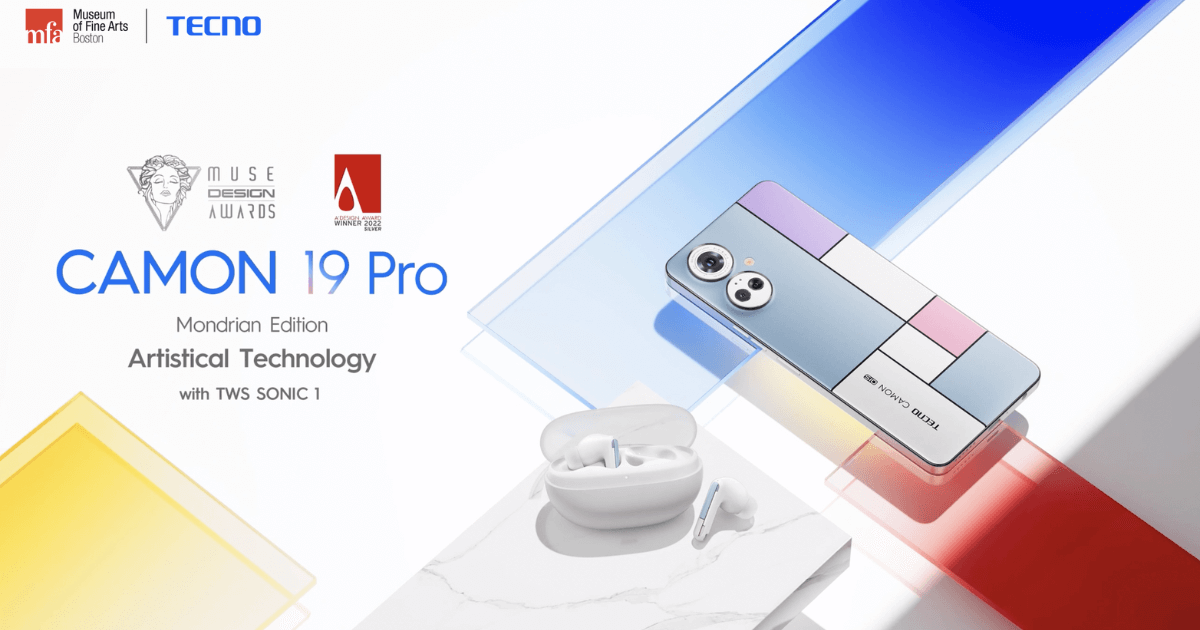 ARTiSTORY Brings Together TECNO Mobile and The Museum of Fine Arts, Boston
Art and cultural IP licensing specialist ARTiSTORY has signed a global licensing deal with premium smartphone brand TECNO to collaborate with Museum of Fine Arts, Boston. On the 7th of July, MFA, Boston hosted a product launch to unveil the TECNO CAMON 19 Pro Mondrian Edition Gift Set. Witnessed by art and art-lovers, the launch event was a perfect example of empowering storytelling through licensing.
TECNO CAMON 19 Pro Mondrian Edition pays tribute to Piet Mondrian, a 20th century art icon of abstract art best known for his bold and colorful block paintings. It is the world's first smart device that uses "sunlight drawing" light technology to allow the phone to change colors in sunlight – creating a device that is both artistic and intuitive. With the exceptional craftsmanship and its innovative visual appearance, TECNO CAMON 19 Pro Mondrian Edition collected two international design awards, 2022 MUSE Design Award from US and the A' Design Award from Italy.
Museum of Fine Arts, Boston, receives more than 1.2 million visitors a year, is one of the most comprehensive art museums in the world. It is also home to masterpieces by Katsushika Hokusai, Wassily Kandinsky, Piet Mondrian, Alphonse Maria Mucha, Paul Gauguin, Claude Monet and Paul Cézanne. Designs from ARTiSTORY's "Rhapsody of Modernism" collection take inspiration from modern artists, including Piet Mondrian.
"Aesthetics in technology are becoming increasingly important for today's consumer, as they look for a more personal mobile experience," said Lucia Liu, Chief Brand Officer, TECNO. "The introduction of the CAMON 19 Pro Mondrian Edition makes it possible to achieve the beauty of art through technological innovation as well as to bring art and style to more consumers."
"Technology as a canvas is a medium we've been exploring for years, with the help of TECNO, we can bring our renown collections to a broader audience," said Debra LaKind, Senior Director, Intellectual Property & Business Development at MFA. "It's incredible to see the work of Piet Mondrian serve as inspiration for a completely new kind of smartphone design, one that embraces the true sentiment of abstract art brought to life through technology."
"In a new era for business, museums promote the cultural value of its collections through products and crossover collaborations," said Yizan He, Founder and CEO, ARTiSTORY. "Museum collections are the symbols of human history and civilization. They are the inspiration and the creative wisdom that can bring true values of the brands to the market."
About ARTiSTORY
ARTiSTORY is a global leader in the field of art and cultural IP licensing and home of the world's top museums and heritage institutions licensing programmes. With unique capabilities of transforming "Artefacts to Merchandise", storytelling via digital content and empowered by teams globally, ARTiSTORY is committed to elevating sales revenues and brand awareness together with brands and retailers worldwide. ARTiSTORY works with world-leading museums, galleries, science museums and libraries, and conduct licensing business globally, covering brands, retailers and manufacturers in all fields.
Supported by Sinofaith IP Investment Company (SIPIC), an entity that embarks on a unique "IP+Investment" business model, ARTiSTORY is determined to build a genuinely global powerhouse and eco-system of art, cultural and science related IPs.