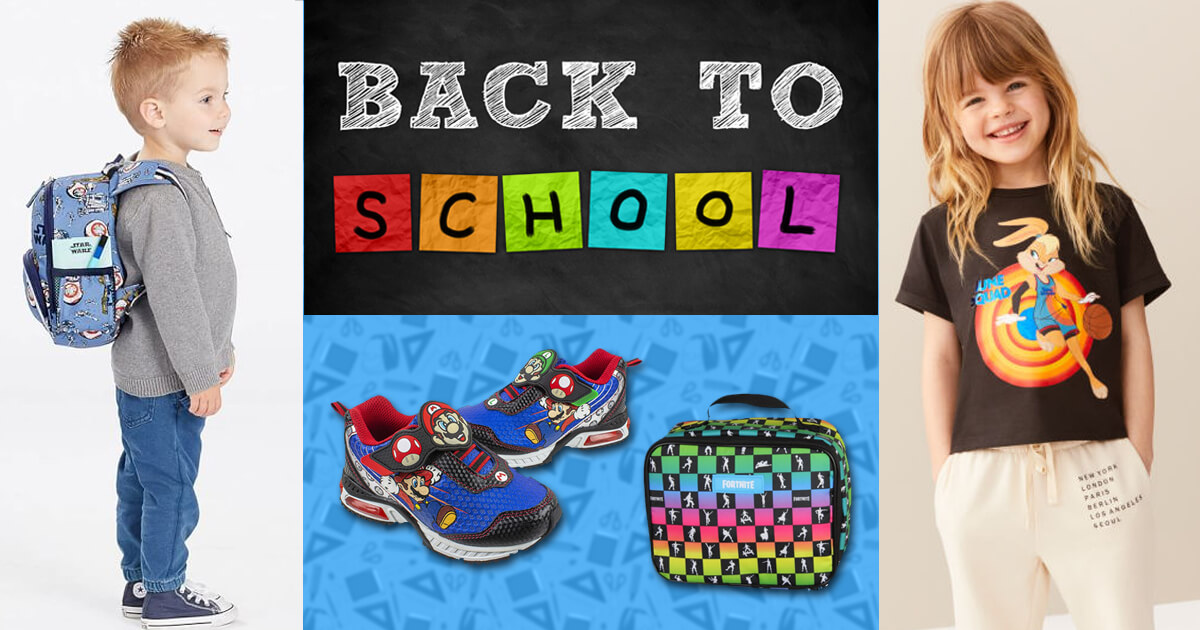 Back-to-School Sales Return to Bolster Business
The back-to-school (BTS) season was jump-started a bit – retailers launched sales shortly after classes ended in June – but the return of in-person learning starting in August after a 16-month hiatus is expected to bolster business.
That's not say lessons learned during the pandemic won't linger. Face masks, discarded to discount bins when vaccines arrived, are seeing a surprising, albeit potentially short term, resurgence in retail demand in states and regions where mask mandates for returning students remain. So far 10 states are requiring mask wearing for back to school.
For example, Concept One posted a 28% increase in mask sales week over-week through July 18 driven by Line Friends, Care Bears and Disney properties – and is seeing demand from mid-tier, specialty and off-price retailers, says Concept One CEO Sam Hafif. The revived interest is due both to the mandates and retailers having closed out their earlier inventory, says Hafif.
Yet sales of face mask will likely be subsumed by those of more traditional BTS merchandise like apparel and accessories, school supplies and electronics. BTS sales, fueled by retail promotions like "Target Deal Days", "Deals for Days" (Walmart) and "Wow Deals" (Kohls) that had short runs in late June, are expected to rise to $37.1 billion, up from $33.9 billion last year and, more importantly, $26.2 billion in 2019, according to the National Retail Federation (NRF)-sponsored survey by Prosper Insights & Analytics of about 7,000 consumers. About 60% of parents surveyed expect make their purchase during sales events, up from 55% in 2019, the NRF said with online revenue jumping to 44% of BTS sales, up from 34% a year ago according to KPMG's survey of 1,000 consumers.
Those sales events, partly driven by licensed goods, were in clear evidence online this week. Footwear retailer DSW was promoting Mario Brothers light up sneakers, while Walmart had Mickey Mouse and Batman backpacks.  Not to be outdone, Target "Ready for School" section of its online store was promoting L.O.L. Surprise Glitter and Fortnite eMote lunch bags alongside Zak Designs' 24.5-ounce Wonder Woman and 17.5-ounce Trolls water bottles.
On average, K-12 families surveyed expected to spend $848.90, up from $789 a year ago and $696.70 in 2019, according to the NRF. Seventy-eight percent of those surveyed said they were in similar or better shape than a year ago. That contrasts with just 17% of respondents expressing confidence in the U.S. economy last year. But as consumer confidence improves there are expected to be shortages in some product categories given supply chain delays from the factory floor to the retail store.
Predictably, while sweats and pajamas that were de rigor for the homebound during the past year, there's expected to be an uptick in in more fashionable apparel and accessories. Half of the parents surveyed (49%) said their children were excited to shop for apparel, up from 42% a year ago and 47% in 2019. The average spending on apparel is expected to increase to $253.46, up 8% from last year ($234.48) and 19.4% ($212) in 2019, the NRF said.
"A lot of the increased spending has to do with stimulus packages that were in place and consumers believe they are at least poised to return to the school year with a little more in their pocket and seeing prospects for retail sales picking up," says Rod Sides, Vice Chairman and leader of Deloitte's retail practice.