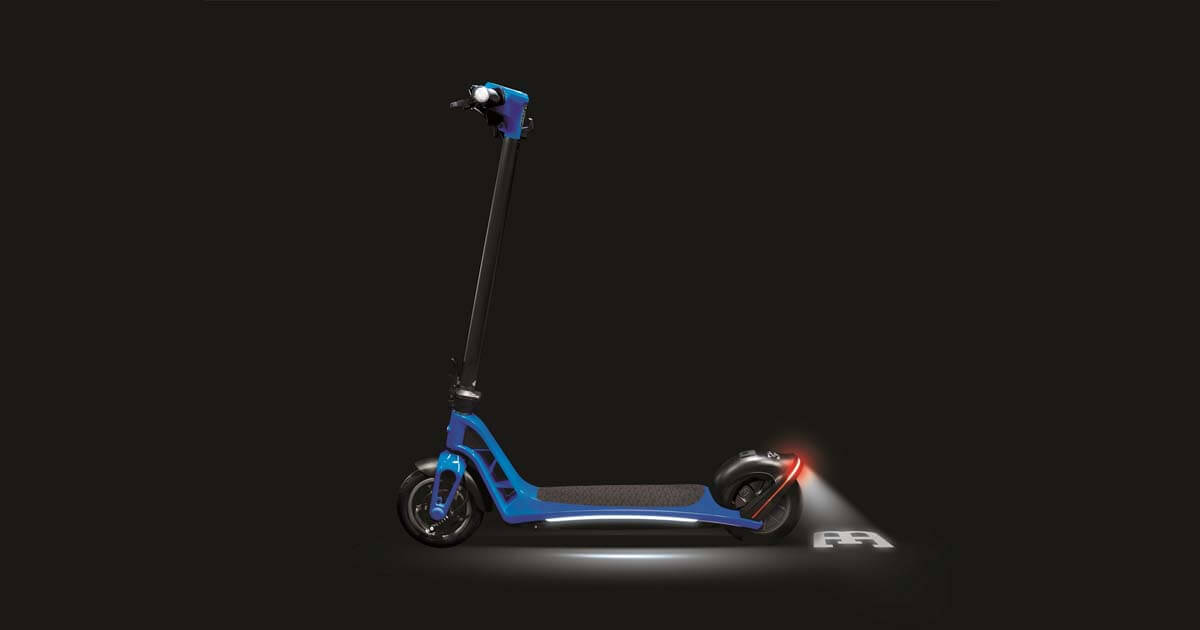 Bugatti Partners with Bytech to Unveil its First Electric Scooter
London, UK —  Bugatti, the luxury hyper sports car marque that creates uncompromising works of art for those who have an appreciation for craftsmanship and engineering excellence, has joined forces with Bytech to launch a high-quality, revolutionary electric scooter, in a deal brokered by IMG. The new state-of-the-art model was revealed at the CES 2022 expo alongside prominent technology companies from around the world.
Available in agile blue, black, and silver, the electric scooter includes a 700w maximum motor power, nine-inch run-flat tires, three speeds with cruise control, and a 36v/10ah battery. The scooter is constructed with a magnesium alloy frame making it lightweight.
Eli Mizrahi, Business Development Executive at Bytech commented: "We are excited to partner with such an amazing brand that represents luxury, elegance and top quality in a growing industry yearning for enhanced design, and improved performance. Focusing on rider safety, we have also incorporated the evolving needs of the consumer, through innovative technologies."
Randy Klein, Vice President of Licensing, IMG, said: "This collaboration between Bugatti and Bytech further establishes Bugatti as an iconic 360° luxury and lifestyle brand. We are really excited to see the launch of this electric scooter and we have no doubt it will be very popular."
Recognizing safety as a first and foremost concern, the Bugatti electric scooter is equipped with cutting-edge technologies to ensure driver protection. For those purposes, the electric scooter features unique lighting functions. Its dual-turn signals are located on the ergonomic handle grips, as well as above the rear mudguard. Additionally, there are illuminated base lights on the sides of the deck, and a back "EB" monogram projection logo for enhanced artistry, style, and performance, especially at nighttime. It has a dual braking system, a front left-hand brake lever, and rear E-ABS electronic brake for added security and comfort.
The scooter is available in the US, Canada and Mexico.
About Bugatti
Bugatti Automobiles S.A.S has remained at the pinnacle of the automotive history for over 110 years. Company founder Ettore Bugatti and his son Jean created highly advanced, powerful and incredibly successful automobiles of the highest quality and engineering excellence in Molsheim, France. Their designs and constructions were a perfect symphony of art and technology. To this day, Bugatti's vehicles remain beyond compare. As company founder Ettore Bugatti put it: "If comparable, it is no longer Bugatti." Handcrafted at Bugatti's Atelier at its global headquarters in Molsheim, France, the marque's range of hyper sports cars and highly exclusive few-of models sit at the pinnacle of automotive performance, design and luxury. The Chiron is the fastest, most powerful, and exclusive production hyper sports car in Bugatti's history. Its sophisticated design, innovative technology, and iconic, performance-oriented configuration make it a unique masterpiece of art, form, and technique, that pushes boundaries beyond imagination. For additional information, please visit Bugatti.com
About Bytech
Bytech proudly tags its company logo with the phrase "The Art of Technology". Based out of New York, a fashion hub, Bytech has always been driven by the understanding that sophisticated design and artistic innovation is as significant to a product's success as the technology that it represents.
An innovator, creator, and master of the supply chain, Bytech strives to exceed expectations to both its retail and consumer partners. It is the focus to the complete "business ecosystem," a process that begins in the design room and ends at the consumers' doorstep, that has and will continue to link Bytech's past two and a half decades to its dynamic future of iconic consumer product innovation and supply.
Bytech designs out of its New York based corporate office and supplies to retailers and consumers out of its New Jersey based distribution center.
About IMG
IMG is a global leader in sports, fashion, events and media. The company manages some of the world's greatest athletes and fashion icons; owns and operates hundreds of live events annually; and is a leading independent producer and distributor of sports and entertainment media. IMG also specializes in licensing, sports training and league development. IMG is a subsidiary of Endeavor, a global sports and entertainment company.