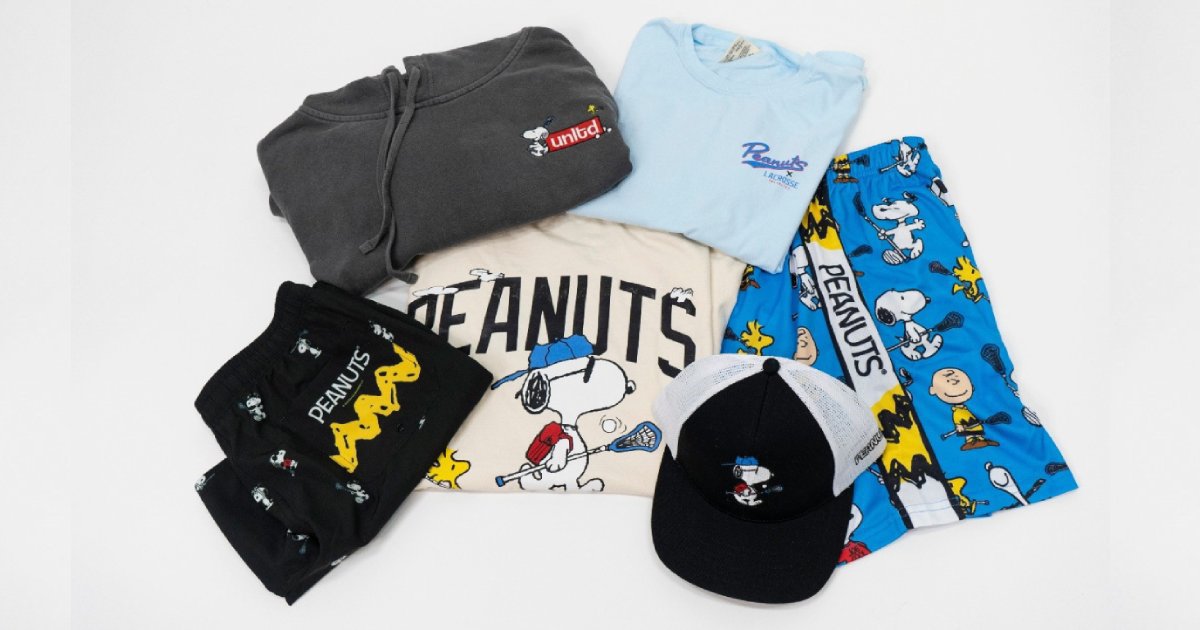 Cartoon Characters Score in Sports Licensing
An array of cartoon characters is making a play for the sports-related apparel business.
In recent months,  several launches for lacrosse gear, golf gear, and hockey-related streetwear have all featured beloved cartoon characters. And while some of these ranges were the result of major labels co-branding with character IPs, others were the result of smaller sports leagues partnering with classic cartoon properties.
The 32-store chain Lacrosse Unlimited launched a licensed direct-to-retail line with Peanuts that includes Unltd X Peanuts shorts, hoodies, t-shirts, and a lacrosse ball featuring Snoopy. And Puck Hcky launched online sales of Popeye-themed "Strong to the Finish" hockey jerseys, t-shirts, and pucks as an expansion from other licensing agreements it has for Godzilla, Black Sabbath, and Metallica.
WildBrain's Peanuts and King Features' Popeye have long ties to sports—with the latter having appeared in The Football Toucher Downer in 1937—and these recent offerings are taking advantage of that history.
"We are seeing nostalgia trends and the leagues are looking at vintage team logos and trying to create well-loved garments that feel like they might have been handed down," said Liz Brinkley, VP of Global Fashion, Home, and Collaborations at Peanuts. "There is a nostalgia sensibility and sports are part of American pop culture and and so is Peanuts."
Much like other collaborations, there must be an authentic connection between the IP and the sport, something that is well-established with characters like Batman, Popeye, and Peanuts.
The Flintstones and Scooby-Doo have found their way onto licensee Creative Covers' golf club covers. And Batman has appeared on Puma's footwear, while retailer Vitamin Shoppe added several DC Comics characters (including Batman, Black Adam, Wonder Woman, and Superman) to its private label line of BodyTech and BodyTech Elite sports nutrition drinks.
Then there's the licensee (Popeye Golf USA) that has taken on the character's name in addition to applying it to t-shirts, golf gloves, balls, markers, and a co-branded Popeye/Olive Oyl long-sleeved t-shirt for women.
Many of these collaborations are limited editions that sell out quickly and lend themselves to online rather than brick-and-mortar retail sales, said Jarred Goro, VP of North American Licensing at King Features, which is also considering adding The Flash character for sports-related licensing and ventured into Popeye Jiu Jitsu uniforms with Moya Brands last November.
"When you are doing these collabs, the brand is driving things because there are less and less brick-and-mortar retailers and they are extremely cautious about their buying," Goro said. "For the most part, buyers are nervous about stepping out of their comfort zone and a lot of retailers are stuck right now with a lot of goods and the opportunity to sell in new product is getting less and less. The fan base in many cases is best reached through direct-to-consumer marketing. When you have a strong brand and fan base, you are driving people to limited-edition products. It's not always an impulse buy."
These co-brands also have the potential to reach a new audience, both for the cartoon character and the sport—a crucial element in appealing to younger consumers. Millennials now account for about 28% of all golfers in North America (6.2 million) who play 100 million rounds a year, according to the National Golf Foundation. It's a figure that the sport hopes to grow in benefitting from golf's increase in popularity during the pandemic.
"Golf is an open market and whether it's the pandemic or there has been a shift to bring in younger players, it's all about the experience," Goro said. "There is such an opportunity now to serve Millennials, so you are going to see more fashion with bolder colors and prints and it's all about showing individuality on the golf course."