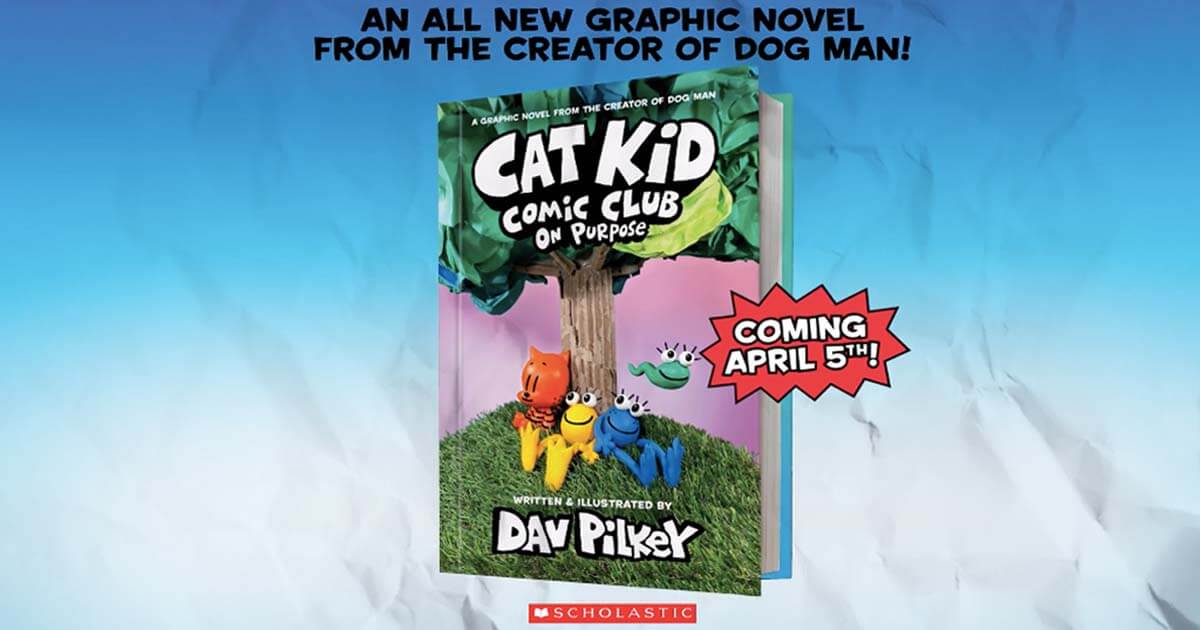 Cat Kid Comic Club: On Purpose by Dav Pilkey Coming April 5, 2022
From the #1 worldwide bestselling author and illustrator of Dog Man…Cat Kid Comic Club: On Purpose in-stores worldwide April 5, 2022!
In this new hilarious and heartwarming graphic novel, the adventures are nonstop as Dav Pilkey's characters navigate sibling relationships, follow their path, and create art — with purpose. Featured as stories-within-the-story, the mini comics showcase each character's perspective and individual art style.
Pushing the boundaries of visual storytelling, Dav Pilkey uses a variety of techniques to illustrate each of his character's art styles including photography, paper models, poetry, clay, collage, calligraphy, gouache, watercolors, and more. This mixed media approach to storytelling is exemplified in the "mini-comics" in each of the Cat Kid Comic Club books. In the first Cat Kid Comic Club book, readers got to see the progress, mistakes, and improvements that come with practice and persistence. In Cat Kid Comic Club: Perspectives, the characters have different ways of seeing the world and discover new ways to collaborate and see one another's points of view. In Cat Kid Comic Club: On Purpose, Pilkey's characters are each trying to find their creative path as they face rejection time and time again.
The Cat Kid Comic Club series, a spin-off of Pilkey's #1 worldwide bestselling Dog Man series, launched to multiple starred reviews, with Publishers Weekly praising it as "…laugh-out-loud funny and—gosh darn it—downright moving, it's a heartfelt celebration of coming into one's own as an artist, with all its frustrations and joys." In starred reviews, Kirkus called it "Mind-bending, in the best possible way" and School Library Journal raved that Cat Kid Comic Club is "colorful, compelling…every elementary school library needs this graphic novel."