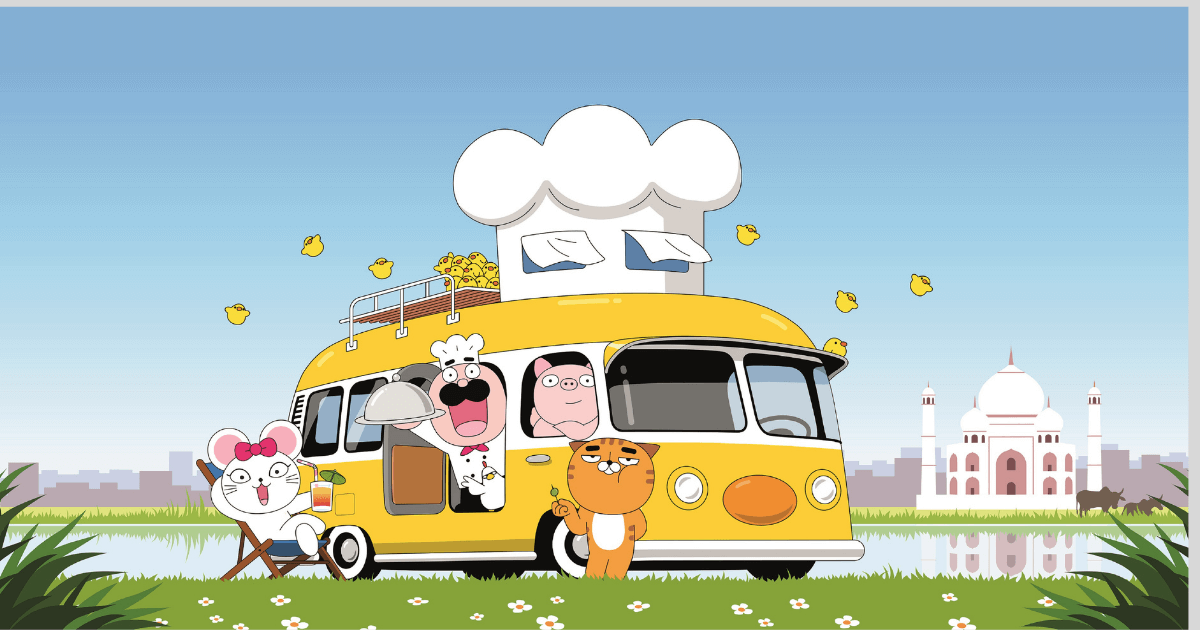 Chefclub Gets Animated with Chefclub Friends Animation series
Paris, France —  Chefclub, the world's leading eatertainment digital brand, is proud to announce its expansion into the world of animation with Chefclub Friends (52 x 11), an edutainment series for 5 to 7 year olds starring the beloved animated mascots from Chefclub's dedicated kids' network, Chefclub Kids.
Chefclub Friends is an action-comedy edutainment series that sets out to build on Chefclub's guiding principle: having fun in the kitchen!  The series is inspired by the immersive universe of the Chefclub Kids' channel, where entertaining recipes, zany kitchen characters and specially made utensils for little chefs have helped cooking become a new form of playtime that brings the whole family together.
Chefclub is currently the No. 1 cooking brand in the world on social media with an unparalleled level of success since its launch in 2016: 100 million followers and 2.5 billion global views a month; five themed channels (Original, Kids, Light & Fun, Daily and Cocktails); licensing agents in the UK, Germany, Spain, Portugal, Italy, China, and Benelux; a D2C and D2R consumer product business; a publishing division with 700,000 books sold to date; and two Licensing International Awards for Best Digital Brand in France (2019) and Germany (2021).
Chefclub Friends follows intrepid kitchen enthusiasts Maurice, Lola, Carlton, Colette, Elvis, and the Kikitos as they set out to discover the world. Their roadmap? A passion for cooking and a curiosity as big as their appetite! Together they discover the world through their eyes and their tastebuds. In their quest for new ingredients, flavours and traditional recipes, the Chefclub friends team up with cooks – and new friends – across the globe.
Marie-Laure Marchand, SVP Global Consumer Products & Business Development, Chefclub, commented, "The Chefclub Kids' channel was created to inspire children to cook, become independent and enjoy themselves with their family in the kitchen. Now, with Chefclub Friends, our young viewers can take their culinary adventures all over the world, following their favourite characters to discover new recipes and cultures. An animated series is a natural brand extension for us given the fantastic enthusiasm we see from little chefs every day, as they learn that cooking is one of the healthiest, most sociable and fun ways to play!"
The series is currently being developed by Chefclub's Paris-based team, in consultancy with Development Executive, Maia Tubiana (an executive & general producer previously at Ellipseanime & Dargaud Media, Moonscoop and France Animation), and industry veteran Marie-Laure Marchand (previously at Xilam, Studio 100 and Nelvana). Marchand will present the bible, synopses and script at Kidscreen and Mip TV.
About Chefclub
Founded in Paris in 2016 by Lang brothers Thomas, Jonathan and Axel, Chefclub is the fastest growing digital cooking brand in the world. The company's mission is to transform the kitchen into a place for sharing and fun through the creation of entertaining, inspiring and accessible content, products and services.  Chefclub's unique positioning between cooking and entertainment has earned it over 2.5 billion organic views each month and 100 million followers, from Europe and the US, to China and South America. The company's trademark eye-catching cooking videos can be viewed across its five market driven channels: Chefclub Original, Chefclub Kids, Chefclub Light & Fun, Chefclub Daily, and Chefclub Cocktails. Chefclub's unique "eatertainment" concept has grown into a hugely successful brand that resonates well beyond the sphere of cooking enthusiasts, with a robust direct-to-consumer products program in place and a kids animation series in development.