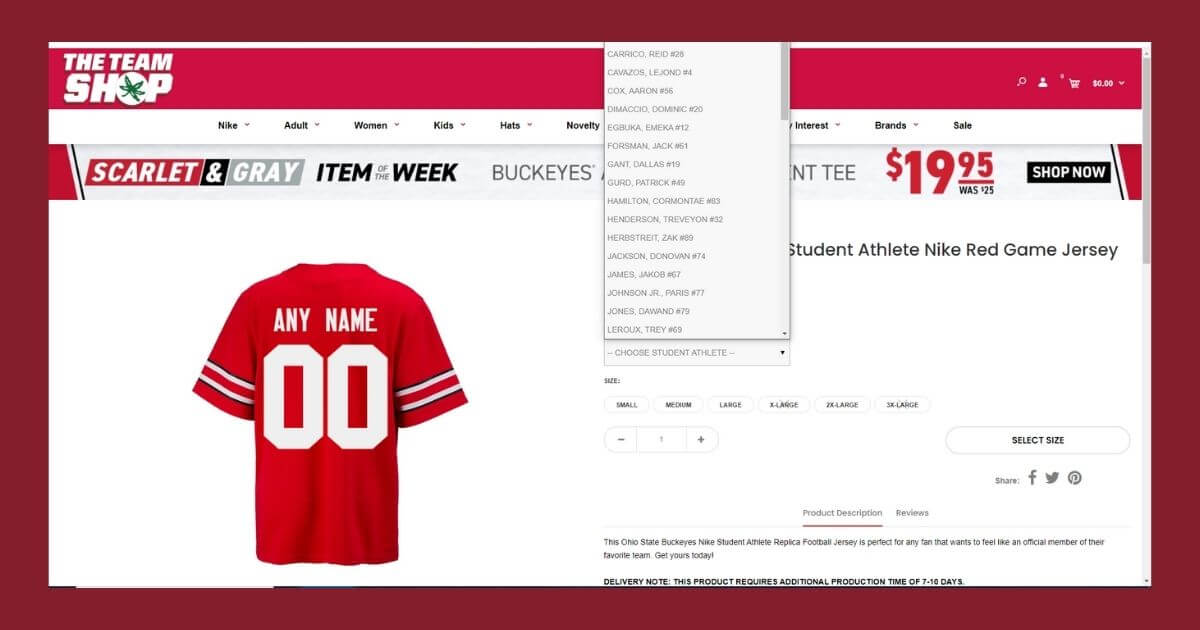 College Merch Enters the NIL Era
With fall U.S. collegiate sports season underway, jerseys, t-shirts and trading cards are the first licensed products on the market bearing athletes' names, images and likenesses (NIL). Because of timing – the floodgates for such merchandise opened only ten weeks ago – these goods represent only an initial foray onto a playing field where norms, strategies and boundaries are still being defined.
Many industry executives don't expect athlete-licensed items to arrive in force until fall 2022; EA Sports' planned return to the college football videogame market – probably including player NIL rights – isn't expected until  mid-2023.
POD jerseys
Much of the early NIL action has centered around endorsements, ads and personal appearances. Football jerseys with school trademarks and specific players' names and numbers are the highest profile products available via print on demand (POD) efforts in conjunction with group licensing deals, with royalties shared by the school and the athletes.
For example, the website of retailer The M Den, which specializes in licensed University of Michigan products, offers custom-ordered jerseys with the names and numbers of certain Michigan players ($180). While more than 60 players were reported to have "opted in" to the program via Valiant Management Co., only six were listed on the site when we visited this week. For the time being, M-Den can't sell the jerseys through its six stores and can only make them available through a Nike-operated custom option on its web site.
At Ohio State, POD jerseys ($120)  for 52 players were made available starting Sept. 9 and more than 300 have been sold thus far, says Rick Van Brimmer, Assistant Vice President Business Advancement, Trademark and Affinity Management. The school also will make the jerseys of some players available through campus stores. It plans to roll the program out for all 36 sports covering about 1,000 athletes, says Van Brimmer. Legends is applying names and numbers to Nike blanks. For now, the school is "limited" on the availability of the jerseys given the timing of the launch, says Van Brimmer.
Memorializing "moments"
For its part, Panini America will focus on its Panini Instant on-demand trading card business for "in-the-moment" and key plays involving players with whom it has agreements. The player agreements are via OneTeam Partners' College Athlete Group Licensing that's being run by its Brandr affiliate, says Jason Haworth, Vice President of Marketing at Panini.  Brandr is handling the group licensing program for student athletes at Ohio State, North Carolina, Texas and Miami, Michigan State and Indiana, among others.
Panini is starting with football – quarterbacks Graham Mertz (University of Wisconsin), D'Eriq King (Miami) and Matt Corral (University of Mississippi) have been signed – but also will include men's and women's basketball, baseball and some Olympic sports, says Haworth.
For the most part, NIL-based licensing business is "going to be fairly niche to begin with; it will depend on whether the athlete has a unique personality" or social media presence as much as on "how well the team and player is doing," says Van Brimmer. "We had been working on this [NIL] for more than 18 months. The surprise was the NCAA backing off and not really laying out guidelines for us to go by, so we had to refer to state law."
In the highest profile sports, it will probably take on the characteristics of "hot market" business. In those sports, collegiate athletes come on the scene or become prominent more suddenly and are visible for shorter periods of time – i.e. basketball star Zion Williamson stayed at Duke for one season before turning pro — so most of the business is probably going to be done in POD and short lead-time categories such as jerseys, trading cards and such.
The NIL merchandising game has only just begun and, as any sports fan will tell you, there will be many twists and turns before the final whistle.