Consumers Get More Chances to "Live the Brand" as Malls Turn More Experiential
06-27-2019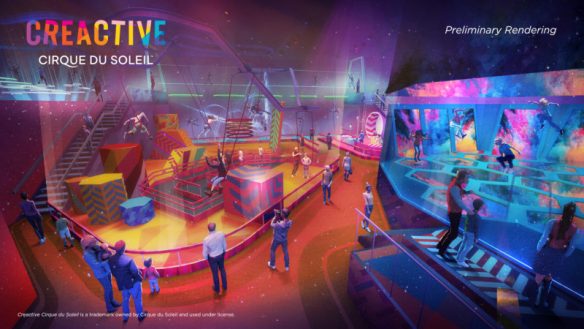 In an age when survey after survey finds that many consumers have turned their attention toward accumulating new experiences rather than buying additional stuff, IP owners in ever-increasing numbers are seeking ways to build loyalty and affinity (and a deeper commercial relationship) by letting them live the brand.
And, in a fortuitous confluence of events, this movement is taking place at a time when mall owners and other commercial real estate companies are faced with the challenge of a wave of store closings, and the need to give people a reason to abandon their keyboards and come to the shopping center or mall.
These experiences include such things as themed cafes and restaurants based on TV shows or characters; activity centers built around well-known product brands; escape rooms; family entertainment centers (FECs) or even, in a couple of cases, complete amusement parks. Of course, most of the venues bring the added benefit of making merchandise available for sale, but the connection is generated by the real-life interaction.
Examples abound:
*Peppa Pig licensee Merlin Entertainment recently opened its third Peppa Pig World of Play at the Great Lake Crossings outlet mall in Auburn Hills, MI, following others in Grapevine, TX and Shanghai, China.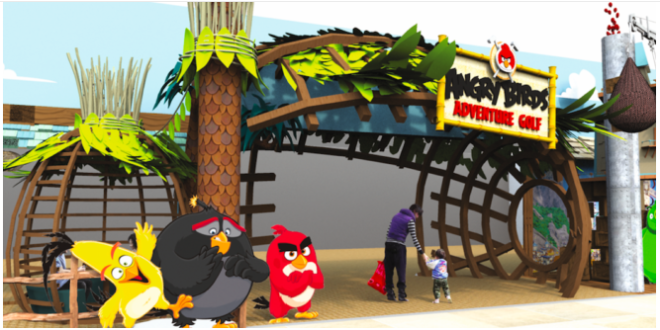 *Hasbro last fall signed an agreement with Kilburn Live to open 30,000-45,000-sq.-ft. FECs based on several of its brands in the U.S. The FECs will combine rides with food and beverage and merchandise stores, says Charlie Keegan, who is heading up the project for Kilburn. Hasbro has a separate agreement with Kingsmen Creatives to develop Nerf FECs in the U.S. and facilities based on Tinker Toy, Lite-Brite and Play Doh in the Asia Pacific region.
*Mattel in May announced it is working with licensee IP2Entertainment to open FECs based on its Barbie, Hot Wheels and Mega Construx brands, starting in Toronto in 2020.
*Cirque du Soleil, better known for its touring shows, is working with licensee Ivanhoe Cambridge to adapt its brand equity to fit an 18,000-sq.-ft. space at the Vaughn Mills outlet mall in Toronto that is being designed for activities for individuals and birthday parties as well as schools and classes and includes bungee jumps, juggling and aerial play so that "each visit can be a new discovery," says Cirque du Soleil Producer Marie-Josee Lamy. For both Cirque du Soleil and the mall, it's a question of "embracing entertainment as a key element of the transformation" of shopping malls.
Cirque du Soleil's decision to introduce FECs "comes from fans who regularly express a wish to experience Cirque du Soleil from an insider's perspective and gives them an opportunity to step into our artists' shoes," says Lamy.
Some Operate Inhouse
Some companies are keeping their location-based operations inhouse, rather than hooking up with licensees. Crayola, for example, operates five Crayola Experience centers in the U.S., including one in the Mall of America outside Minneapolis and a recently opened 22,000-sq.-ft. version in Chandler, Az., a departure from the other 60,000-sq.-ft. facilities. There are no immediate plans for international expansion, says Crayola VP Warren Schorr.
"The loss of retailers is opening space in malls, but at the same time there are deeper trends within the shopping space that get to the heart of the new consumers and their behavior," says Hasbro VP Matt Proulx, who has been developing Hasbro's FEC plans for five years. "Mall owners and licensors are adapting to meet" consumers who are seeking "more experiential shopping experiences" beyond the standard product buying process.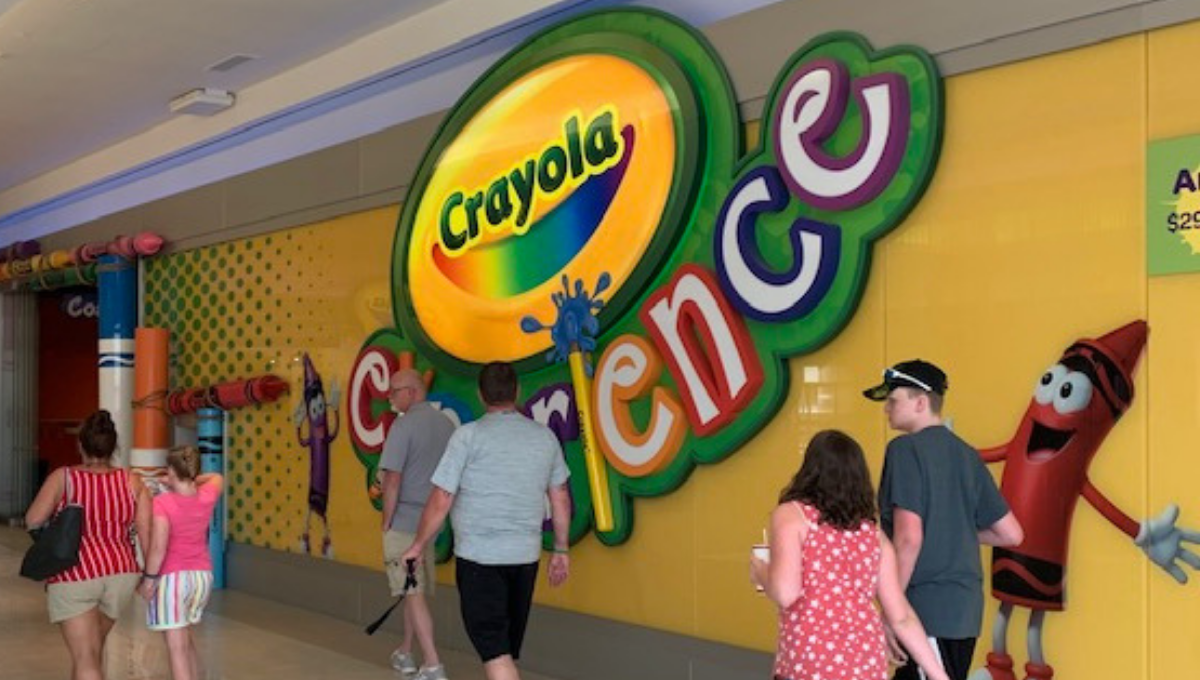 The trend tends to be most pronounced as mall operators seek to attract the coveted millennial consumers who are spending more on experiences than product and want a deeper connection with a brand, says Keegan.
"Is it Hasbro trying to reach a different audience? Maybe. Toys are a large part of their business, but why wouldn't you pivot to licensing if you have this great content and consumers are seeking more experiences?" says Keegan.
At the same time, mall operators are faced with a shrinking universe of traditional tenants. U.S. retailers have announced the closing of 5,994 stores so far this year – up from 5,854 in all of 2018 –including mall staples such as Payless ShoeSource (2,500) and Gymboree (805) and Charlotte Russe (520), according to Coresight Research.
"Mall operators are fighting against ecommerce, and they want to get people into their locations. FECs and other experiential events are something you can't do online," says Rovio's Simo Hamalainen. Rovio's Angry Birds property will be integrated into a mini-golf facility at licensee Triple Five's American Dream mall that is slated to open in New Jersey in October. Licensee Namco is scheduled to have two mini-golf operations open in the UK. The first opened at the Metrocentre mall in Gateshead in April. "They are trying to put more entertainment into these locations and there is more space since so many retailers have been going out of business."
Large Footprints
The size of the space these experiences are filling in malls can vary. FECs typically consume 25,000-50,000-sq.-ft.; but some can cover several acres and resemble more a theme park then the retailers that typically inhabit a mall. The licensed IP concepts are attractive to mall operators since they can fill more space than a typical retailer and bring with them a dedicated fan base. The agreements for them are typically longer than other kinds of licenses – up to 10 years given the time required for construction, which can be a year or more. And mall operators, in the battle attract new tenants, are increasingly kicking in to help pay for construction costs.
For example, a shopping mall operator recently offered to pay $200 per sq. ft. to a company considering building a 60,000-sq.-ft. experiential facility, says Randy White, CEO at the consulting firm White & Hutchinson Leisure and Learning Group, which specializes in FECs. Five years ago, he said, that wouldn't have happened. The structures of the deals can vary depending on the licensed property and the location, but royalties on admissions are generally in the 5%-8% range (if admissions are charged) and there is typically revenue sharing on food and beverage sales.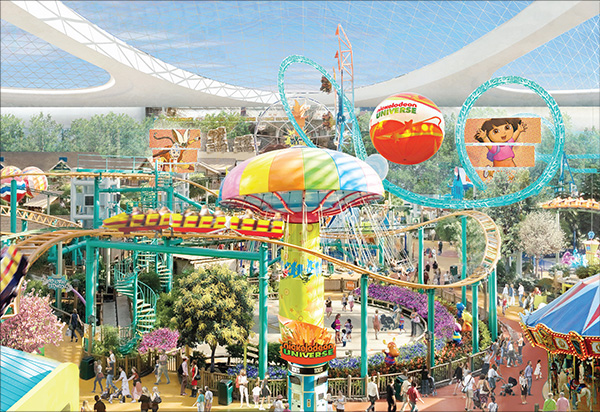 "When we are rebranding an entire theme park" as Mall of America did in 2008 in replacing a Camp Snoopy attraction with a seven-acre Nickelodeon Universe "we are making a substantial investment and we want that long-term commitment with our partner, and they want the same," says Brian Spielman, Director of Attractions at the Mall of America. "If you are a smaller 30,000-sq.-ft. operator, you might be more nimble and have the ability to be more fluid with an IP, but for us those long-term agreements are the right fit."
Even with long-term deals, licensees need to keep the offering fresh. For example, while SpongeBob SquarePants has been a constant at the Nickelodeon Universe in Mall of America in Minneapolis, last fall a Jimmy Neutron section there was switched out for a 4,000-sq.-ft. Paw Patrol-themed area to take advantage of that property's popularity.
Mattel plans to draw on a mall's consumer data in determining which properties might be the most appropriate for a given location, says Mattel Chief Franchise Management Officer Janet Hsu. Under that scenario, an FEC that opens in the U.S. might open with a different set of Mattel brands than might be found in Asia, Hsu says.
"They [malls] have a lot of data in terms of the families that are coming into the malls and we will align it with the brands that we think will best achieve that collaborative statement together," says Hsu.
Aligning the brands with each mall and the market surrounding it requires not taking a "a one size fits all approach" to insure that "these products not only work today, but for multiple years" given the investment involved, says Proulx.
"Mall operators are looking for new destination drivers to bring people to mall for something other than shopping," says White.  "In an over-saturated market place you have to be premium and by attaching a well-recognized brand to an FEC you have a competitive advantage" in bring consumers to the malls.
And for the brand owners, it's about letting people inhabit the character or entertainment vehicle.
"Fans and consumers want to get closer to the entertainment properties," says Sony Consumer Products EVP Jamie Stevens. "It is a question of how do we get consumers to feel and use our properties because it is not just them putting products [they purchase] on the shelf and looking at them anymore."
Contacts:
Cirque du Soleil Entertainment, Marie-Josee Lamy, Producer, 514-722-2364
Crayola, Warren Schorr, VP Licensing, 610-263-6271, wchorr@crayola.com
Hasbro, Matt Proulx, Senior Director Global Brand Experiences, 818-478-4320, matt.proulx@hasbro.com
Kilburn Live, Charlie Keegan, 469-446-0691, Charlie.keegan@att.net
Mall of America, Brian Spielman, Director of Attractions, 952-883-8000, brian.spielman@moa.net
Mattel, Janet Hsu, Chief Franchise Management Officer, 310-252-2000, janet.hsu@mattel.comRovio Entertainment, Simo Hamalainen, SVP Licensing, +358 505859757, simo.hamalainen@rovio.com
Sony Pictures Consumer Products, Jamie Stevens, EVP Worldwide Consumer Products, 310-244-6269, jamie_stevens@spe.sony.com
White Hutchinson, Randy White, CEO, 816-931-1040, randy@whitehutchinson.com