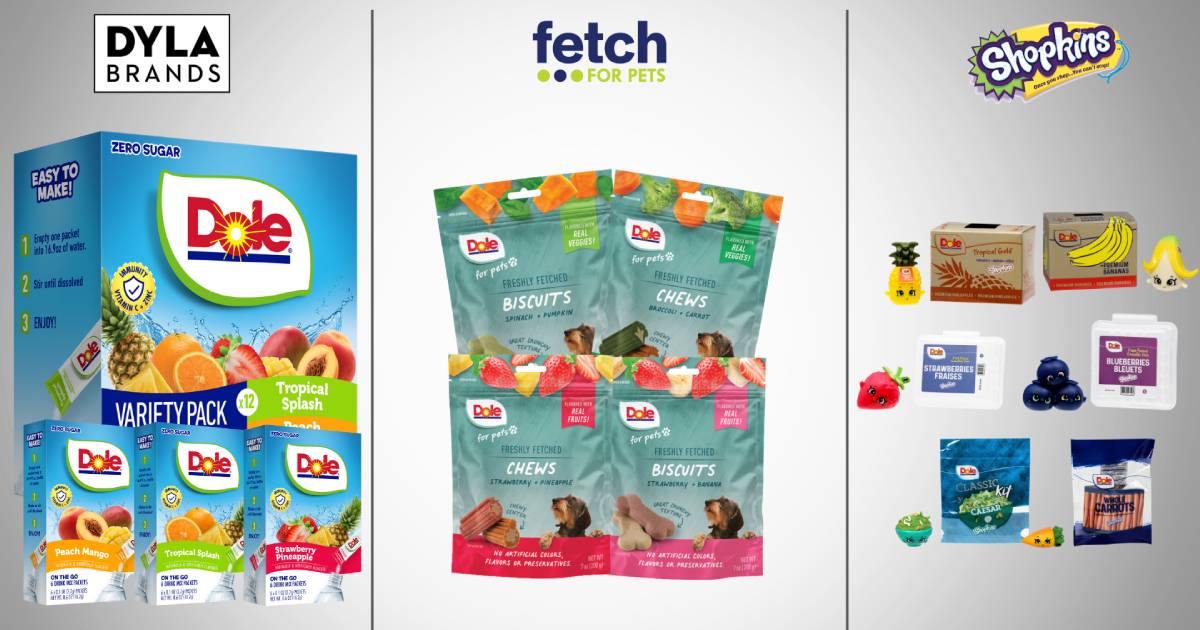 Dole Food Co. Selects Fresh Licensees to Grow Licensing Program
Beanstalk Appoints Pet, Drink Mix and Toy Partners on Behalf of Dole
New York, NY – Dole Food Co.  teamed up with three licensees to grow its licensing program: Fetch for Pets for pet treats, Dyla Brands for drink mixes, and Moose Toys for toys and collectibles. Brokered by Beanstalk, Dole's global brand extension licensing agency, the three new partnerships are successfully extending the iconic produce brand into new categories.   
"We are excited to partner with Fetch for Pets, Dyla Brands and Moose Toys, who share our values of healthy living, nutrition education and wellness," says Elisabeth Morris, Licensing and Brand Director, at Dole Food Company. "The addition of pet treats, drink mixes, and toys and collectibles will enable us to reach new consumers in fresh ways that extend the brand equities of Dole everyone knows and loves."
Fetch for Pets, the leading pet product manufacturer bringing major CPG brands to the pet industry since 2008, has developed a range of pet treats, including Freshly Fetched Biscuits, Chews and Lasting Chews for extended play, with additional items to come in future phases. All products are flavored with real fruit or vegetables and do not contain wheat, corn, soy, artificial flavors, colors, preservatives or animal products. Dole's entry into the pet treat space will allow health-conscious and plant-forward consumers to harness the power of the fruit and vegetable brand that they love for themselves to their beloved pets.
Dyla, the leading hydration beverage company committed to fostering a more positive world, will debut an assortment of Dole fruit-flavored drink mixes. Launching this spring, the flavors include Tropical Splash, Strawberry Pineapple and Peach Mango. These on-the-go, zero-sugar drink mix packets will be sold as individual flavors in a set of six as well as a 30-count variety pack featuring all three delicious flavor varieties. The hydration boosters are packed with vitamin C and zinc to help boost immunity and are free from artificial colors. Dole's entry into the drink mix category will encourage consumers to increase their hydration with the sweet flavors of fruit, without compromising the importance of sustaining a healthy diet free from added sugars and artificial dyes.
Moose Toys, an Australian-owned toy design, development and distribution company recognized globally for the innovation and success of leading collectibles, crafts, dolls, games and youth electronics, unveiled a line of new Shopkins Real Littles themed after 10Dole fruit and vegetable characters. Among the characters are an adorable mini banana and pineapple, a strawberry, blueberries, mandarins, grapes, romaine lettuce and a carrot, as well as a Chipotle & Cheddar chopped salad kit, Caesar salad kit and a limited-edition irriglitzable banana character. The line launched earlier this year at Target, Amazon, Family Dollar and several grocery outlets. Entering the toys and collectibles category enables Dole to continue its longstanding efforts toward educating younger age groups on the importance of wellness and nutrition.
"We're excited to launch the Dole licensing program with Fetch for Pets, Dyla and Moose Toys!" says Delmarys Garcia, Director, Brand Management at Beanstalk. "Fetch for Pets' commitment to quality and innovation made them a perfect partner in the pet treat space. They've partnered with many trusted CPG brands in the past and have been able to develop a cross-category product line based on Dole's values and core equities. Dyla's mission to positively change the world seamlessly aligns with Dole's mission to make the world a healthier place; they were the perfect match for this white space as we recognized growth potential in the category and see consumers seeking better-for-you hydration options. Furthermore, as education is a big part of Dole's mission, it was appropriate to partner with Moose Toys on these adorable, mini collectible toys that make the produce recognizable to children. Shopkins Real Littles brings household brands you find at grocery into miniature form with incredible precision and accuracy. Dole is the first fresh produce brand to enter the mini collectible market with your favorite Dole fruits and veggies! We're excited to have them all on board."
The three partnerships leverage Dole's mission of making the world a healthier place, whether it's through the quality of ingredients, added benefits to the consumer or nutrition education.
About Dole Food Company
Dole Food Company, Inc., is one of the world's largest producers and marketers of high-quality fresh fruit and fresh vegetables. Dole is an industry leader in many of the products it sells, as well as in nutrition education. For more information, please visit www.dole.com.
About Fetch for Pets
Fetch for Pets, a New York City-based pet product manufacturer, was founded in 2008 and quickly became an innovative leader dedicated to bringing trusted consumer brands to the pet industry. The company develops pet products across multiple categories, including grooming, oral care, stain & odor control, food & treats, apparel & accessories, toys, health & wellness, bowls & feeders, collars & leads, and small animal care supplies. Fetch for Pets has revolutionized the pet licensing business working closely with top retailers, brand teams, and factories to build cutting-edge programs that raise the bar on quality, value, and innovation. The portfolio of brands includes Disney™, Marvel™, Star Wars™, Burt's Bees® for Pets, Arm & Hammer, SHOUT™, GLAD™, Fresh Step, CHI®, Wet Ones®, Martha Stewart, Peeps®, DC Comics™, Peanuts® and more. Please visit www.fetch4pets.com for more information.
About Dyla Brands
Dyla Brands is a leading beverage incubator with brands in the hydration, protein and energy categories sold in over 50,000 retail stores. Dyla's mission is to positively change the world with better-for-you beverages. Neel Premkumar is the Founder and CEO of Dyla Brands, where he built one of America's leading drink mix portfolios and created innovative better-for-you brands in partnership with influential celebrities Shaquille O'Neal and Venus Williams. 
About Moose Toys
Moose Toys exists to make kids super happy. For this revolutionary brand, happiness lies at the heart of everything we do. With trailblazing toy design, development and manufacturing, no wonder our toys consistently scoop the most longed-for awards. Sprinkling some Moose magic across categories including action figures, collectibles, craft, dolls, games, plush, preschool, vehicles and youth electronics, we've earned our stripes as one of the most creative companies in the industry. As an energetic bunch, we're always on the move, developing groundbreaking content, entertainment and worldwide licensing deals to boot.
This family-run business is proudly built on unshakeable ethical foundations. Our passion for making kids super happy stretches far beyond our WOW-worthy toys. The Moose Happy Kids Foundation creates moments of happiness and laughter for the children around the world who need it most. We've had a BIG impact on little people, making 3.5 million kids smile so far… and counting. 
About Beanstalk  
Beanstalk, a global brand extension licensing agency, works closely with our clients to unlock brand equity and create many of the world's most recognizable products and services. We help leading brands, celebrities, media properties, manufacturers and retailers creatively find ways to strengthen their relationship with their most important stakeholder – the consumer. Beanstalk offers a breadth of services across our practice areas, including brand representation, digital media representation (Tinderbox), manufacturer representation, cultural intelligence, creative services, legal and financial services, and royalty auditing. The company is headquartered in New York, with offices in London, Miami, Cincinnati, Mexico City and Sao Paulo, and affiliates throughout the world. Beanstalk is the recipient of the 2022 Licensing International Excellence Award for Best Licensing Agency. For more information, please visit www.beanstalk.com. Beanstalk is a member of the Omnicom Specialty Marketing Group.
About the Omnicom Specialty Marketing Group
Omnicom Specialty Marketing Group (OSMG) aligns the growing demand for highly specialized consumer and retail marketing services with integrated solution teams consisting of the best talent to address clients' needs. OSMG provides global services that include: point-of-sale marketing and merchandise technology, field marketing and sales support, brand extension and representation; talent management; Purpose; and consulting and fundraising for non-profit organizations. Omnicom Specialty Marketing Group is part of the DAS Group of Companies, a division of Omnicom Group Inc. (NYSE: OMC), that includes more than 200 companies in a wide range of marketing disciplines, including advertising, public relations, healthcare, customer relationship management, events, promotional marketing, branding and research.
About Omnicom Group Inc.
Omnicom Group Inc. (www.omnicomgroup.com) is a leading global marketing and corporate communications company. Omnicom's branded networks and numerous specialty firms provide advertising, strategic media planning and buying, digital and interactive marketing, direct and promotional marketing, public relations and other specialty communications services to over 5,000 clients in more than 70 countries. Follow us on Twitter for the latest news.