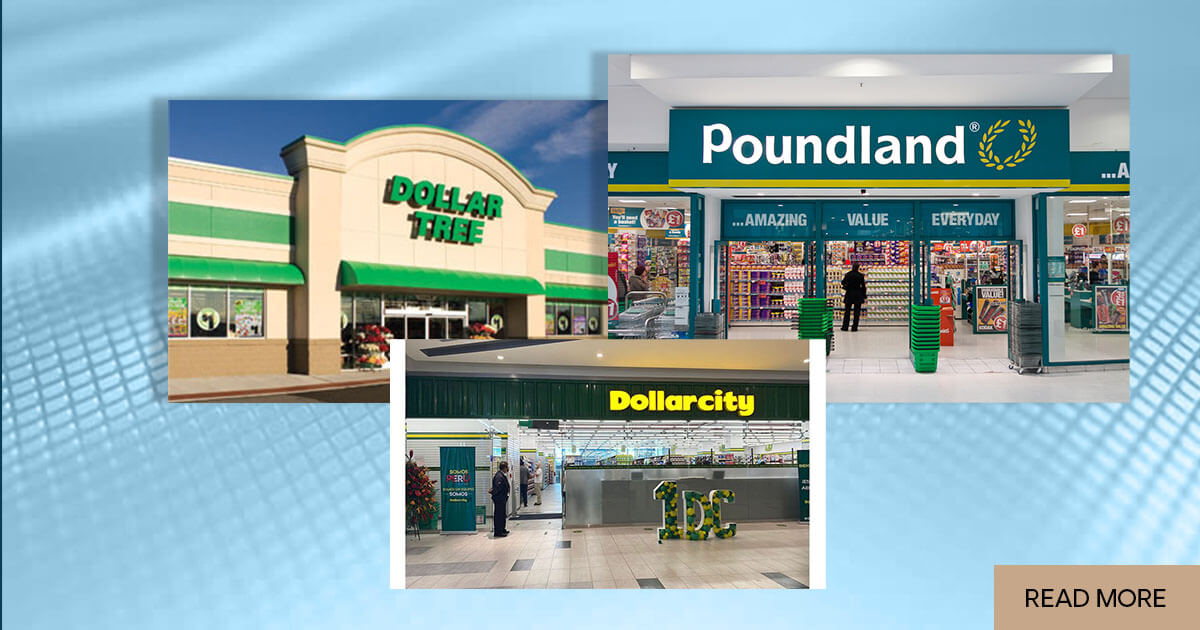 Dollar Stores Keep Growing and Adapting to Price Pressure
For dollar stores, value has long been the coin of realm.
But during the past year, faced with rising logistics, materials and virtually every other cost, these retailers are testing out new formats in a bid to counter rising wholesale prices and attract a broader range of consumers.
"For 35 years, we've been able to manage through inflationary periods to maintain everything for $1.00," Dollar Tree CEO Michael Witynski said. "However, we strongly believe this is the appropriate time to shift away from the constraints of the $1.00 price point in order to continue offering extreme value to our customers."
Testing strategies
The 1,150-store Five Below, named for having products prices at $5 or less, initially tested a "10 Below" ($10 and less) section in its stores. That was before it installed a "Wow" wall display to highlight products and established a "Five Beyond" section, which offers among other things, DTR goods developed with 2019 Fortnite World Champion gamer Kyle "Bugha" Giersdorf.
Dollar General, where $1 products still account for about 20% of its merchandise mix, last week announced plans to open 1,000 pOpshelf stores by 2025. Those stores, about 50 of which will be in place by year end as either standalone locations or an in-store section, carry a wider assortment of toys and home goods and are tucked into more affluent suburban markets, starting with the Midwest and Southeastern U.S.
Embracing the opportunity
The licensing industry once viewed these retailers as declassee, but has since embraced them with products that cater to their customers. And the retailers, who once catered to lower income customers, have expanded sections that might appeal to consumers with higher incomes such as health and wellness where Dollar General has added 400 items.
Among developments:
The UK's 848-store Poundland dropped its "Everything's £1" banner and prices everything between 50p and £5 from with some items going for up to £10. This year it opened more than 30 stores in the UK and Ireland through September as part of a £25 million expansion plan launched in July 2020.
Meanwhile parent Pepco Group plans to open 400 stores across Western Europe under its discount Pepco (2,240 stores across 14 countries) and Dealz (199 in Ireland, Poland and Spain)   That includes the first Pepco stores in Spain, 11 of which had opened as of September.  Pepco also opened its first stores in Italy in September 2020.
Canada-based Dollarama planned to open 70 locations in its home Canadian market this year. It has more than 1,400 stores in Canada, including 539 in Ontario, with a goal of reaching 2,000 by 2031. Like other the dollar stores, Dollarama is trying to hold the line on price increases for its $4 and under strategy.
In 2019, it bought a 50.1% stake in Latin American chain Dollarcity, which has grown to 264 stores (up from 196 two years ago) across Guatemala, El Salvador and Colombia and a recent expansion in Peru.
The Five Beyond format has been installed in about 30% of Five Below's 1,150 stores and will be in half the chain in 2022 when it adds another 150 locations, says CEO Joel Anderson. Five Beyond will largely be used in new stores and those being remodeled, and will also be deployed as a seasonal section in others. "To me [the Ten Below effort] was about playing defense and just about raising prices," said Anderson. "This is about driving and delivering value. It is very important to our customers that we keep it [(Five Beyond] separate and segregated from the main business."
Dollar General's pOpshelf stores are on a pace for to generate $1.7-$2 million in annual sales, says Jeffrey Owen' Chief Operating Officer. The chain's expansion of pOpshelf will be gradual with 50 expected to be open by year-end and another 150 in 2022 on the way to 1,000 by 2025. That's in addition to the core Dollar General stores, which will add 1,100 in 2022, up from 1,050 this year, growing to nearly 19,000 locations. The chain also will launch its first international expansion in 2022 with 10 locations in Mexico. Dollar General has no plans to abandon its $1 strategy, CEO Todd Vasos said. "Many families depend on us for everyday essentials at the right price and we believe products at the $1 price point are important for our customers, Vasos said. "Those products will continue to have a significant presence in our assortment."
Dollar Tree is moving away from its $1 namesake…slightly, shifting to $1.25 for many of its products as part of its Dollar Tree Plus format. The chain will have 600 Dollar Tree Plus stores by year-end, including installing it in 200 standard locations, up from an earlier forecast for 500, Witynski said. "The $1.25 price point enhances our ability to materially expand assortments, introduce new products and sizes and provide families with more of their daily essentials," Witynski said.
Big Lots, long known as the closeout chain for the value-conscious furniture buyer, also is moving upscale…slightly. The chain, which purchased the Broyhill brand from bankrupt Heritage Home Group (the Thomasville and Henredon brands were purchased by Authentic Brands Group) in 2019, expects it to hit $750 million in sales this year and $1 billion in 2022. Everything is relative, but the Broyhill brand has increased the high-end of Big Lots' merchandise mix to $2,000 for a sectional sofa, up from about $1,600. The brand now accounts for 40% of the chain's upholstery sales.