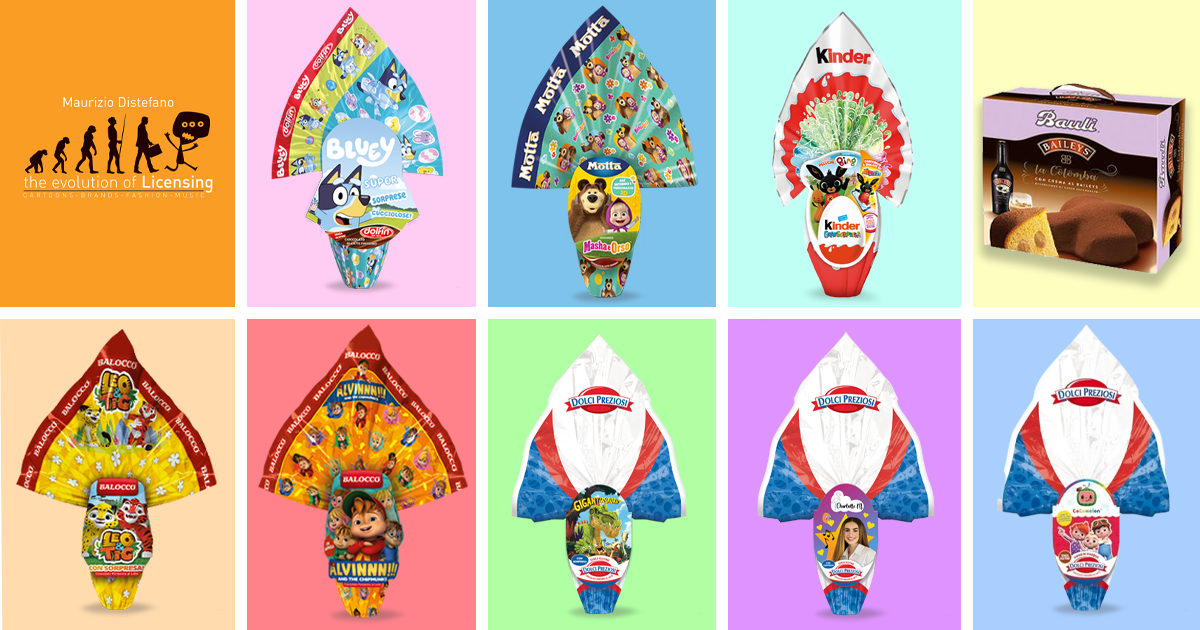 Easter 2023: Maurizio Distefano Licensing
Once again this Easter 2023, Maurizio Distefano Licensing is filling up on deals and placing animated series and brands on the shelves thanks to great chocolate partners, for an Easter full of novelties.
There are 9 properties in the Maurizio Distefano Licensing's portfolio on shelf during the Easter 2023.
Motta is excited to announce another year Easter fun with Masha and The Bear, children's beloved duo, that is featured on the seasonal 190-gr. fine milk chocolate egg. All little fans of the animated series will find 3D toys of their favorite characters as a surprise in the Easter eggs. The series continues its success by being ranked as the most in-demand children's program worldwide according to Parrot Analytics, February 2023. In addition, this year Rai Yoyo has doubled the number of Masha and The Bear broadcast slots with 3 daily slots.
It's not all with Motta, who will please adults as well at Easter, continuing to offer the irresistible Colomba with cream with the unmistakable Baileys flavor, a sweet and delicious encounter with Italian tradition.
Cerealitalia, under the Dolci Preziosi brand, is celebrating Easter with three different agency IPs: CoComelon, the first most-watched children's channel on YouTube, becomes the star of the 150-gram shell of fine gluten-free milk chocolate with many surprises to be discovered; Gigantosaurus, present again on shelf in the 150-gram format in which there will be the surprises from the animated dinosaur series; and finally, this year there will be eggs from the young and talented Content Creator Charlotte M. who has ushered in 2023 with the release of her new film "Charlotte M. the Film: Flamingo Party" and is ready to make her theatrical debut with her Live Tour that will stop in 9 major cities in Italy.
As a new addition for Easter 2023, Dolfin have included the animated preschool series Bluey, which is a huge hit with audiences around the world. The series centers on Bluey, a Blue Heeler puppy who loves to play and turns everyday life into new adventures that always prove unpredictable and hilarious. In February, it won Best Animated Series at the Kidscreen Awards 2023, a celebration of excellence in children's content that honors both television and digital content.
Bing's Easter is branded Ferrero, with a collection of 150g Kinder-branded GranSorpresa eggs. When opening the delicious milk chocolate, Bingfans will be able to find Bing-themed surprises and, as a first-of-its-kind, a digital surprise. By scanning the Bing toy, in fact, children will be able to unlock Bing's character and see him come to life with Kinder's Applaydu app. Bing episodes continue to be featured on Rai Yoyo, and with more than one million subscribers and more than one billion views on the Italian YouTube channel, with more than 384,000 followers on Facebook, 42,000 on Instagram, and with distribution in more than 130 countries, Bing continues to delight entire families and their children.
Leo&Tig return with Balocco, which confirms the choice of the two cubbies protagonists of a thousand adventures in the Taiga with many surprises in a 150-gram fine milk chocolate egg. Episodes of the series continue to air on Rai Yoyo daily entertaining the little ones with journeys, fun and legends of the Taiga.
Balocco is also offering a rockin' Easter with the 250-gram fine milk chocolate egg from ALVINNN!!! And the Chipmunks, the animated series that airs daily on K2 and Nickelodeon and entertains its little fans to music and lots of laughs. The egg surprises are beautiful and very consistent with the character.