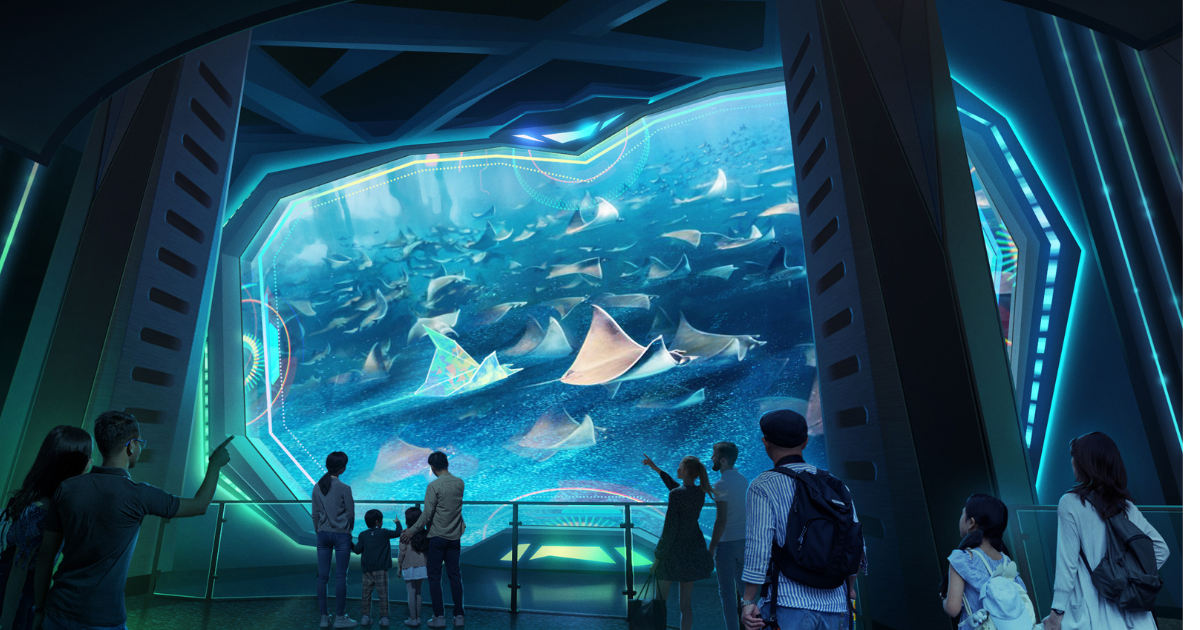 Falcon's Beyond and K11 Group Plan to Launch New Entertainment Franchises and Attractions Across China
Orlando, FL and Hong Kong — Falcon's Beyond announced its debut project as part of its joint venture with Raging Power Limited, an arm of K11 Group, the Hong Kong-based cultural commerce giant. Through their joint venture, these two trailblazers in entertainment and retail, respectively, are expected to collaborate to develop and launch new entertainment franchises and location-based entertainment (LBE) attractions across China.
The new global alliance comes ahead of Falcon's planning to become a publicly listed company on Nasdaq, strengthens its position in the world's second largest economic market, and accelerates the Orlando-based company's global expansion. The joint venture simultaneously solidifies K11 Group's position as one of the world's foremost purveyors of retail entertainment experiences and provides them with co-ownership of attractive IP to launch through LBEs and beyond, including entertainment and consumer products, across China.
"As a global giant who shares our mission to develop state-of-the-art, game-changing consumer entertainment experiences, K11 Group is an ideal partner for Falcon's as we continue our international growth, particularly across Asia, by expanding popular franchises across the world," said Cecil D. Magpuri, CEO of Falcon's Beyond. "Firmly established in the United States, Europe, and the Caribbean, we now have our sights set on China, the world's second largest consumer market, as we continue to grow our company and bring innovative consumer experiences to people around the world."
Falcon's alliance with K11 Group bolsters its strong track record in China and advances its investment in a global expansion through a larger presence in Asia, where it recently opened a flagship office in the Philippines. Over the past two decades, Falcon's has developed a variety of consumer entertainment attractions, incorporating some of the world's most iconic brands, for clients in Asia. Through its K11 Group joint venture, the Company is — for the first time — creating immersive experiences built around new, proprietary IP it has developed.
The first new attraction experience being developed by Falcon's under the joint venture is the underwater adventure themed Vquarium™. Providing a science fiction-like experience that is rooted entirely in the natural world, Vquarium will be a story-driven interactive adventure that explores oceans and waterways around the globe in a wonder-filled narrative that offers intimate and empowering encounters with virtual sea life to entertain, educate, and inspire. Vquarium will be introduced through an interactive attraction that allows visitors to simulate going on an immersive undersea voyage. A multi-room, multi-level experience, the attraction will also provide creative food and beverage offerings, along with retail components.
The first Vquarium immersive LBE is expected to launch in 2025 at K11 Group's heralded 11 SKIES retailtainment destination. This is the first collaboration between Falcon's and K11 Group, following Falcon's nearly two decades of work in China. 11 SKIES is anticipated to be the largest retailtainment landmark in Hong Kong, with a total gross floor area of 3.8M ft2 (353K m2), 800 shops including 120 dining concepts, the largest indoor entertainment hub featuring 8 world class attractions, and 3 office towers providing professional services including wealth management and medical services. Located between Hong Kong International Airport and Hong Kong-Zhuhai-Macao Bridge connecting to the Greater Bay Area, the HK$20-billion project is expected to entice Hong Kong residents, visitors from across the rest of China and travelers passing through the airport.
Following its debut at 11 SKIES, Vquarium is planned to expand to nearly a dozen additional locations across China in the coming years. Falcon's also expects to launch Vquarium in other high-profile markets outside of Asia.
Under the joint venture, Falcon's plans to expand the Vquarium experience beyond LBEs, across all forms of entertainment, including media content, video games, and consumer products. This IP expansion model is core to the company's mission and purpose, to accelerate franchise activations concurrently across physical and digital experiences. The growth of the Vquarium franchise follows Falcon's acceleration of its first global franchise, Katmandu™, which originated at Katmandu Park in Mallorca. Now, the company has opened a second park – Katmandu Park | Punta Cana – in the Dominican Republic, and expanded the IP to consumer products and gaming, and is developing an animated series.