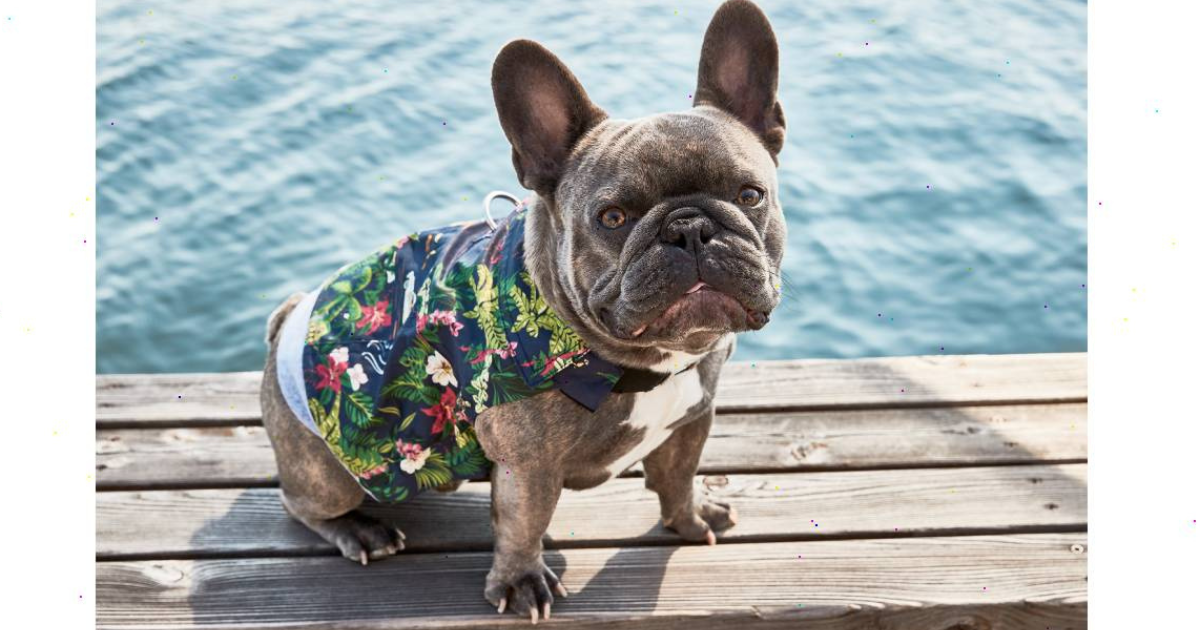 Fashion Brands Put Pets on the Catwalk
Pets are quite literally in fashion. Pet ownership rose significantly during the pandemic, and now fashion brands have big designs for the category.
Gucci and Pandora recently entered the category for the first time with their own products, while the Tommy Bahama brand is making its debut under a licensing agreement with K9 Wear to offer a harness paired with apparel. The Tommy Bahama pet line will launch in the fourth quarter with a new spin on matching family pajamas and the brand's quarter-zip apparel, said James Straggas, founder of K9 Wear, which also has a licensing deal with Badgley Mischka.
It's all part of the "humanization" trend that has swept the pet industry as the line between humans and canines, cats, and other critters has blurred. Now, it's common to see owners and pets don matching outfits such as polo shirts shrunk to dog- and cat-appropriate sizes.
"Brands are looking for new ways to attract a demographic [Millennials and Gen Z] that is more about trips, travel, and experiences," said Straggas, whose company's products are sold through Macy's, Bloomingdale's, and Hudson Bay's e-commerce businesses. "This is an experiential sale and what is enticing [for brands] is not simply having the introduction of pet revenue, but what it does to the complementary products. In apparel, if you have the 'mommy and me' look, odds are it is going to increase sales of the matching apparel."
Other offerings include a pet carrier made of Gucci's GG-monogrammed canvas as well as Fetch for Pets' bowls, apparel, and toys launching at Walmart in September under the digital media Dodo brand, which focuses on telling animals' stories.
"The business is still growing despite the economic challenges and people increasingly understand that a pet is a member of the family," said Steven Shweky, president of Fetch for Pets, which will launch Dole-brand dog treats in Q2 2023. "The pandemic helped increase the business but now, like other categories, it is going to slow down a bit when it comes to [pet] apparel due to the economic downturn. Those are the things you may only need to buy once or twice a year, unlike food."
And while apparel purchases may slow down, trendy new pet-focused products are extending across multiple categories. There are pet tracking devices—Gucci calls them AirTags—that will also be part of Fetch 4 Pets' "smart" pet system. Those devices are set to launch in Q1 2023 under the licensed Honeywell brand alongside bowls, feeders, and other products.
And, among publicly traded pet companies, sales have been strong so far this year. For example, Bark Inc., which has 2.2 million subscribers to its service and added 259,000 in the first quarter, posted a 12% gain in second-quarter revenue to $131 million, while Chewy reported a 14% increases in the first quarter to $2.43 billion.
These trends, which will be on full display at the Super Zoo pet products show in Las Vegas (Aug. 23-25), are expected to be lucrative for brands going forward. The global pet care market, which covers everything from fashion to veterinary services, is forecast to increase revenue 5.1% annually through 2030 to reach $232.14 billion, according to Grandview Research.