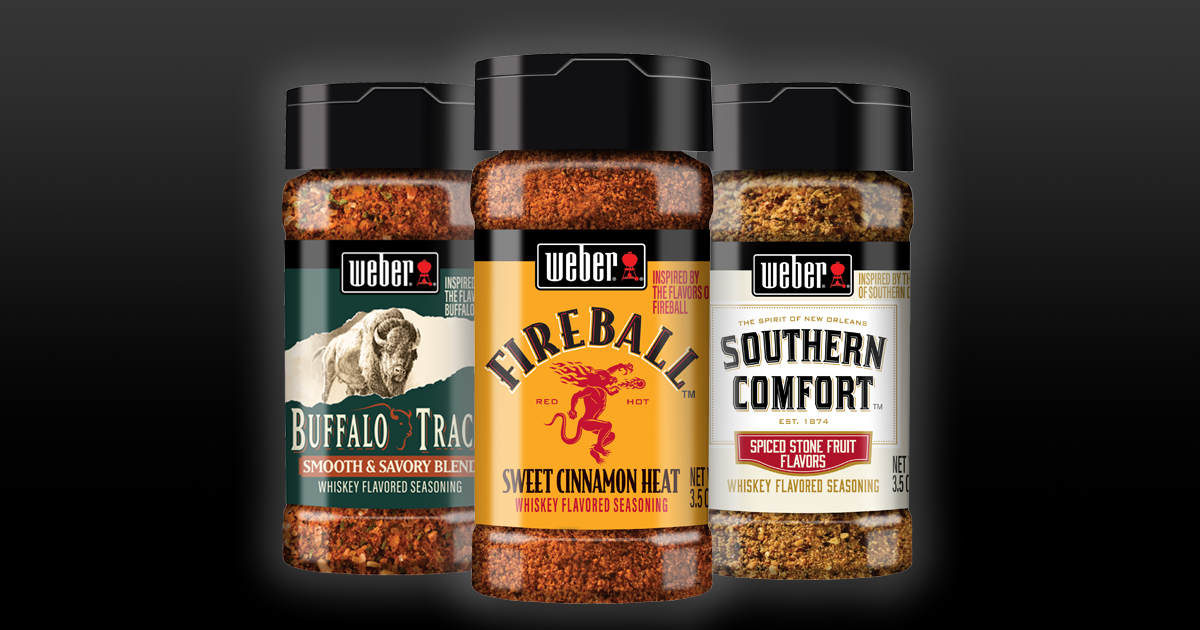 Flavors From the Bar to the Grill: Fireball™, Buffalo Trace™ and Southern Comfort™-Inspired Seasonings Set to Launch This Month
B&G Foods Partners with Sazerac Company to Release New Line of Weber® Seasoning Blends
Parsippany, N.J. – B&G Foods announced today the exciting launch of three new Weber® Seasoning Blends inspired by the flavors of some of Sazerac Company's most popular spirits, including Fireball™ Cinnamon Whisky, Buffalo Trace™ Bourbon and Southern Comfort™ Whiskey. Each seasoning blend is non-alcoholic and has been meticulously crafted to capture the flavors iconic to each spirit brand.
All three seasoning varieties will be available at Kroger stores later this month. Buffalo Trace Whiskey Flavored Weber Seasoning will also be available in a club-size 9 oz, exclusively at Sam's Club beginning in September.
"We are constantly looking for new ways to elevate consumers' culinary experiences with completely unique, yet familiar, seasoning flavor offerings," said Virginia Jordan, Senior Marketing Director, Spices & Flavor Solutions, B&G Foods. "Weber®, our licensed brand behind a wide range of grilling seasoning blends, rubs, marinades, sprays and sauces, has been an innovator within grilling spices for years thanks to expertly crafted flavors that are designed to perform exceptionally on the grill, delivering delicious meat, veggies and sides. The flavor profile of each of these spirits-inspired seasonings is outstanding, and we're excited for consumers to begin experimenting with them."
The full line of Sazerac-inspired seasonings include:
Fireball™ Whiskey Flavored Weber® Seasoning – embraces the bold heat of Fireball with sweet heat cinnamon flavor. This seasoning is perfect for igniting your Fall tailgate spread when paired with wings, ribs, pasta salads, desserts and other touchdown worthy food such as

Fireball Sweet Potato Fries

.
Buffalo Trace™ Whiskey Flavored Weber® Seasoning – inspired by the sweet fruit flavor and rich caramel notes of Buffalo Trace, bringing a smooth, savory flavor to various meats, sides, and even desserts. Fire up the grill and wow your friends with the flavor of this beloved spirit on meats, desserts and sides such as

Buffalo Trace Caramelized Onion Macaroni and Cheese

.
Southern Comfort™ Whiskey Flavored Weber® Seasoning – features a balanced blend of stone fruit flavors, warm spices, and garlic to bring the signature, smooth, laid-back Southern Comfort vibe to any dish. It's versatile enough to enjoy on chicken, vegetables, potatoes and more. Try it in

Savory Southern Comfort Biscuits

for the ultimate in flavorful comfort food.
"This partnership means fans of our brands now have a completely new way to experience the flavors of their favorite spirits – in seasoning form," said Bryan Rakowski, Brand Portfolio Vice President at Sazerac. "From cooking, to grilling, and even cocktail preparation, there are now even more ways for our fans to enjoy and experiment with the taste profiles of their favorite spirits. We're excited to share the recipes B&G Foods has developed and can't wait to see what consumers come up with, too."
Brandgenuity, the licensing agency for Sazerac, brokered the agreement between B&G Foods and Sazerac.
For more information about the release of these flavored seasoning blends, including fun recipe ideas, please visit weberseasonings.com.
About B&G Foods
Based in Parsippany, New Jersey, B&G Foods, Inc. (NYSE: BGS) and its subsidiaries manufacture, sell and distribute high-quality, branded shelf-stable and frozen foods across the United States, Canada and Puerto Rico. With B&G Foods' diverse portfolio of more than 50 brands you know and love, including B&G, B&M, Bear Creek, Cream of Wheat, Crisco, Dash, Green Giant, Las Palmas, Le Sueur, Mama Mary's, Maple  Grove  Farms, New York Style, Ortega, Polaner, Spice Islands and Victoria, there's a little something for everyone. For more information about B&G Foods and its brands, please visit www.bgfoods.com.
About Sazerac
Sazerac is one of America's oldest family owned, privately held distillers with operations in the United States in Louisiana, Kentucky, Indiana, Virginia, Tennessee, Maine, New Hampshire, South Carolina, Maryland, California, and global operations in the United Kingdom, Ireland, France, India, Australia and Canada. For more information on Sazerac, visit www.sazerac.com.