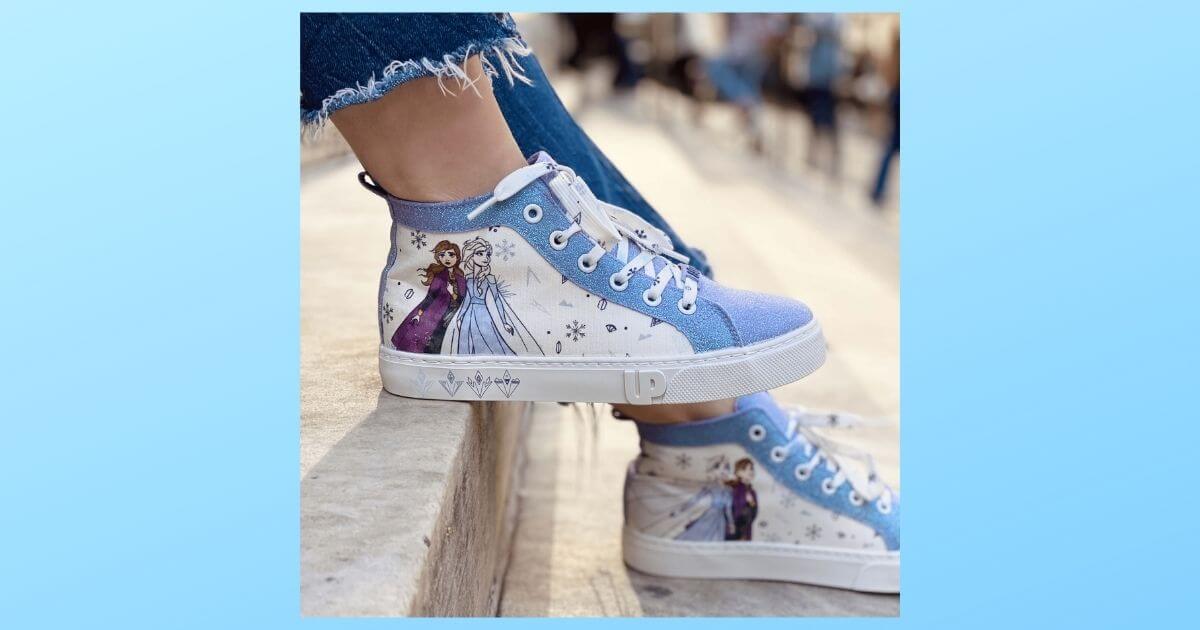 Ground Up's Newest Collaboration Melts Our Hearts with Sneakers Featuring Beloved Characters from Disney's "Frozen"
NEW YORK –  Footwear company, Ground Up, announced today their plans to expand their brand portfolio with an icy twist on casual footwear. The new High-Top sneaker design featuring Queens Anna and Elsa from Disney's "Frozen," will launch at Journeys Kidz on (INSERT DATE HERE). The new collaboration will be offered in both Toddler and Youth sizes and will be priced at $54.99 (Toddler sizing) and $59.99 (Youth sizing). With the success of previous collaborations launched at Journey's Kidz, Ground Up is excited to launch this new style celebrating Disney's beloved set of sisters from the number one animated movie of all-time.
Ground Up created this high-top for the ultimate Disney Frozen fan. The shoe features unique character art, a purple glitter tongue, printed ice crystals on the sole, and "Anna" and "Elsa" nameplate appliques on the shoelaces. Not to mention the notable "UP" rubber applique located on the sole of all Ground Up's dual branded shoes.
When purchasing any Ground Up dual brand shoe, the customer will notice an "UP" on the outsole. The significance behind this small, yet important detail on our footwear is that it symbolizes the connections we make in everyday moments. The interlocking "Up" is the foundation of our brand's identity, separating us from our competition, providing brand identity, and being memorable. From our exclusive at Journey's with Disney to our fashion-forward Cruella collection at Saks Fifth Avenue, Ground Up continues to five consumers brands, they love with a brand they trust.
About Ground Up
Ground Up is a premier footwear manufacturer retaining an integrated portfolio of licensed and owned brands and has grown to be a leading supplier. The company's unique capability to design and translate fashion trends offers a fresh perspective on licensed footwear. Ground Up has aligned itself with many premier licensing partners in each segment of business on both the Entertainment and Consumer side. Entertainment licenses include Disney, Nickelodeon, Warner Bros., Universal, Nintendo, Pokémon, MGA, Moonbug, Funimation, Dragon Ball Z and more. Consumer brands such as Coca-Cola and Budweiser have teamed with the company as well as lifestyle brands.