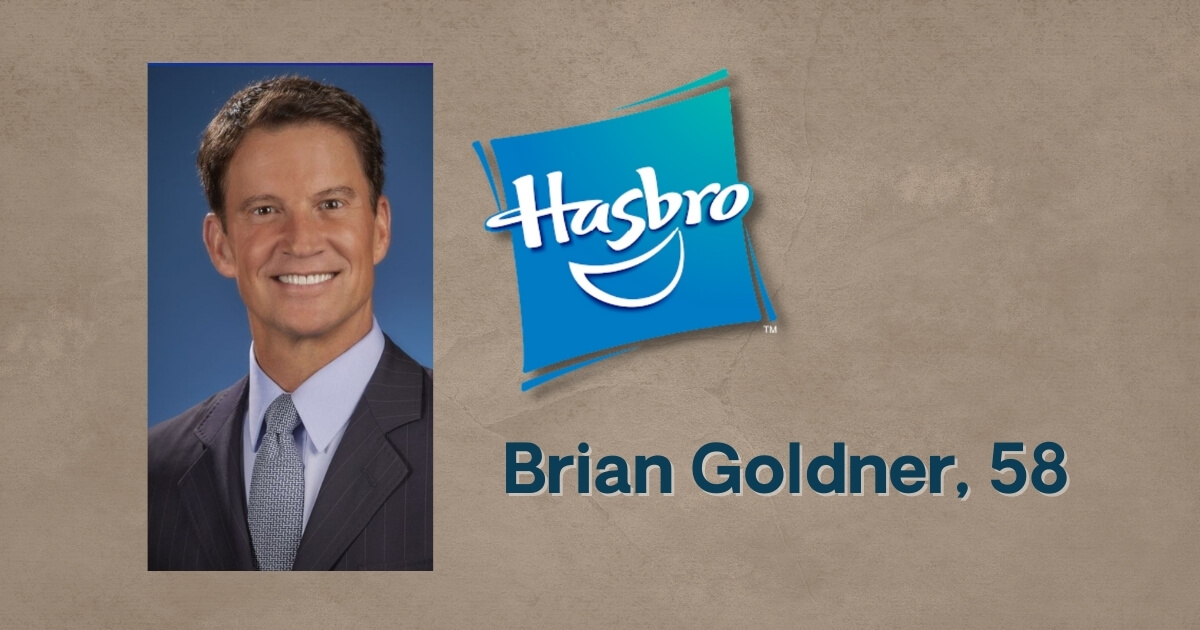 Hasbro Chmn.-CEO Brian Goldner Passes Away at Age 58
Brian Goldner, who drove Hasbro's transformation from a major toy manufacturer to an entertainment powerhouse based on its brands, passed away on Tuesday after a long battle with cancer. He was 58.
The company had announced Sunday evening that he was taking a medical leave to focus on his health, and named Rich Stoddart, a member of the Hasbro board, as Interim CEO.
Goldner joined Hasbro as COO in 2000, coming over from Bandai America, where he was EVP-COO. He was appointed Hasbro's CEO in 2008 and became Chairman of the Board in 2015.
A 2018 inductee into the Licensing Hall of Fame, Goldner was the driving force behind Hasbro's 'Brand Blueprint," a strategic vision aimed at "bringing the company's iconic brands to life… through toy and game innovation, immersive entertainment experiences, digital gaming and consumer products."
Licensing International President Maura Regan called Goldner "a wonderful inspiring human being as well as a business visionary. He was a compassionate and passionate leader who did more than anyone else to connect the broader business community to the power of licensing."
In a note written after Goldner stepped back Sunday night, analyst Steph Wissink of Jefferies credited him with driving Hasbro's evolution "from a manufacturing company to a manager of a robust portfolio of over 1,700 brands. He has been the chief architect behind the brand blueprint, which in 2020 became a circular wheel of value creation with the addition of content capabilities from Entertainment One."
With its  2019 acquisition of eOne, as well as a broad production and distribution pact with Paramount, Hasbro under Goldner's guidance has become a major player in the entertainment industry, with a broad portfolio of movies and TV shows
Said Stoddart: "Since joining the Company more than two decades ago, Brian has been the heart and soul of Hasbro. As a charismatic and passionate leader in both the play and entertainment industries, Brian's work brought joy and laughter to children and families around the world. His visionary leadership, kindness, and generosity made him beloved by the Hasbro community and everyone he touched. On behalf of the Hasbro family, we extend our deepest, heartfelt condolences to his wife, daughter, and entire family."
Goldner also served on the Board of Directors of ViacomCBS and was the Chair of its Compensation Committee.
"Brian uniquely understood the powerful connection between play and entertainment, transforming Hasbro from its traditional roots in toys and games into a global leader in multi-platform content and experiences," said Bob Bakish, President & CEO, ViacomCBS. "As a member of the ViacomCBS Board of Directors, Brian was an essential voice guiding the evolution of our business and championing our commitment to sustainability. His passion for delighting consumers also shone through in his long-time partnership with Paramount Pictures that helped build Transformers into an iconic film franchise. We extend our deepest sympathies to Brian's family and to the entire Hasbro community during this difficult time."
He is survived by his wife Barbara and daughter Brooke. Son Brandon died in 2015.