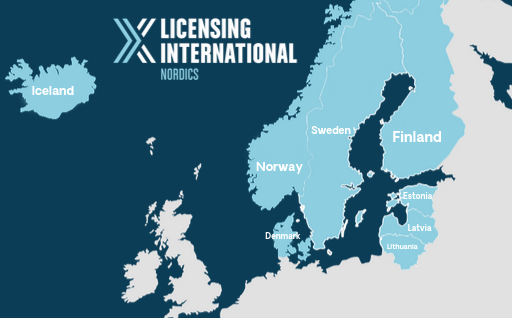 Licensing International Launches in the Nordics
NEW YORK CITY, NY October 2, 2019 – Licensing International, the leading trade organization for the global licensing industry, will establish a new office in the Nordics in cooperation with the Association of Agents and Managers in Creative Industries of Finland (AGMA), a professional association supporting the creative industries in Finland and the Nordics. The new Licensing International Nordics joins Licensing International's network of global offices, which also includes locations in the UK, Germany, Australia, France, China, Japan, India, Russia, Brazil and Italy, in addition to the head office in New York City.
Licensing International Nordics will serve eight countries – Denmark, Finland, Sweden, Norway, Iceland, Estonia, Lithuania and Latvia. Combined, these countries accounted for nearly $4.8 billion in retail sales of licensed merchandise in 2018, according to Licensing International's annual industry survey*, making the region a significant player in the global brand licensing marketplace.
Licensing International Nordics will be headed by Kati Uusi-Rauva, AGMA Director, and Heikki Laaninen, AGMA chairman and Head of Licensing at boutique licensing and publishing agency Ferly Co. Under the Licensing International banner, Uusi-Rauva and Laaninen will work with other local executives to develop events, educational programs, business outreach, networking opportunities and localized news and resources for the benefit of licensing professionals in the Nordics region.
"I'm thrilled to bring the benefits of Licensing International membership, alongside our network of resources and influence, to industry executives throughout these key countries in the Nordics," says Maura Regan, President, Licensing International. "This region is home to a vibrant creative and professional community that has given rise to powerhouse brands and products, so I'm pleased to offer executives in these countries the resources to further grow their business and expand their connections within the global licensing industry."
"We have seen a rise of interest in brand licensing possibilities in the Nordics during the last few years," says AGMA's director Kati Uusi-Rauva. "This has happened especially in the entertainment, content and design industries. Therefore, we are really happy to develop further the Nordic brand licensing community and make it more visible and accessible to the global networks through cooperation with Licensing International."
*Click here to download your copy of the Licensing International Annual Global Licensing Industry Survey, which is free for all Licensing International members.
About Licensing International:
Licensing International – formerly known as LIMA – is the leading trade organization for the global licensing industry. Licensing International's mission is to foster the growth and expansion of licensing around the world, raise the level of professionalism for licensing practitioners, and create greater awareness of the benefits of licensing to the business community at large. Founded in 1985, Licensing International members in over 40 countries enjoy access to an array of benefits, including extensive educational programming and worldwide networking events. Visit LicensingInternational.org for more information and to utilize licensing's definitive online resource.
About AGMA
AGMA, the Association of Agents and Managers in Creative Industries of Finland, represents agencies and managers working in all creative industries such as design and graphics, publishing, photography, performing arts, music, games and media. AGMA organizes events and training, acts as a spokesman of its members and actively takes part in the creative industry business development on a national and international level. Learn more at AGMA.fi.

Media Contact:
Licensing International
Nicole Silberstein
646-744-3748