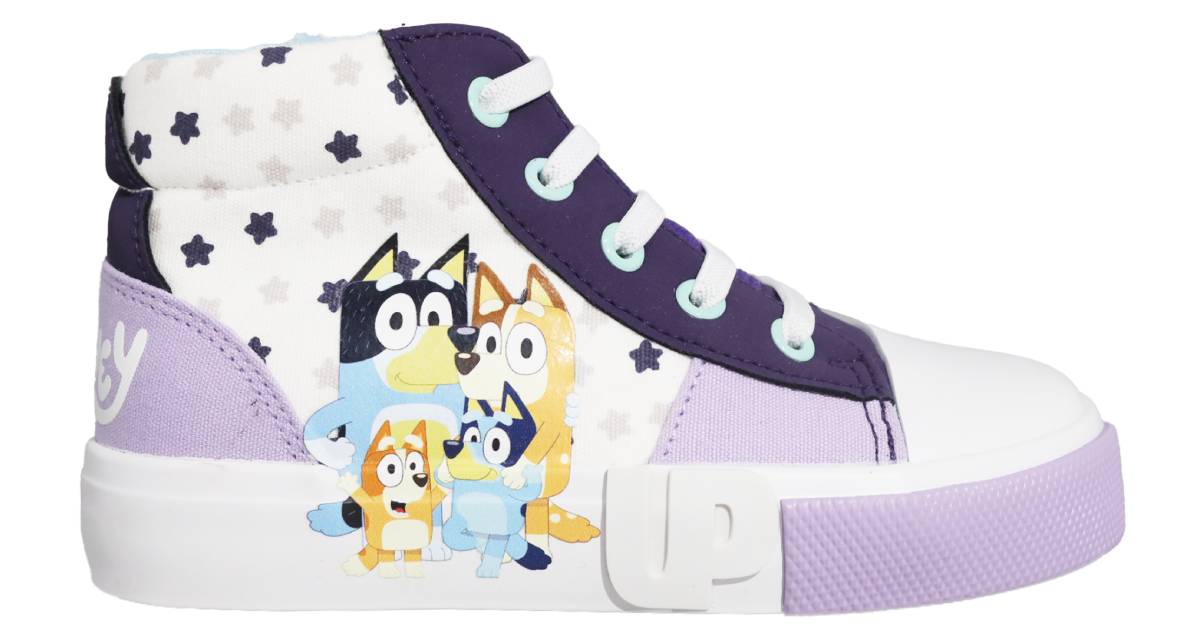 Licensing is a Good Fit for Children's Footwear
Children's footwear is ready to hit the ground running when it comes to licensing.
While overall footwear revenue is forecasted to increase just 1% annually through 2025, the global children's business is expected to increase to $40 billion by 2025 (from $22 billion in 2022), Ground Up International CEO Jack Gindi said.
The children's category accounts for about 15% of global sales, with licensed products representing a smaller amount, and interest in the kids' business is growing as character brand licensing expands. It's not that children's segment has ever been neglected, but the breadth and depth of the business is expanding.
For example, about 700 consumers registered in advance of Ground Up's March 25 in-store promotion at a Kids Foot Locker store in New York. The crowd was eager to access new Bluey high-top and slip-on footwear, which is being sold through 200 Kids Foot Locker locations and 200 Foot Locker stores.
Puma is readying CoComelon-branded footwear for launch on March 31 at its flagship store in New York and Kids Foot Locker. Kids Foot Locker is preparing for products inspired by MGA International's L.O.L. Surprise later this year. And Nike has toddler, preschool, and grade school sizing for Boston Celtics star Jason Tatum's Tatum 1 Jordan footwear, which debuted at the NBA All-Star Game in February and is being released April 7.
"We're working with partners on kid-focused products because exclusives are really what is driving that business right now," said Tim Connor, Director of Marketing at Kids Foot Locker. "It is important to have product that is created in a kids-first approach and with kids in mind."
With the children's business in mind, Kids Foot Locker has opened House of Play format stores (in Miami, FL; Dallas, TX; and Pembroke Pines, FL). The 8,000-square-foot Miami store, which opened in late 2021, features a modular playscape for in-store events and community programs. It's also divided into kids, little kids, toddler, and baby sections with age-appropriate activity areas like padded climbing structures, study tables, and stools. Kids Foot Locker itself has 397 stores with 45 locations in the U.S. and another 18 locations in Europe, where Ground Up will introduce its Bluey line in April.
Perhaps one of the stronger signs of the expansion of the children's business, however, is its adoption by premium brands with premium prices. The high-top version of Ground Up's Bluey footwear sells for $60 at Kids Foot Locker and features higher-quality materials than those sold through Walmart at $18.98.
And higher-end athletic footwear brands like Kane Footwear and On Running are entering the category. On Running released its first shoes targeting toddlers, tweens (Cloud, $100), and teens (Cloud Sky, $110), while Kane Footwear is offering children's versions of its Revive shoe ($60).
"Kids' footwear has been a volume driver at mass market for many years," said Suzy Raia, SVP of Consumer Products and Business Development at BBC Studios, which has 40-50 U.S. licensees for Bluey and continues to expand the brand. "What is new is having premium brands leaning into this market. There has always been this viewpoint that licensed products are not well done, poorly designed, and is something a fashionable parent doesn't want to put their children in. That has changed."
These footwear collections are launching with a shared goal—to spur the kind of brand loyalty that creates lifelong customers.
"The potential here to bring innovation into the kids' business is vast as we build lifelong relationships with younger generations," Nike CEO John Donahoe said.