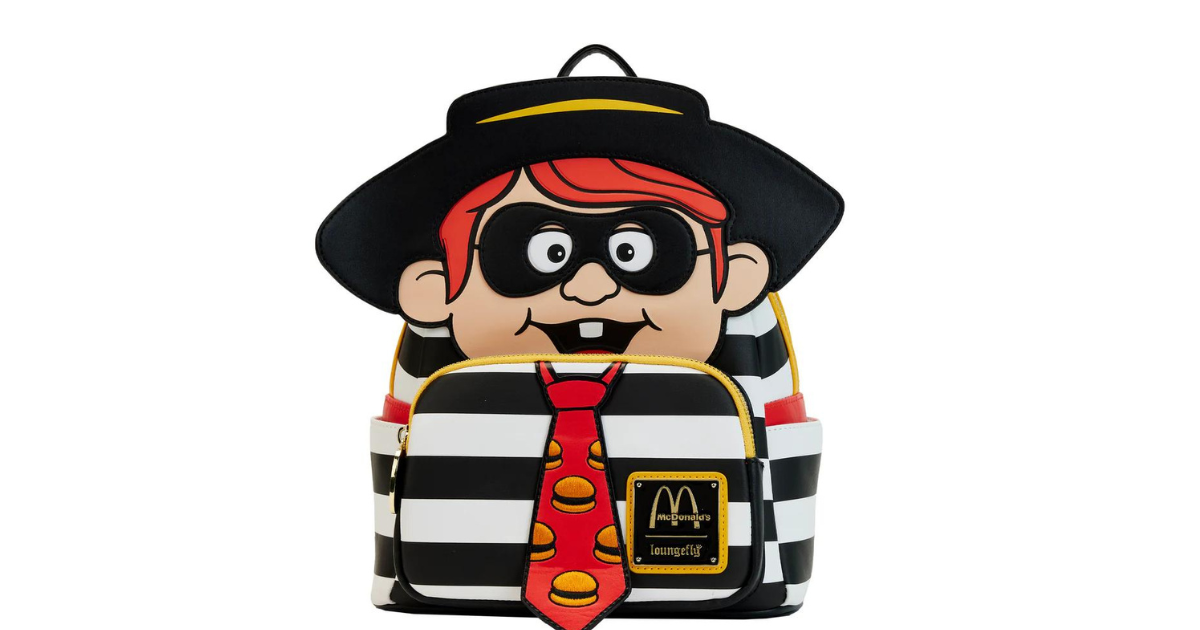 Loungefly and McDonald's Reveal New Collab Launching in February
Loungefly's McDonald's-Inspired Collection Includes Tasty Mini Backpacks and Accessories, Including Special Web-Exclusive Hamburglar Mini Backpack 
Loungefly  announced a new collection in collaboration with McDonald's USA. Inspired by the brand's retro characters and bold colors, the new collection provides fans with mouth-watering backpacks and related accessories, available February on Loungefly.com and at select retailers. The collection also includes a special web-exclusive Hamburglar Cosplay Mini Backpack available for purchase exclusively on Loungefly.com.
Fans will have more reasons to say "I'm lovin' it" with the collection's bright red and yellow color palette, featuring classic designs and beloved McDonaldland characters, including Ronald McDonald, Grimace, Hamburglar, and Birdie the Early Bird. The premium collection includes a mini backpack (MSRP: $80.00) inspired by Ronald McDonald's iconic jumpsuit, web-exclusive Hamburglar cosplay mini backpack (MSRP: $90), a mini backpack (MSRP: $80.00) resembling a tasty Happy Meal®, purple Crossbuddy backpack of Grimace (MSRP: $60.00), an additional crossbody (MSRP: $60.00) and matching cardholder (MSRP: $25.00) shaped like the perfectly salted World Famous Fries®, and a striped wallet (MSRP: $40.00) featuring Ronald and friends.
Loungefly intricately designs its backpacks, wallets, crossbody bags, apparel and small accessories to tell wearable stories inspired by the most beloved properties in the world. Crafted with care and precision, Loungefly leaves no detail overlooked. Fans can find value in every stitch, from bag zippers to printed linings, that showcases an authentic passion for the fandom that they proudly wear.
Additionally, Loungefly's parent company Funko recently announced unique, must-have Pop! figures of Ronald McDonald and friends, and all are available now on Funko.com.
Stay up to date on Loungefly products and trends, and to be the first to know about new accessory releases by following the brand on Facebook, Instagram, Tik Tok and Twitter at @Loungefly. For an additional look at the McDonald's collection and other collections coming this February, tune in to Loungefly's Instagram livestream at 12pm PT on Tuesday January 31.
WHEN:           Loungefly McDonald's Collection – Available February
Funko Pop! McDonald's Figures – Available now
WHERE:         Loungefly McDonald's Collection – Loungefly.com
Funko Pop! McDonald's Figures – Funko.com
ABOUT LOUNGEFLY
Loungefly™, Funko's fan-forward lifestyle brand, is a consistent source of collectible fashion, known for innovative licensed accessories. From casual fans to major collectors, the brand provides its loyal, ever-growing community with thoughtful designs that allow them to showcase their fandom with everyday wardrobe and accessories. The brand intricately designs quality backpacks, wallets, crossbody bags, apparel and small accessories inspired by the most beloved properties and professional teams. From Disney, Hello Kitty, Harry Potter, Pokémon, Marvel, Star Wars, Peanuts and more to fan-favorite NBA, MLB and NFL teams, the brand offers wearable options for everyone. Acquired by Funko in 2017, Loungefly has since expanded with Loungefly Apparel, the company's casual apparel line, and Stitch Shoppe™, a body-positive, high-end apparel line offering sizes XS to 4XL. Loungefly is available online and in specialty stores, boutiques and e-commerce sites worldwide.
ABOUT FUNKO
Headquartered in Everett, Washington, Funko is a leading pop culture lifestyle brand. Funko designs, sources and distributes licensed pop culture products across multiple categories, including vinyl figures, board games, action toys, plush, apparel, housewares and accessories for consumers who seek tangible ways to connect with their favorite pop culture brands and characters. Learn more at https://funko.com/, and follow us on Twitter (@OriginalFunko) and Instagram (@OriginalFunko). Loungefly™ and Stitch Shoppe™ are registered trademarks of Funko, LLC.
ABOUT MCDONALD'S USA
McDonald's USA, LLC, serves a variety of menu options made with quality ingredients to millions of customers every day. Ninety-five percent of McDonald's approximately 13,500 U.S. restaurants are owned and operated by independent business owners. For more information, visit www.mcdonalds.com, or follow us on Twitter @McDonalds and on Facebook at www.facebook.com/mcdonalds.