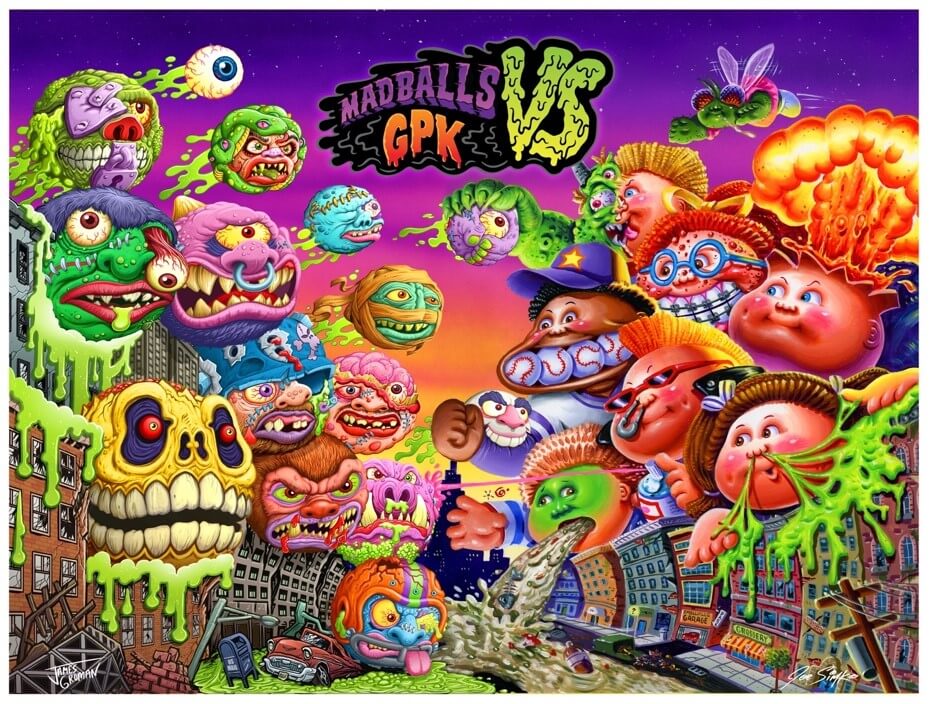 Madballs vs. Garbage Pail Kids Face-Off in 'Battle of The Grossest' Brand Collaboration
Los Angeles, CA — Cloudco Entertainment, owner of the venerable-but-irreverent Madballs™ brand, and The Topps Company, owner of the renowned-yet-subversive Garbage Pail Kids® brand ("GPK"), have teamed up for a collaboration that playfully pits classic 1980s icons and "co-heavyweights of gross" against one another. The collaboration will feature all-new 1980s inspired artwork from veteran Madballs and GPK illustrators and kick-off with a number of consumer goods partners, including trading cards, collector toys, soft lines, collectible augmented reality pins, and more.
As an original "gross out" brand of the 1980s, Topps released its Garbage Pail Kids series of trading cards in 1985, featuring hilariously revolting characters with appropriately irreverent names. Fifteen different card series were produced over the next three years in addition to a Garbage Pail Kids animated series and a full slate of globally-licensed consumer products, with ongoing product lines that continue to the present day. For its part, Madballs launched its irregularly-shaped toy foam balls in 1986, featuring its own proprietary and often-socially-inappropriate characters with ghastly faces, grotesque names, and disruptively funny attitudes to match. Madballs went on to sell tens of millions of toys, inspire a series of animated specials, and launch an extensive consumer products program that included comic books, softlines, video games, collectibles, seasons, and back-to-school products.
For over three decades, Madballs and GPK have both been known as the "grossest of the gross", co-ruling counterculture with their pun-heavy names and subversive humor, and this collaboration features all-new artwork that pits entire groups of Garbage Pail Kids and Madballs' characters against one another, as well as individual characters from each brand in fun and tongue-and-cheek one-on-one face-offs. Artwork will remain "authentically 80s" via all-new imagery from long-time veterans of each brand like Jim Groman, who worked on the original Madballs brand launch in the 1980s, and Joe Simko, a fan favorite and master illustrator of Garbage Pail Kids whose GPK artwork has been prominently featured in the brand's trading cards and packaging.
Consumer product launch partners include: Topps (trading cards), Megalopolis (two-pack action figures), Mad Engine (apparel and accessories), Chalk Line (jackets), Mishka NYC (streetwear, apparel, accessories, and vinyl Medicom figures), Pinfinity (augmented reality pins), and Super Impulse (collectible toys), with specific mobile app, retail, publishing, and other partnerships to be announced shortly.
"Madballs and GPK are of the same era and share tons of irreverent attributes so we love the idea of a fun 'confrontational collaboration' that plays off the two brands as competitors," said Robert Prinzo, Cloudco Entertainment's Head of Global Licensing. "Whether it's Hollywood monsters, horror icons or comic book superheroes, fans always want to see 'impossible' match-ups from different universes, so we're grateful to partner with Topps and deliver the 'grossest' possible version of that here."
"Shared nostalgic roots and over-the-top zaniness make this collab a no-brainer," said Ira Friedman, Topps' VP of Global Licensing. "Our respective fan bases as well as pop-culture aficionados everywhere are going to have fun with this outrageous mash-up."
"This is one of those crossovers that many of us have imagined since we were kids collecting both lines. I've had these match ups in my imagination since the 80s," said Ben Westover, Megalopolis' Creative Director. "Garbage Pail Kids is a timeless treasure, and one of my absolute favorite properties from childhood. I'm thrilled that we have the chance to introduce the GPK and Madballs universes to one another. It's a perfect, monstrous synergy!" added Matt Westover, Megalopolis' CEO.
"Here at Mad Engine we are thrilled to be part of this very fun and unique collaboration of Mad Balls vs. Garbage Pail Kids brands. We can't wait to present this kitschy collection of tees, hoodies, joggers, headwear, and other accessories to our retailers. The celebration of these two iconic pop culture brands from the 80s is just what we all need right now!" – Cindy Levitt, SVP of Licensing, Mad Engine Global LLC
"We are humbled to be a part of The Madballs x Garbage Pail Kids brand collaboration, it represents the ultimate nostalgic marriage as two powerful properties of our youth collide. Having worked with the Garbage Pail Kids brand already, we are thrilled to pick up from where we left off while adding an incredible partner like Madballs into the mix!" – Ilan Friedman, Co-Owner, Chalk Line
"Mishka is excited to be part of the Madballs x GPK collaboration project! We grew up collecting and obsessing over both the Madballs & Garbage Pails Kids brands. They have heavily inspired us as a brand as well as artists and creatives. We can't wait to mix our world with the GPK x Madballs world incorporating our characters and design sensibility for graphics that will excite fans as well as opening an entire new crowd to these classic properties." – Greg Rivera, President, Mishka NYC
"We are excited to be a part of the Madballs x Garbage Pail Kids brand collaboration and helping fans relive the 80s and 90s through disgustingly awesome augmented reality pin badges." – Caleb Paullus, Founder, Pinfinity
"We at Super Impulse are absolutely appalled at the pairing of these despicable creatures, and cannot wait to bring our collectible toys to the grimy little hands of kids and kids-at-heart everywhere." – Alan Dorfman, CEO, Super Impulse
###
About Cloudco Entertainment
Cloudco Entertainment, formerly American Greetings Entertainment, is the owner for iconic entertainment brands such as Care Bears™, Holly Hobbie™, Madballs™, Packages from Planet X™, Twisted Whiskers™, Buddy Thunderstruck™, Tinpo™ and its newest IP, Boy Girl Dog Cat Mouse Cheese™. Cloudco Entertainment develops multi-platform entertainment franchises across all media channels and extensive consumer merchandising programs that immerse children and adults in brands they love.
About Topps
Founded in 1938, The Topps Company, Inc. is the preeminent creator and brand marketer of physical and digital sports cards, entertainment cards and collectibles, and distinctive confectionery products. Topps' leading sports and entertainment products include Major League Baseball, Major League Soccer, UEFA Champions League, Bundesliga, Star Wars, WWE, Wacky Packages, Garbage Pail Kids, Mars Attacks and other trading cards, sticker album collections and collectibles. Topps' digital trading card apps portfolio, which has been a hit with millions of fans around the world, currently includes Topps® BUNT®, TOPPS® KICK®, Topps® Star Wars℠: Card Trader, Topps® WWE Slam®, Topps® NHL SKATE™, The Walking Dead: Card Trader, Marvel Collect! by Topps and Disney Collect! by Topps! Topps' confectionery brands include Ring Pop®, Push Pop®, Baby Bottle Pop®, Juicy Drop ® Pop, and Bazooka® bubble gum. Topps was acquired by Michael Eisner's Tornante Company and Madison Dearborn Partners in October 2007. For additional information, visit topps.com and candymania.com.
About Megalopolis Toys
Megalopolis Toys is the go-to retailer for premium action figures and pop-culture fandom, brings the Comic Con experience online with original streaming content on mobile and Web platforms. To learn more, visit megalopolis.toys.
About Mad Engine
Mad Engine Global LLC is a leading license manufacturer for apparel and accessories. With over 150 licenses that include Disney, Marvel, Warner Bros, Fortnite along with owning brands Neff and LRG. Mad Engine sets industry trends and produces high quality product for kids and adults and for all tiers of retail. To learn more, visit madengine.com.
About Chalk Line
Chalk Line is an apparel company that initially rose to popularity during the mid 90's. The company has a core focus on the ultimate sports and entertainment fan specializing in a diversified assortment of product including both outerwear and sportwear. Today, Chalk Line works with over a dozen licensors and has put a major emphasis on pop culture and nostalgia. To learn more, visit chalk-line.com/.
About Mishka NYC
Mishka started in 2003 in Brooklyn becoming a part of the very important and historic second wave of US streetwear. Since then, Mishka NYC has become a leader in the weird and unusual, pulling from its background of inspiration including, Comics, Horror Movies, Punk Rock, Sci-Fi and everything in between. Collaborations over the years include many brands and artists such as Sesame Street, Harvey Comics, Ghost World, Army Of Darkness, Robocop, Brisk Ice Tea, G-shock, Zippo, Sega, and many more! To learn more, visit mishkanyc.com.
About Pinfinity
Pinfinity is revolutionizing the world of pins and pin collecting through their patent-pending augmented reality platform which enables pins to come alive with animation, sound, and other interactive elements through their free mobile app. Founded by a team of experienced professionals with over one billion dollars in licensed direct to consumer product sales, Pinfinity pins feature top franchises in fandom and include Hasbro (Transformers, My Little Pony, Power Rangers, Dungeons & Dragons, Magic: The Gathering, G.I. Joe), Henson Studios (Fraggle Rock, Farscape, The Dark Crystal), Tetris, CAPCOM (Street Fighter), Bandai-Namco (Pac-Man) and more. You can keep up-to-date on all things Pinfinity through their Facebook, Instagram and Twitter pages. To learn more, visit pinfinityar.com.
About Super Impulse
Super Impulse is committed to toy innovation, novelty items and accessories for kids and the young at heart. Most notably recognized for lines World's Smallest® and World's Coolest® which include a range of licensed miniatures with working functions and keychains as well as Tiny Arcades®, real working mini classic arcade games; Tilt™, motion activated Handheld Electronics, and much more! Super Impulse has the latest in classic retro and trend-forward toys with "a little something" for everyone! To learn more, visit superimpulse.com.