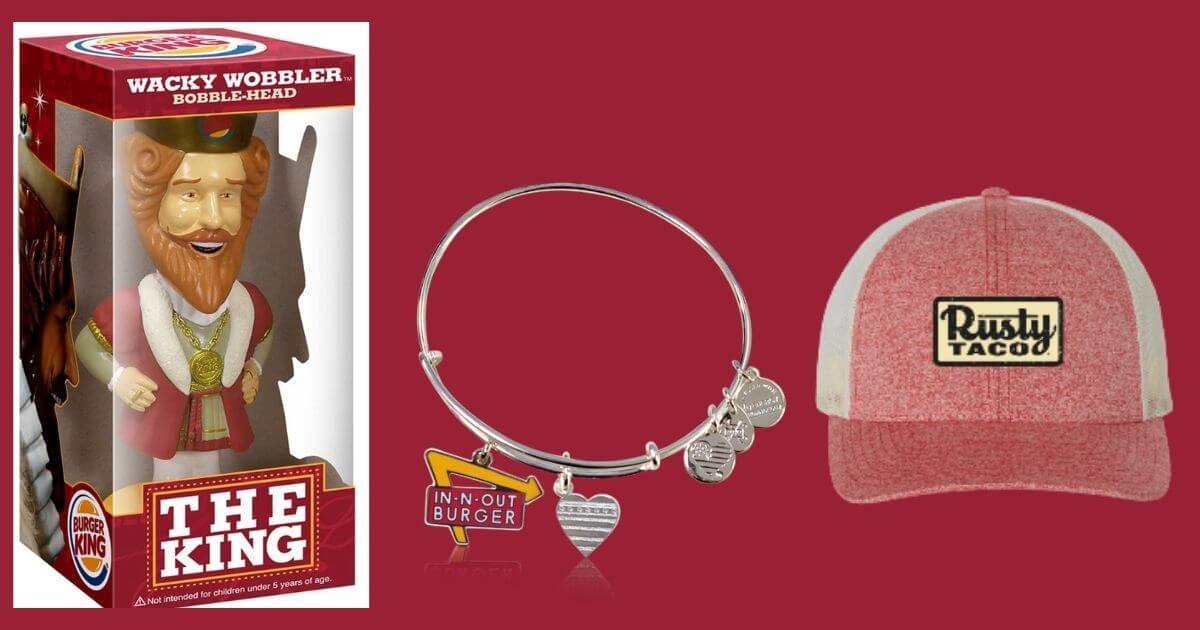 Merchandise Being Added to Restaurant Menus
In an effort to extend their brands further into the lifestyle landscape, national/global restaurant behemoths, as well as some of their more regional competitors, are adding merchandise to their menus.
While the majority of the products are short-term buzz-worthy promotional items such as Kentucky Fried Chicken's Enviro-log or e.l.f. Cosmetics' Chipotle Hot Salsa Lip Gloss,  licensing has added a pop culture twist that extends the brands beyond their front doors and websites. For example, Funko has fielded Pop! Vinyl character-based figures for Bob's Big Boy, McDonald's (Ronald McDonald, Grimace) and Burger King (The King), among others,  that are available not only through the chains' web sites, but also the ecommerce stores of Walmart, Target, Amazon and others.
Restaurant Staple
Licensing has long been a staple of many restaurant-branded food and beverage programs — think Kraft Heinz's TGI Fridays' frozen poppers or John Morrel Food Group's Nathan's Famous hot dogs – but its move into licensed apparel and other merchandise has gained speed in the last couple of years. In addition to Funko figures, there's licensee Concept One's Taco Bell hats and in the UK, Kimm & Miller's Krispy Kreme and Costa Coffee gift baskets, the latter for a holiday promotion. And earlier this year, Subway hired Broad Street Licensing to bring it into food and beverage and lifestyle products.
"Subway is an example of a brand known around the world, and had a successful colab in South Korea with Fila, said Bill Cross, SVP of Business Development at Broad Street. "The strong interest that colab aroused in consumers led the brand to hire BSLG to move them from pay-to-play programs to a licensing program in both food and non-food. One of the unique features of the Subway program is it is intended to partially support their Subway Cares Charitable Foundation."
"Historically merchandise has been primarily promotional, but you are seeing is an evolution of that [for licensing]; some of that is 'me too' because restaurants see their competitors" getting into the merchandise business, Cross continued. "The idea is that it will drive traffic back to the restaurants."
It's all about brand affinity. In addition to an online "Company Store," fans of  In-N-Out Burger can visit three brick-and-mortar versions  (one in its native California, and two in Las Vegas) that sell a broad range of mostly promotional merchandise; the chain introduces a new t-shirt design each year that's typically posted inside its restaurants.
In other examples, McDonald's launched its Goldenarchesunlimited.com online merchandise store in late 2019, and Taco Bell is testing a dedicated kiosk for ordering branded merchandise in a restaurant it opened in New York last year.
'Wearing the flag'
"Some restaurants have recognized that they can sell a $25 t-shirt and the carrying cost isn't that bad especially if they drive that cost to a license relationship or a [non-licensed] print on demand situation," says Jeff Dotson, Vice President of Business Development at The Valen Group, which represents IHOP, Red Robin and Fazoli's. "You can put out a design, the customer can purchase it in the restaurant, have it shipped to the home and it's manufactured in units of one. It's about 'wearing the flag' and then it becomes something that can be very valuable and more fashionable over time" and be extended further via licensing for general retail.
In some cases, tracking promotional merchandise sales can be part of the data pool that helps the restaurant plot future expansion, whether for new restaurant or perhaps distribution of licensed grocery items. Regionals such as Rusty Taco, which operates 33 restaurants across nine states with a heavy concentration in Texas, or Skyline Chili, which has about 45 locations across four states in the Midwest, can see whether (and from where) merchandise orders are coming from outside their trading zones.
"Restaurants typically have limited audiences because their customer bases are restricted to locals or people visiting their areas," says ecommerce platform developer Lightspeed. "With merch that you can ship virtually anywhere, however, you can connect with – and earn revenue from – customers who wouldn't be able to dine with you because of the distance."
There also are regional co-branding opportunities. A pair of companies with strong Texas identities — retailer Academy Sports and Whataburger — created apparel for Academy's private label Magellan Outdoors brand.