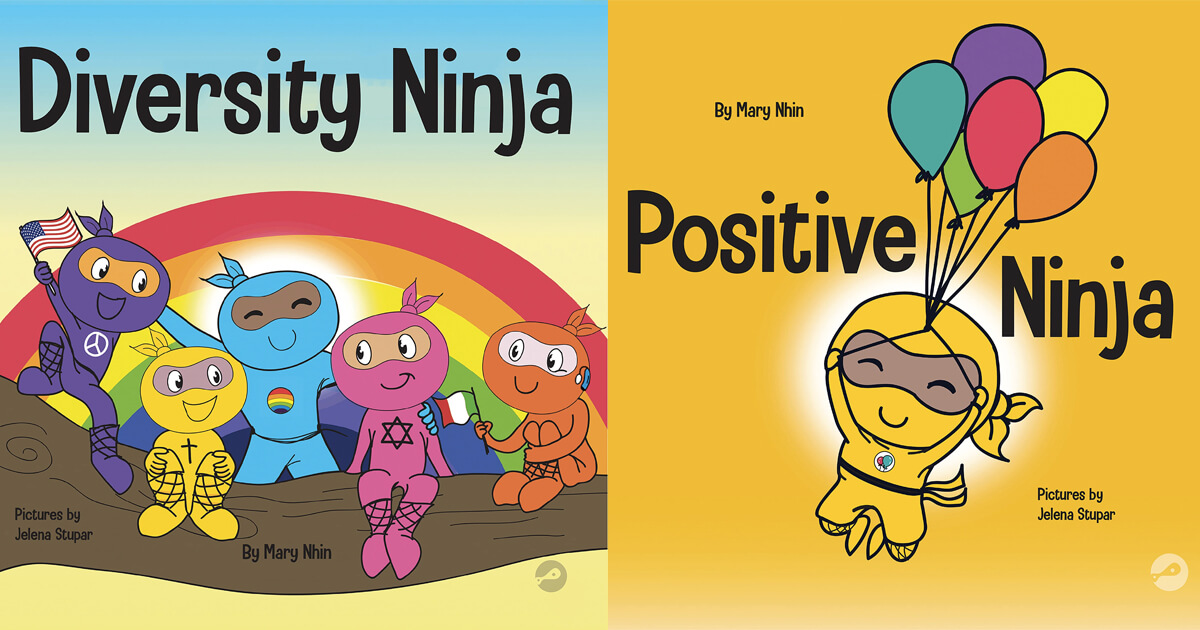 Ninja Life Hacks and Insight Editions Announce New Global Publishing Program
Bestselling independent publishers Grow Grit Press and Insight Editions have partnered on a publishing program for the best-selling series Ninja Life Hacks that will extend the brand into board books, activity books and other products globally to help young readers develop resilience, confidence, and social-emotional skills.
Ninja Life Hacks was created by Mary Nhin in 2019. The signature series of paperback books each feature a character who has mastered an essential life skill such as Angry Ninja, Positive Ninja, Focus Ninja and Anxious Ninja.  The series has grown to a catalogue of more than 60 paperback books, over 10,000 5-star reviews and sales of more than 1 million copies which to date has only been available exclusively online.
The partnership with Insight Editions expands the Ninja Life Hacks characters into new formats and market channels and was created by The Brand Liaison as agent for Ninja Life Hacks.
"We're honored and excited to combine our expertise developing innovative publishing formats with Ninja Life Hacks' successful brand to bring the important message to more kids though our robust trade sales channels," said Raoul Goff, Founder and President of Insight Editions.
"I am so excited to partner with Insight Editions to extend the brand and produce high quality resources that parents and educators can tap into to fuel our future generations' appetite for emotional intelligence and grit," said Mary Nhin, creator of Ninja Life Hacks.
The collaboration launches in Spring 2022 with six titles in three formats inspired by the core book characters:
Mini Ninja Life Hacks Board Book
A Ninja for every mood—from Angry to Positive to Sad and everything in between—all dedicated to helping children navigate a sometimes frustrating world.
Ninja Life Hacks Activity Book: Confident Ninja
A fun activity book to help kids negotiate their way through life's challenges and learn tips and tricks to help build confidence and self-esteem.
Ninja Life Hacks Activity Book: Earth Ninja
Mindful activities help kids learn ways to make a difference in the world.
Ninja Life Hacks Activity Book: Positive Ninja
Positive Ninja struggles with negativity until a simple strategy for positivity is discovered.
Ninja Life Hacks Activity Book: Diversity Ninja
Diversity Ninja and friends show that regardless of differences in race, gender, ability, background, language spoken, or skin color, we are all part of the human race.
Ninja Life Hacks Conversation Deck
52 cards and accompanying booklet to jumpstart conversations on topics introduced by Angry Ninja, Positive Ninja and others about feelings and emotions that families can explore together.
About Ninja Life Hacks
Ninja Life Hacks is the popular children's book series with one mission: to help parents, educators, and children with the resources to cultivate a growth mindset, develop confidence and grit, and promote emotional intelligence. We think parents and teachers are heroes, and we want to help in any way possible.
In its full first year, parents and children have embraced the Ninja Life Hacks book series and the 60+ Ninja characters leading to over 10,000 5-star Amazon reviews, almost 1 million books sold and a #1 Best Seller accreditation across nine categories.
Author, Mary Nhin, is a mother of three young boys whose daily encounters with life emotions inspired her to create Ninja Life Hacks.
About The Brand Liaison
Representing both brand owners and licensees, The Brand Liaison has built a reputation as a leading licensing agency with the ability to successfully create new revenue streams through licensing, collaborations and strategic retail partnerships.  For brand owners as the licensor, our goal is to commercialize opportunities that will extend our clients' brands into cohesive product categories to maximize their licensing potential.  For manufacturers as the licensee, we assist in acquiring the right brand, for the right product for each intended channel of distribution.  In each case, we work closely with our clients to ensure that our brand extension activities compliment their strategic goals and objectives, and create long term success.  http://thebrandliaison.com
About Insight Editions
Celebrated for its unwavering dedication to quality, Insight Editions is a bestselling publisher of books and collectibles that push the boundaries of creativity, design, and production. Through its licensed publishing program, Insight Editions strives to produce unique books and products that provide new ways to engage with fan-favorite characters and stories. Insight Editions' award-winning art and photography titles celebrate the artistry and history of a wide range of subjects, from rock history to nature conservation. Insight Editions' New York Times bestsellers include Bowie: Stardust, Rayguns & Moonage Daydreams, Henry Winkler's I've Never Met an Idiot on the River, and Radhanath Swami's The Journey Home. Recent national bestsellers include Friends: The Official Cookbook, Harry Potter: Knitting Magic, and The Elder Scrolls: The Official Cookbook.  For more information, visit insighteditions.com.