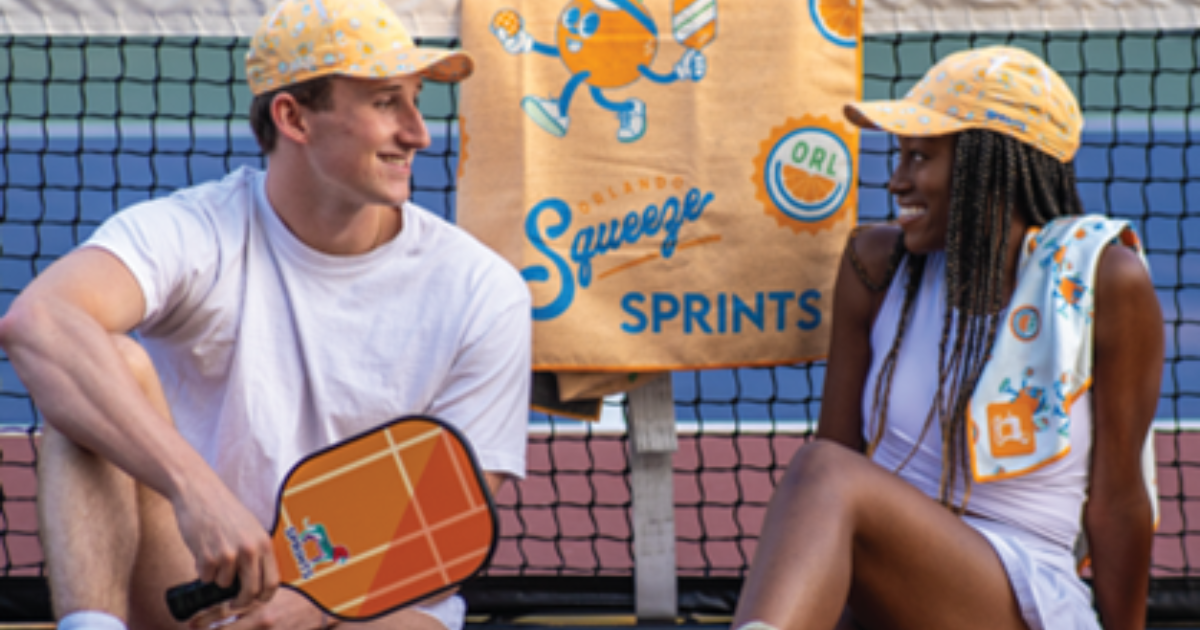 Orlando Squeeze Partners with Sprints to Serve Up Standout Pickleball Collection
Colorful athletic brand features Squeeze's pickleballin' orange in first collaboration  with MLP
Orlando, FL – The Orlando Squeeze today announced a collaboration with Sprints, the fashion-forward performance accessories brand, to launch a limited-edition collection of pickleball gear. The partnership is a slam dunk, or "dink", for these two exciting and growing brands. Launching today, fans will be able to purchase the entire collection at getsprints.com, featuring new fruit stickers and retro orange cartons while featuring the Squeeze's classic orange on hats, car seat cover towels and courtside mini towels.
"This collaboration with Sprints was no sweat," said Orlando Squeeze owner and GM Ryan DeVos. "Our missions to encourage inclusiveness in sports are completely aligned, and we couldn't think of a more fun and standout way to introduce pickleball and the Squeeze to another sports-enthusiastic audience than riding the wave of momentum that Sprints' nonstop creativity and unique pattern launches represent."
Beyond pickleball, Sprints has been very active within the running community and its major races. This year, the brand has activated with Fleet Feet Austin, Fleet Feet Cincinnati, and Marathon Sports in Boston, while looking forward to a fun fall with some big races coming up, such as the Chicago Marathon and the New York City Marathon – all of which present opportunities to reach new audiences.
Past Sprints collaborations have also included Vlasic Pickles, serving up America's favorite pickle to brine enthusiasts across the nation.
"The Orlando Squeeze brand fully captures our product promise to help athletes stand out and ourrelentless commitment to court style," said Eric Rose CEO at Sprints. "We believe athletics and apparel should create opportunities to be fun and expressive, and this collaboration with the Squeeze is another step in that direction."
This limited-edition collection will make its debut just prior to the Orlando Squeeze's participation in Major League Pickleball's Atlanta tournament from Sep. 21-24, which will kick off Season Two of the 2023 MLP calendar.
About Major League Pickleball
Major League Pickleball (MLP) is the premier team league and the standard-bearer for the fastest-growing sport in the United States. MLP is committed to perpetuating the sport's larger role in society and permeating every facet of pickleball's business, marketing, and community relations. With iconic team owners, a co-ed team format, an innovative draft, easy-to-understand scoring, groundbreaking broadcast quality, and the highest prize money events in pro pickleball, MLP's goal is to elevate and grow the sport in everything it does.