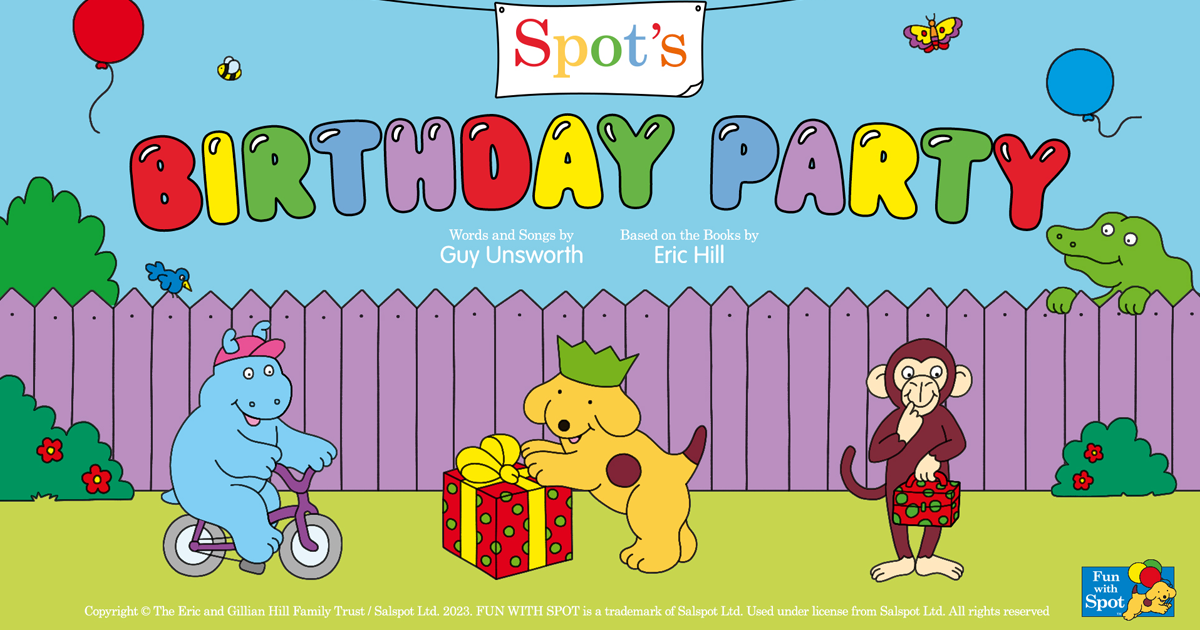 Penguin Ventures Announces Spot's Birthday Party
A Brand-New Live Interactive Stage Show From Sam Bradshaw Productions Based on the Spot Books by Eric Hill
Tuesday 29th August 2023. London, UK: Penguin Ventures, the licensing and consumer products team at Penguin Random House Children's UK, together with Sam Bradshaw Productions, are delighted to present Spot's Birthday Party – a brand-new, live show starring classic picture book pup, Spot.
Based on Eric Hill's iconic lift-the-flap stories, Where's Spot? and Happy Birthday Spot, published by Puffin, this brand-new stage adaptation brings Spot and his friends to life in an interactive and accessible show suitable for ages two plus.  Spot's Birthday Party will be touring the UK from February 2024.
Loveable puppy, Spot, has been an integral part of early childhood since he first appeared in the classic lift-the-flap storybook Where's Spot? in 1980.   Since then, over 65 million Spot books have been sold worldwide by Puffin and the series has been translated into over 60 languages.  With his inquisitive nature, sense of curiosity, boundless energy, and the simple shapes and colours used to illustrate his world, Spot helps families, babies and toddlers to explore the world around them.
Thomas Merrington Creative Director at Penguin Ventures said: "We are thrilled that Spot will be returning to the stage in this brand-new adaptation. I am certain that young audiences will love seeing Spot brought to life in this accessible and inclusive show. Guy Unsworth and Sam Bradshaw Productions have really created something wonderful in taking Spot from page to stage".
The interactive show will include games and dancing, with words and songs by acclaimed writer and director Guy Unsworth who said: "Spot's stories are filled with warmth, fun and lots of love so I can't wait to share this timeless classic character on stage with songs, party hats and Spot's animal friends".
Spot's Birthday Party has been produced under license from Penguin Ventures on behalf of Salspot Ltd.
Penguin Ventures will be exhibiting at BLE on stand C164.