Story at Macy's Serving as Testing Ground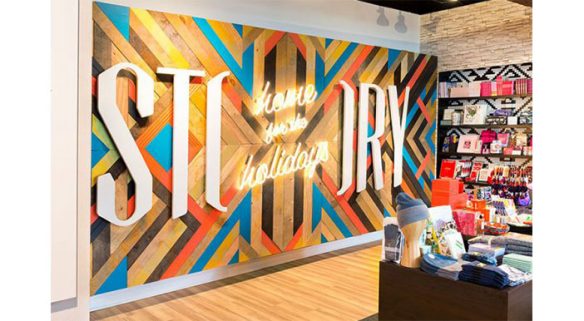 Three months into its launch at Macy's, Story is serving as a proving ground both for smaller suppliers and the retail giant itself as it seeks to speed the arrival of new products to market, Chief Brand Experience Officer Rachel Shechtman said Wednesday during a keynote presentation at Licensing Expo.
Shechtman, who last year sold Story to Macy's, said the format, which has been installed at 36 stores, is allowing the retailer and suppliers to "test and learn" before deciding whether to expand.
For example, the Crayola x Levi's collection of jeans, jackets and t-shirts, was launched at Story in April. But it is expanding to more than 100 Macy's locations in July in front of the back-to-school selling season. Estee Lauder's Mac Cosmetics also is testing new makeup products and Story created a display of 500 different Mac eye shadows. And smaller suppliers – 74 of them at each location so far – are gaining distribution at Macy's through Story. The current "Color" Story theme at Macy's runs through June 26 and a new installation launches July 9.
"Testing and learning is important because when you have 600 plus stores it takes a while, and it's expensive and if it doesn't work it can be really expensive," Shechtman said.  "This also gives Macy's an opportunity to try small businesses and new concepts and see how they work as a sister to the [Macy's larger] system and taking those learning and make some decisions in four months, not eighteen months."
Story also has had about 400 events since launch – a Mother's card creation event in May and once for making barbecue aprons for Father's Day later this month. The events service to draw customers to Macy's who might not otherwise shop at the department store chain and expose them to chain's product offerings. While the events thus are free, there are plans for testing ticketed versions, Shechtman said.
With Story in its early stages, Shechtman cautioned against measuring the format solely based on sales.
"We are creating a matrix based on sales, but there also will be one for customer acquisitions" since Story is adding customer traffic that "may not also be measured on a per transaction basis," Shechtman said.