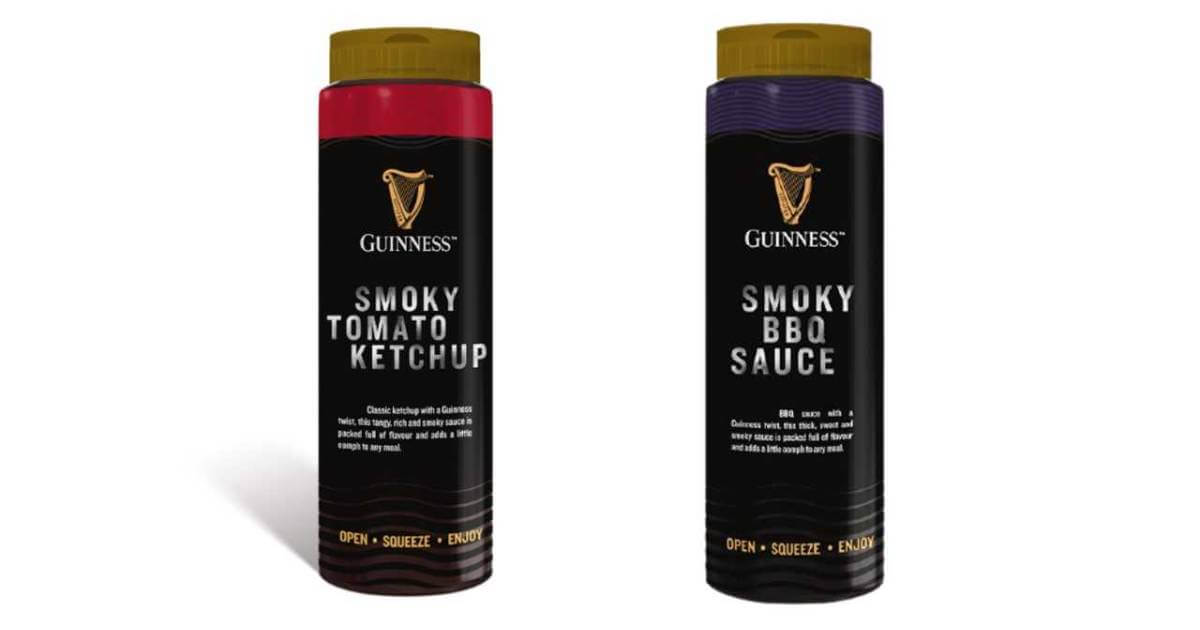 The Flava People Bring a New Twist to Sauces with Two New Guinness Flavoured Products
LONDON, UK (June 6, 2022) The Flava People has teamed up with Diageo once again to launch a new range of Guinness sauces—Guinness Smoky Tomato Ketchup and a Smoky BBQ sauce—both are available across Tesco stores now. The partnership was brokered by Diageo's global brand licensing agency, Beanstalk.
Dubbed 'the beer of taste' and loved by chefs across the world, Guinness adds a recognisable malty, smoky flavour to everyday cupboard essentials.
Part of a wider partnership with Diageo, the 'Guinness Kitchen' portfolio is aimed at targeting foodies and beer lovers. The range targets consumers who enjoy experimenting with home cooking but rely on base, easy to use ingredients and ready-made add-ons to create intense, delicious meals.
Olivia Parkes, Brand Manager for 'Guinness Kitchen' at The Flava People, said: "Guinness is a beer with a unique standing in the world of food and has long been associated with hearty home cooking and delicious flavour. The new sauces are designed to expand shoppers' relationship with Guinness and food beyond that of the traditional—providing more premium, flavoursome alternatives on household cupboard staples, perfect as we enter the summer BBQ months. We're now building the range with products suited to entry-level through to accomplished cook, meaning we can capture consumers and introduce them to the concept of Guinness with food through the comfort-food they traditionally associate with the brand like pies and gravy, before transitioning them to more experimental formats and cooking with the Guinness flavour as an ingredient."
Guinness Smoky BBQ sauce and Guinness Smoky Tomato Ketchup are a twist on Britain's much loved classic table sauces – packed full of flavour and add a little oomph to the well-loved burger and bacon butty. The two condiments are available at over 300 Tesco stores and are an addition to the Guinness food range that includes six other existing products. ENDS
About Guinness
The GUINNESS Company was established in 1759, when Arthur GUINNESS signed a 9,000-year lease on St. James's Gate Brewery in Dublin. Brewed using four natural ingredients, water, barley (malted & roasted), hops and yeast, GUINNESS is the worlds most popular stout. The iconic beer is brewed in 49 countries worldwide and sold in over 120. The most GUINNESS is sold in Great Britain, Ireland, USA, Nigeria and Cameroon. All GUINNESS consumed in Ireland and Great Britain is brewed at St. James's Gate Brewery. More information can be found at www.GUINNESS.com Enjoy GUINNESS Sensibly. https://www.drinkaware.co.uk/
About The Flava People
Crafting award winning products for some of the biggest names in the business, it specialises in working closely with customers to convert big trends into food and flavour concepts that are both completely unique in the market but also highly accessible. All made with good honest ingredients, no nasties and designed to bring new exciting flavours to as many dinner tables as possible. Its mission is to add a little flava to the everyday.
About Beanstalk
Beanstalk, a global brand extension licensing agency, works closely with our clients to unlock brand equity and create many of the world's most recognizable products and services. We help leading brands, celebrities, media properties, manufacturers and retailers creatively find ways to strengthen their relationship with their most important stakeholder – the consumer. Beanstalk offers a breadth of services across our practice areas, including brand representation, digital media representation (Tinderbox), manufacturer representation, consulting, creative services (STUDIO B), legal and financial services, and royalty auditing. The company is headquartered in New York, with offices in London, Miami, Cincinnati, Mexico City and Sao Paulo, and affiliates throughout the world. For more information, please visit www.beanstalk.com. Beanstalk is a member of the Omnicom Specialty Marketing Group.
About the Omnicom Specialty Marketing Group
Omnicom Specialty Marketing Group (OSMG) aligns the growing demand for highly specialized consumer and retail marketing services with integrated solution teams consisting of the best talent to address clients' needs. OSMG provides global services that include: point-of-sale marketing and merchandise technology, field marketing and sales support, brand extension and representation; talent management; Purpose; and consulting and fundraising for non-profit organizations. Omnicom Specialty Marketing Group is part of the DAS Group of Companies, a division of Omnicom Group Inc. (NYSE: OMC), that includes more than 200 companies in a wide range of marketing disciplines, including advertising, public relations, healthcare, customer relationship management, events, promotional marketing, branding and research.
About Omnicom Group Inc.
Omnicom Group Inc. (NYSE: OMC) (www.omnicomgroup.com) is a leading global marketing and corporate communications company. Omnicom's branded networks and numerous specialty firms provide advertising, strategic media planning and buying, digital and interactive marketing, direct and promotional marketing, public relations and other specialty communications services to over 5,000 clients in more than 70 countries. Follow us on Twitter for the latest news.