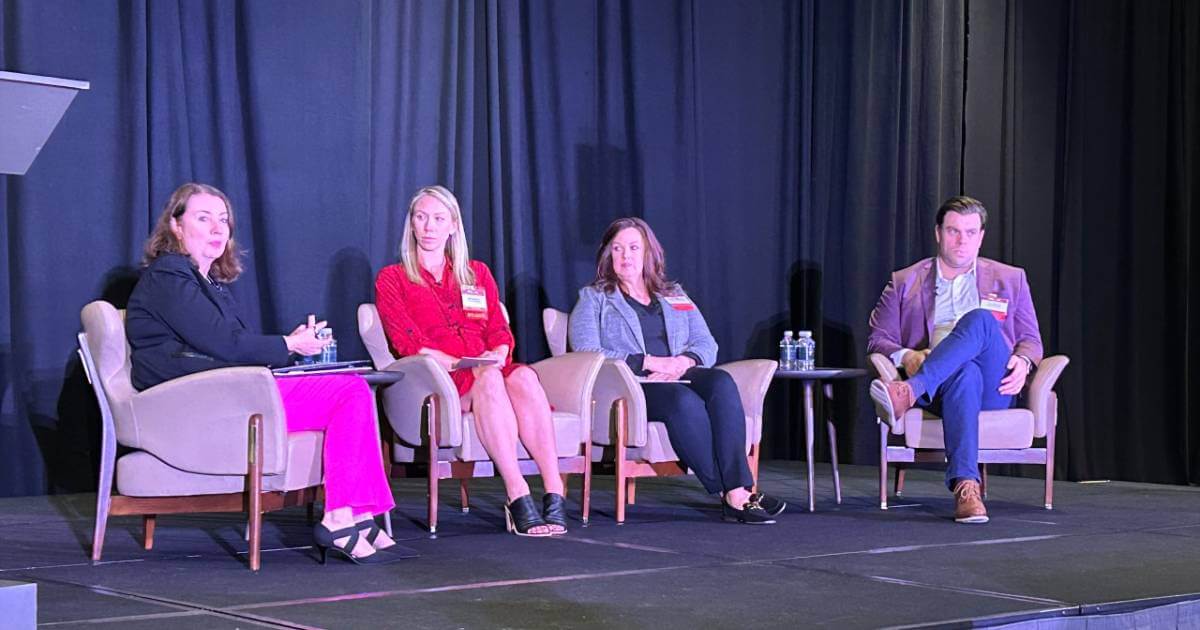 The Long Play for NIL
With transfer portals and relatively short collegiate careers, student athletes are unlikely to fully take advantage of licensed merchandise for two or more years, licensing executives said Tuesday at Licensing International's Sports Licensing Summit in Las Vegas.
In the meantime, autograph signings—Syracuse University quarterback Garrick Schrader recently received $12,000 from the sale of his signed Topps trading cards—social media posts, appearance fees, and other activities will be among the more lucrative options for Name, Image, and Likeness (NIL) rights stemming from the 2021 U.S. Supreme Court decision.
And while the NIL landscape settles, licensees and retailers may be hesitant to carry licensed merchandise outside of jerseys and t-shirts because of the inherent risks, licensing executives said.
"There is not a lot of money in merchandise right now and it is a lot of work, but it's worth it for the students," said Rachel Duffy, director of strategic partnerships and licensing at Syracuse University. "I don't want student athletes thinking they are going to make $6,000 selling t-shirts. And retailers are hesitant to buy licensed merchandise because they all say, 'What if the athlete enters the transfer portal and switches schools?'"
To offset those fears, some suppliers are relying on print-on-demand (POD) and direct-to-consumer (DTC) business models since merchandise sales in many cases may be limited to a student athlete's hometown and college region, licensing executives said.
For example, Fanatics has POD licenses for about 50 schools (including University of Alabama, University of Texas, and University of Georgia) and relies heavily on POD to supply what in many cases are small quantities of jerseys, said Chris Prindiville, SVP in Fanatics' collegiate licensing group.
In the case of Fanatics, Nike is supplying blank jerseys which are printed at a Fanatics warehouse in Louisville, KY, with an athlete's name and number on a per-order basis. Fanatics contracts out the t-shirt production.
"We are really about three to five years away from knowing what the market is going to be for licensed merchandise," Prindiville said. "Some of it is athlete education and consumers still need to understand that these athletes might not be around for such a long time. What you need going forward is for some transcendent stars to emerge to establish merchandise. Right now, the demand is coming from fans in college towns and from moms and dads."
And then there are the issues of contracts, which can vary from two weeks for limited-time promotions to up to a year for more involved deals. While player royalty rates can vary depending on the product, they typically run 5-10% of the wholesale price, licensing executives said.
In many cases, schools reduce their share of the royalties for co-branded product to include the athletes. For example, a licensing director at a Division 1 program said that while her school typically gets a 21% royalty, the rate is split in the case of co-branded products.
All athletes receive the same royalty rates, especially in the case of Electronic Arts' (EA) college football game that's expected in 2024. It will draw from 150 Football Bowl Subdivision (FBS) schools. The title, which was delayed from an initial July 2023 release date, will mark the return to college sports for EA. The video game publisher dropped the category in 2013 amidst NIL lawsuits, ending a 20-year run with college sports.
Another barrier to overcome is that NIL guidelines vary by state and school and within the NCAA itself. And then there is the need, for example, to develop programs for the 4,000 Division 1 football players, along with 1,000 each in Division 1 women's soccer, volleyball, and other sports.
"NCAA guidelines have changed multiple times since this has been allowed, so we are constantly navigating what schools can and can't do in is the area, and we are working with our partners to make sure they are operating within NCAA and state guidelines," said Kim DeCarolis, VP of athlete partnerships at Altius Sports Partners.  "It is a very different landscape across the country."