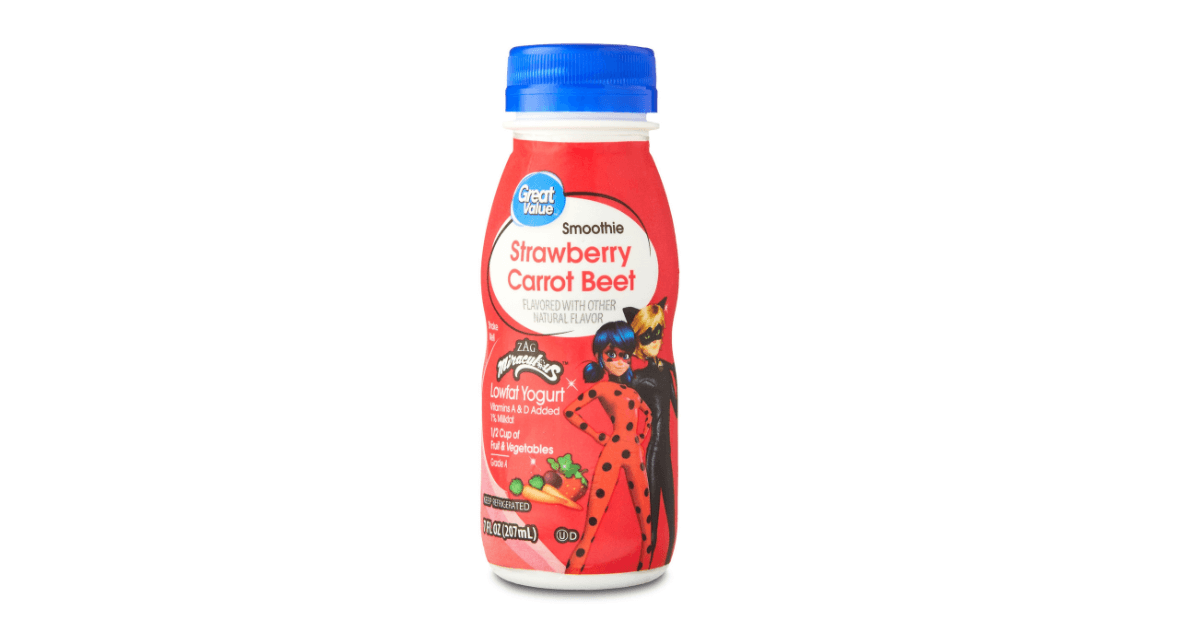 ZAG Partners with Schreiber Foods to Bring Miraculous-Branded Low-Fat Yogurt Smoothies to Walmart Stores Nationwide in Co-Brand with Great Value Private Brand
Launching in Stores this Summer, Miraculous is the First Licensed Character to Appear on Walmart's Popular Great Value Yogurt Smoothies
Santa Monica, CA  Award-winning global independent animation studio ZAG has signed an agreement with Schreiber Foods to bring the globally popular superheroes from the worldwide hit animated series Miraculous™ – Tales of Ladybug and Cat Noir, to Walmart stores across the U.S.  Ladybug and Cat Noir are the first licensed characters to appear on Walmart's Great Value Low-Fat Yogurt Smoothies.  The announcement was made by Julian Zag, EVP, Global Operations and Head of Consumer Products, ZAG.
Available at Walmart stores across the U.S. this summer, Miraculous fans can enjoy two Great Value yogurt flavors, Strawberry Carrot Beet and Orange Mango Carrot, a naturally flavored and healthy snack that is ideal for school lunches, family road trips, camping, and more.  Walmart's Great Value private brand provides families with affordable high-quality grocery and household consumable options.
"In the coming-of-age Miraculous superhero TV series, our leading characters–Marinette and Adrien–are everyday teens with real fears, feelings, and challenges, and are learning about loving themselves and finding their true powers, just like most children across the U.S.," commented Julian Zag.  "We're delighted that Schreiber Foods and Walmart are harnessing the superpowers of Marinette and Adrien's alter-egos, the globally beloved Ladybug and Cat Noir, to bring tasty and healthy treats to families across the U.S."
Miraculous™ – Tales of Ladybug & Cat Noir continues to be everyone's favorite superhero story and is ranked by IMDB amongst the Top 10 Best Animated Shows in the last 20 years[1].  Available in over 120 countries, season five of the series will debut this fall, alongside the highly anticipated $US100M+ animated feature to be supported by several yet unannounced co-branded partnerships with some of the most influential companies across the globe across numerous consumer products categories.  With a massive fan base of young adult "Miraculers," (ages 15-25), Miraculous has become a digital planetary craze with over 30 billion views on YouTube (authorized and user-generated content); over 200 million downloads of the official app; and over 300 million+ plays on Roblox. Over 280 million products have been sold and retail sales have surpassed US$1B worldwide to date.   Miraculous is the winner of 27 awards, and was a finalist for Best Licensed Brand among perennial classics in the Licensing International Excellence Awards, 2022. 
About Miraculous™ – Tales of Ladybug & Cat Noir
The 3D-CGI-animated superhero aspirational action-comedy series Miraculous™ – Tales of Ladybug & Cat Noir, created by ZAG and co-produced with ON kids & family follows the adventures of two seemingly typical teens with secret identities, Marinette, and Adrien, who magically transform into superheroes, Ladybug and Cat Noir. As secret superheroes, Ladybug and Cat Noir are partners in the action. But in the daytime, Marinette is just a normal girl, living a normal life. Cat Noir will do anything to support and impress Ladybug but does not know this is Marinette from his class. Marinette, the regular girl, in turn dreams of Adrien and simply gets little response. When evil threatens Paris, their beloved City of Lights, can they beat the unexpected villains?
About ZAG
ZAG America, LLC is a global independent entertainment studio specializing in world-class storytelling across TV, film, and digital platforms. ZAG's foundation is rooted in compelling characters, limitless imagination, and masterful storytelling infused with original musical scores. The company is home to world-class entertainment properties under the ZAG HEROEZ label, including Miraculous™: Tales of Ladybug & Cat Noir as well as new titles Power Players (2019) and Ghost Force (2021). Visionary director and composer Jeremy Zag founded the Zag Kids and Family Entertainment Group in France in 2009, further expanding the company to the USA in 2012 with the Global Brand Franchise office in Santa Monica, California.