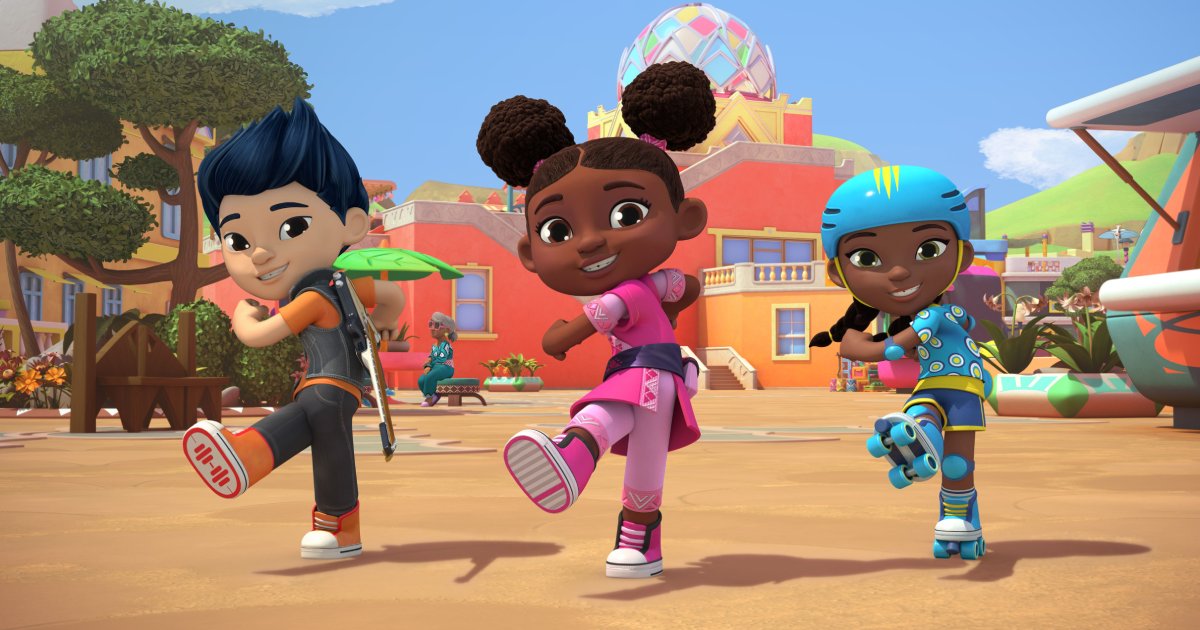 Hasbro Announces Publishing Program for the Brand-New Animated Preschool Series Kiya & the Kimoja Heroes with Random House Children's Books
Hasbro, Inc., a global branded entertainment leader, is partnering with Random House Children's Books, a division of Penguin Random House, on a publishing program for the action-adventure animated preschool series, Kiya & the Kimoja Heroes, which just launched in the US on Disney Junior, with the first four episodes now streaming on Disney+. The brand-new publishing lineup based on the kids' series will launch in summer 2024.
"We are so excited to finally be able to talk about Kiya & the Kimoja Heroes. The show's great themes and strong characters will resonate broadly with kids and families, and we know they will want to continue their engagement with storytelling through books," said Michael Kelly, Vice President of Global Publishing at Hasbro. "We are thrilled that the first official licensing partnership for Kiya is in the publishing category, with Random House Children's Books leading the charge with a variety of formats for our newest fans."
Kiya is a seven-year-old African girl, whose passions in life are dancing and martial arts, which also become her superpowers. When Kiya and her two best friends, Motsie – and Jay, put on their headbands adorned with mystical Kimoja crystals, they transform into superheroes and can perform special moves inspired by their passions, like Kiya's "pirouette POW." Together they are the team of superheroes known as the Kimoja Heroes, ready to unite their community! Known as "Flawed Friends," three Kimojan kids cause mischief and chaos, motivated by classic preschooler foibles like jealousy, competitiveness and envy. When these kids make a mess, only the Kimoja Heroes can shine bright and make things right to restore harmony to the city, combining everyday experiences with superhero awesomeness.
Kiya's world features a diverse cast of characters inspired by the landscape, natural beauty, and culture of Southern Africa, and focuses on themes of community, empathy and unity. This show is the newest representation of Hasbro and eOne's commitments to illustrate the belief that rich, varied perspectives generate the best ideas and reflect diversity, equity and inclusion across their brands and play experiences. "Kiya & the Kimoja Heroes" is their latest endeavor to stand up for children by creating a world where every child experiences hope, kindness and joy.
To keep up with Kiya & the Kimoja Heroes please visit YouTube, and find the show on social media on Facebook and Instagram with @kiyakimojaheroes. 
About Hasbro
Hasbro is a global branded entertainment leader whose mission is to entertain and connect generations of fans through the wonder of storytelling and exhilaration of play. Hasbro delivers engaging brand experiences for global audiences through gaming, consumer products and entertainment, with a portfolio of iconic brands including MAGIC: THE GATHERING, DUNGEONS & DRAGONS, Hasbro Gaming, NERF, TRANSFORMERS, PLAY-DOH and PEPPA PIG, as well as premier partner brands.
Hasbro is guided by our Purpose to create joy and community for all people around the world, one game, one toy, one story at a time. For more than a decade, Hasbro has been consistently recognized for its corporate citizenship, including being named one of the 100 Best Corporate Citizens by 3BL Media, one of the World's Most Ethical Companies by Ethisphere Institute and one of the 50 Most Community-Minded Companies in the U.S. by the Civic 50. For more information, visit corporate.hasbro.com.
About Random House Children's Books
Random House Children's Books (rhcbooks.com) is the world's largest English-language children's trade book publisher. Creating books for toddlers through young adult readers, in all formats from board books to activity books to picture books, novels, and nonfiction, the imprints of Random House Children's Books bring together award-winning authors and illustrators, world-famous franchise characters, and multimillion-copy series. Random House Children's Books is a division of Penguin Random House LLC.