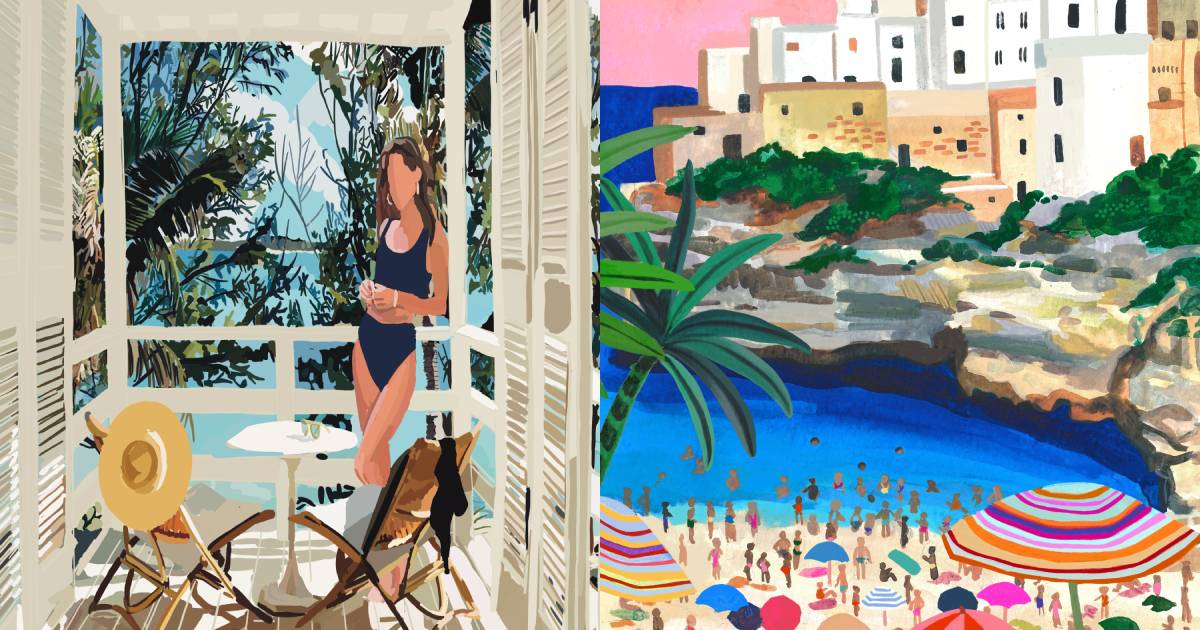 Licensing Draws from New Artists
Retailers, licensing agents, and manufacturers are drawing from a wider palette of artists than ever before thanks to the surge in designs being discovered through social media.
And while many artists are now being found on platforms like Pinterest and Instagram, it's still possible to find representation offline at events like the revived Surtex show in New York this week. In addition to showing off established licensed artists like Betsey Johnson, Grace Ciao, and Lisa Audit, this year's show also shone a spotlight on newcomers.
The Brand Liaison, for example, signed Maureen Claffy (watercolor and colored pencil), Kat Gottlieb (motivational art and writing), Donna Sharam (mugs and coasters), and Melissa Polomsky (The Artwerks Design Studio), all of whom are making an initial push into licensing.
Other agencies were reintroducing themselves under new ownership. Wild Apple, renamed Wild Apple Graphics under new owner Shawn Harned, has shifted its previous printed poster business to digital files while maintaining a roster of about 50 artists. That shift to contract printing using digital files—along with the fact that some wall décor companies have opened plants along the U.S.-Mexico border—is part of a broader effort to quicken the pace at which licensed art designs are brought to products and the retail market, Harned said.
The push for change is partly being led by retailers. In fact, larger retailers are frequently seeking direct agreements with artists rather than going through a licensing agent. In some cases, it is a contract purchase where the design can be used across multiple products rather than paying a royalty on each sale. This model also eliminates an agency fee.  In other cases a more traditional licensing contract with royalties is used.
At the same time, retailers are seeking a faster turnaround for in-store displays and collections. HomeGoods, for example, features products with an artist's design at the front of a store along with complementary items for displays that are frequently replaced after six weeks, licensing executives said. And Target has fielded direct programs in the past for events like Black History Month in February.
"I feel like going directly to retailers gives me more control over where and when my designs will be sold, and also is potentially more profitable for my business," said Julie Ager, Licensing Director at Artistic Design Group.
While agencies understand the need for some retailers, particularly in the off-price channel, to buy directly from artists given the near constant need for new designs, they argue there are shortcomings to this structure.
"We discourage artists from selling their artwork because they typically have to give up all rights to it, which means they cannot use that design for anything else," said Ilana Wilensky, President of Jewel Branding and Licensing. "Additionally, when artists sell their art, they are not credited for the work. Though there is guaranteed money, they are potentially missing significant revenue potential by selling versus licensing. If they license the art, they can receive royalties that could far exceed a flat fee."
Another major shift in the art category has been an increase in art designs developed on a contract basis to raise money for non-profit organizations like conservation funds.
Under the agreements, the organizations receive around 15% of gross profits on sales of products like water bottles, mugs, t-shirts, and other items. Ngong Studios, for example, works with the David Shepherd Wildlife Foundation, Endangered Wildlife Trust, Giraffe Conservation Foundation, and others.
"This plays into the whole sustainability and eco-friendly trend. It's a means for the artists to give back and, for these organizations, it can provide steady flow of income," said Anne Thomsen, founder of Germany-based  Studio Ngong.