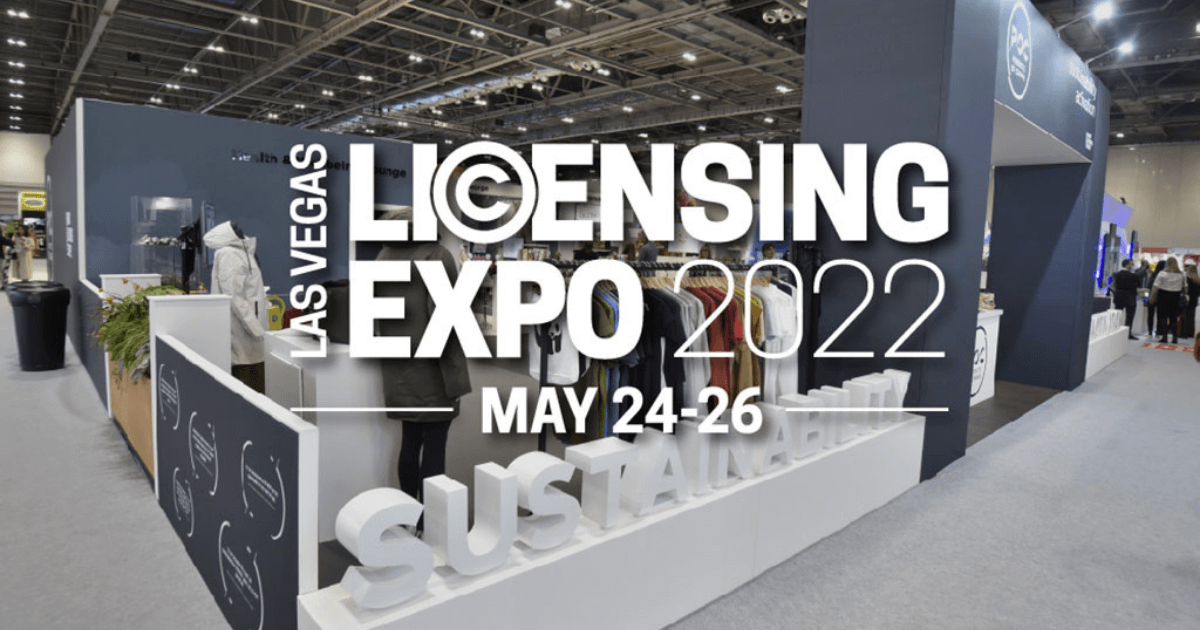 Licensing Expo and Products of Change (POC) Reveal Sustainability Agenda, Featuring Education and Brand-led Product Showcases
Sustainability education available daily in the Licensing U Theater
Brands spotlight sustainable products and socially responsible business practices in the Business Lounge
Only a few weeks left to register for Licensing Expo – secure an attendee pass here
Las Vegas, NV – Licensing Expo and Products of Change (POC) today revealed a jointly-produced sustainability agenda comprising turnkey education and product showcases for the upcoming trade show slated for May 24-26 at the Mandalay Bay Convention Center. The strategic partnership is designed to bring sustainability to the forefront and spotlight issues embedded within the licensing industry to bring real change to brands' socially responsible and inclusive practices across cross-categories.
"No matter the industry, environmental protection is an increasingly important value to customers and shareholders; it is woven into mission statements and serves as a guiding principle for all major business decisions," said Anna Knight, SVP of the Global Licensing Group. "Progress beings with industry-wide education – we are so proud to partner with Products of Change to spotlight the many brands at Licensing Expo that are taking impressive steps toward eliminating waste and inequality across their value chain and are now taking the next step in showcasing their work to inspire others."
Sustainability-focused educational programming is free for all registered event participants and held in the Licensing U Theater, with topics encompassing newcomer education, sustainable manufacturing, and applying socially responsible practices in licensing. Senior-level experts from Products of Change, The Smiley Company, Lego, Formula E, Natural History Museum, Piping Hot, Greenre, Beanstalk, and The Smurfs are confirmed to lead sustainability sessions.
Linda Morgenstern, Vice President of Brand Management at Beanstalk and prominent speaker addressing Sustainability 101, said, "In keeping with Beanstalk's best-practices model, we have established a global, cross-functional Sustainability Team. The key goals of Beanstalk's sustainability initiatives are to align our clients' sustainability initiatives with licensees' efforts and capabilities and to share information across clients, licensees, and industries. From the start, we have wholeheartedly supported the leadership of Products of Change as the sustainability authority for the licensing industry."
The sustainability-focused sessions delivered by Licensing Expo and Products of Change are as follows:
Sustainability 101 | Tuesday, May 24 from 12:00-12:45 p.m.
Speakers: Helena Mansell-Stopher, POC; Andrea Green, Globally Green; Simon Gresswell, SGLP; Jakob Hamann, Lego; Charlotte Hughes, Formula E; and Maxine Lister from the NHMA deep dive into the science behind why sustainable transformation is vital for business future prosperity. Products of Change, Lego, Natural History Museum, SGLP, and Formula E take you through why sustainability is key to business success. 
Brands with Purpose: Sustainable Manufacturing | Wednesday, May 25 from 10:15-11:00 a.m.
Speakers: Amy Low, Piping Hot; Stan Wan, Piping Hot; Keith Loiselle, Greenre; Brenda Seto, POC; and Helena Mansell-Stopher, POCPiping Hot, the purpose-driven fashion brand, and Greenre, a global producer of sustainable stationery, join POC's founder Helena Mansell-Stopher and Brenda Seto, POC's Ambassador for Canada and consultant to Greenre, to discuss their sustainable journey so far. 
Sustainability in Licensing | Thursday, May 26 from 10:30-11:30 a.m.
Speakers: Lee Grace, The Smiley Company; Ben Parker, Beanstalk; Sebastien Dumont, IMPS The Smurfs; and Helena Mansell-Stopher, POC

Join Smiley, Beanstalk, and The Smurfs to discuss how licensors and agents embrace sustainable change within the business and benefit from this.
Speaking alongside Beanstalk, Charlotte Hughes, Senior Licensing Manager at Formula E, added, "We must use this strong platform to inspire sustainable innovations and methods in the consumer space, to counteract the climate crisis."
"Sustainability is a key part of how the industry now needs to work to live," remarked speaker Simon Gresswell, founder of SGP Licensing and a former executive at IMG.
NEW Sustainability Business Lounge
In addition to a highly curated educational program, Products of Change selected brands to showcase their products and business approach to introducing and sustaining a socially responsible business that balances the needs and health of the planet with that of their customers.
Brands across categories were chosen based on their proven ability to roll out sustainability and equality initiatives at scale. The brand-led presentations are held in the Sustainability Business Lounge located on the show floor (booth #N216) and feature must-attend showcases from cross-category brands, each focusing on a different area of expertise.
FOCO – A leading manufacturer specializing in sports licensing and working with some of the biggest names in sport. The team will be showcasing its new, recycled licensed backpacks and lunch bags.
Formula E – Will showcase its newly launched Formula E KIMOA sunglasses made with a sustainable recycled PET frame. Formula E's vision is to accelerate sustainable human progress through the power of electric racing. The sunglasses are designed for people that love the electric motorsport series and what it stands for.
Manchester City FC and PUMA – The Premier League football club will be showcasing an innovative new partnership with PUMA's Re:Jersey platform, a system that recycles old kits and jerseys to produce current season players' shirts.
The Natural History Museum – Will be showcasing their fashion range from Desmond and Dempsey as well as their sustainable stationery range from Blueprint Collections.
Greenre – Will be showcasing its sustainable, licensed stationery. The team's environmentally conscious products consist of recycled, natural materials, recyclables, non-toxic, post-agricultural bio fibers, and new-age bioplastics.
Piping Hot – All Piping Hot products are made with recycled, recyclable, renewable, or biodegradable materials. They have eliminated virgin polyester from their supply chain and prioritize recycled materials to reduce waste and tackle plastic pollution. Their approach is science-based and design-led; they will be showcasing their latest collection.
Brands In – Will be showcasing for the first time their new sustainable fashion clothing line, Supacult.Enjoy dedicated sessions and free consults with experts – visit the Sustainability Business Lounge to book a clinic. View the full programming schedule here.
Commentary from product showcase presenters:
Maxine Lister of Natural History Museum
"Now more than ever, it is crucial that the licensing industry scrutinizes its manufacturing practices and integrates sustainable standards that are considerate of the environment. Making thoughtful choices at all stages of production, for both product and packaging, is not easy, and we are on a continuous learning curve, but we feel it is essential to work closely with our licensees to try to make a real difference."
Amy Low of Piping Hot
"Oceans are our most valuable resource and are essential to human survival. We believe the protection of our oceans needs more urgent action. That's why all Piping Hot products contain recycled, recyclable, renewable, and biodegradable materials. Licensing allows us to scale our impact and tackle the ocean pollution crisis globally." 
Sebastien Dumont of The Smurfs
"Smurf or human, we only have one blue planet. Let's all be part of the change and take concrete actions now for a sustainable future." 
 Rick Lowe, MD of Brands In.
"We are delighted to be showcasing our new sustainable fashion clothing line, Supacult, within the Products of Change lounge at this year's Licensing Expo. Partnering with some of the biggest entertainment brands such as Disney, Warner Bros. Consumer Products, and global music artists, our purpose is to fuse the iconic artwork of pop culture with a bold fashion statement that allows our fans true freedom of expression. We work with some of the most innovative sustainable fabrics available from our fully vertical factory in London. We only make to order, which allows us to maximize our green credentials, knowing how important this is to our fans and the future of our planet. As the global trend for sustainable products grows, there will be a continued uplift in consumer confidence; we're proud to be delivering our retail partners with responsibly sourced and manufactured licensed jersey wear apparel ranges." 
Helena Mansell-Stopher of Products of Change
"I am immensely proud to be working with the Informa Markets team to bring sustainability to the forefront at Licensing Expo this year, following the huge success at Brand Licensing Europe in 2021. There is so much innovation coming through the industry and we want to showcase both what is being achieved, as well as mapping out our future journey."
Furthermore, learn how to lead with intention to build purpose-driven licensing programs focused on social good from Nobel Peace Prize Nominee Ms. Opal Lee and impact changemakers Anita Castellar and Genna Rosenberg in a must-attend educational session held in the Licensing U Theater. Join the three women on Tuesday, May 24 from 4:45 to 5:30 p.m. for their session titled "The Upside of Licensing: Leading with Intention for Social Impact" and walk away inspired to begin, or continue, weaving purpose and social good into your licensing programs.
Follow Licensing Expo on social: #LicensingExpo
Launched in 1980, Licensing Expo is the world's largest and most influential annual tradeshow dedicated to licensing and brand extension. Every year, more than 5,000 brands and 16,000 retailers, licensees, manufacturers, distributors, and licensing agents attend Licensing Expo from more than 70 countries. Licensing Expo is a part of the Global Licensing Group at Informa Markets, the licensing industry's leading tradeshow organizer and media partner. Its mission is to provide licensing opportunities around the world by bringing brands and products together. 
About Licensing International
Licensing International is the leading trade organization for the $290+ billion global brand licensing industry. Licensing International's mission is to foster the growth and expansion of brand licensing around the world, raise the level of professionalism for licensing practitioners, and create greater awareness of the benefits of licensing to the business community at large. Founded in 1985, Licensing International members in over 40 countries enjoy access to an array of benefits, including extensive educational programming and worldwide networking events. Visit www.LicensingInternational.org for more information.