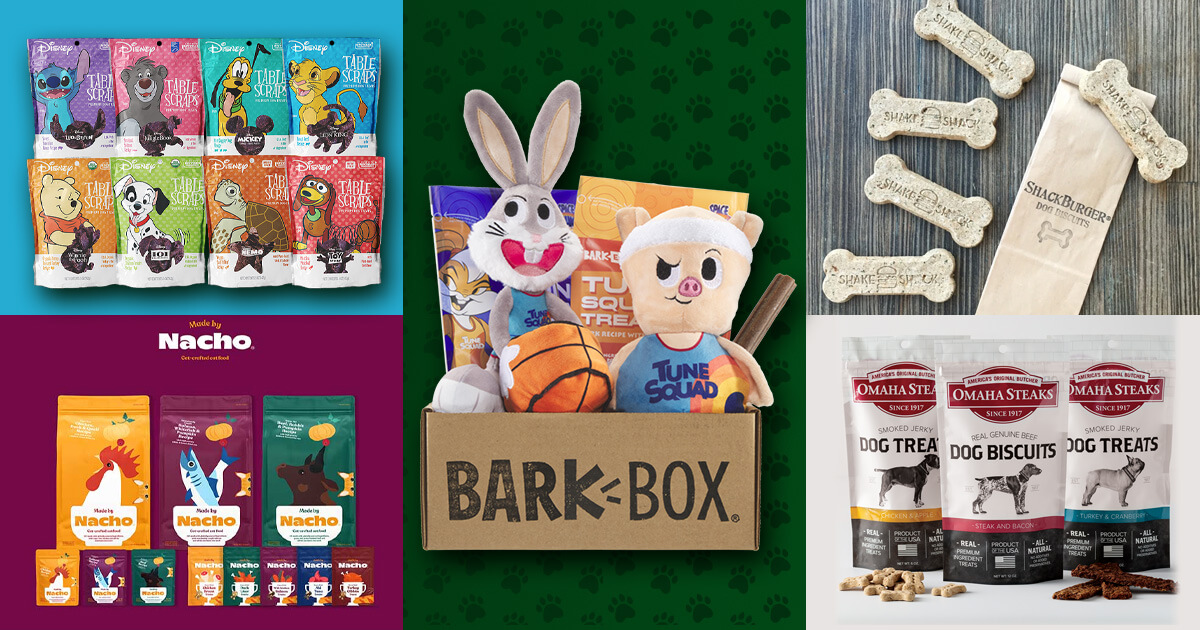 Licensing Taking a Bite of The Pet Food Business
Health and wellness, long the mantra for consumer products goods (CPG), has become a key ingredient in the pet food business that's increasingly being led by licensing.
While licensing is well established in pet toys and foods – Food Network star Rae Drummond's Pioneer Woman with Purina and Rachel Rey (Nutrish with J.M. Smucker Co.) are among those with branded dog food and treats – it is rapidly branching into, much like pet owners, "better for you" products.
It's all part of the what industry executives say is a "humanization" trend that was accelerated by the pandemic as the newly homebound adopted pets at a record rates. About 10-11 million pets were adopted in the U.S. in 2020, up 6% from the previous year and U.S. pet products/services sales rose 6.8% in topping $100 billion in sales ($103.6 billion) for the first time, according to the American Pet Products Association.
Sales are expected to slow slightly this year – a 5.8% increase vs. the historical 3-4% average – but there's little turning back on healthy living for pets. A sure sign of the trend: fresh from an IPO, retailer Petco renamed itself Petco Health & Wellness Co.
Bark Box, which filed for an IPO earlier this year, makes no bones about its reliance on licensing. The company, which had 1.82 million subscribers as of March 31 – up 51.2% from a year earlier — to a subscription box service that features Scoob!, Peanuts and other licensed properties. It also sells products through Target, CVS, and Bed Bath & Beyond under such labels as Bark Eats (personalized food blend), Bark Home (everyday products) and Bark Bright (dental and health and wellness). Bark's revenue rose 71.3% to $378.6 million in the year ended March 31.
"The success of third-party properties for which Bark has a license, and the ability of Bark to successfully market and sell related products, can significantly affect its revenues and profitability," the company said in an SEC filing. "For example, if Bark produces a line of products based on a movie or television series, the success of the movie or series has a critical impact on the level of consumer interest in the associated products Bark is offering. In addition, competition in Bark's industry for access to third-party properties can lessen its ability to secure, maintain, and renew popular licenses."
Pet food contract manufacturer and private label supplier Phelps Pet Products branched into licensing for the first time in introducing eight Disney-themed Table Scraps dog treats – anyone for a Slinky Dog plant-based formula, Baloo Smoked Salmon or Winnie the Pooh organic honey-roasted turkey? – that launched July 1 at regional chains such as Murdoch's Ranch & Home Supply (29 stores) and will start sales at 700 PetSmart stores in August, says CEO Rick Ruffolo. The treats are made from "upcycled" ingredients – those taken from foods originally destined for restaurants and grocery stores – that are sourced through the Upcycled Food Association. The initial Table Scraps products also will be available through Chewy.com in August and Amazon in September. There will Frozen-themed items introduced late this year.
"Back in the day you owned dogs. Now there are no dog owners. They are pet parents," says Ruffolo. "The dog isn't a thing and because of that if you are feeding your family more consciously with organic or less processed foods and label reading, you are going to pursue similar products for your pets.  A year ago, consumers didn't have a choice of getting a meatless dog treat, now they have it."
Chef Bobby Flay launched Made by Nacho wet and dry cat food and snacks that were named after his cat and replete with health-conscious ingredients and buzzwords such as cage-free chick, grass-fed beef, sustainably caught salmon, proteins that are balanced with blueberries, pumpkin and kale. The three-SKU line launched exclusively at PetSmart in April.
Pet food products are no strangers to restaurant brands. Omaha Steaks licensed its brand for dog treats including jerky, pigs ears, biscuits and dried t-bones, while 121-store fast-casual salad chain Sweetgreen licensed pet food supplier Wild Ones for Plants for Pups vegetarian dog treats. And Shake Shack, better known for its hamburgers, has a long running licensing agreement with Brooklyn, NY-based Bocce Bakery for ShackBurger dog biscuits.
And much like many other consumer products in a crowded field, licensed brands are helping pet food gain shelf space and separate from their competitors, says One Farm's Dillon Houstoun. The company struck an agreement with reggae star Ziggy Marley for Agility Chews, as the CBD supplier moved into licensing for the first time. The Agility Chews are made with turmeric, mushroom and CBD, the latter using hemp sourced from a farm in Colorado, to promote mobility and joint health in dogs. "The brand will help us standout in a super-crowded field that is somewhat unregulated by having a known brand that has a lot of value for new customers both in name recognition and the idea that this is a high quality product," says Houstoun.