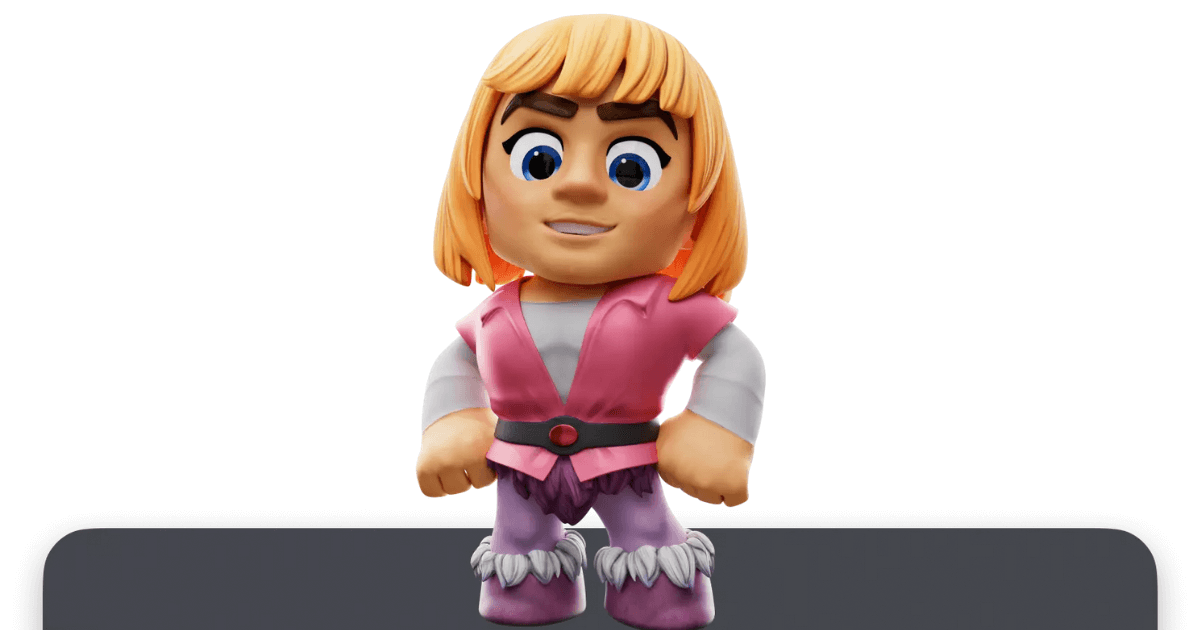 Mattel and Cryptoys to Drop Officials Masters of the Universe Digital Toy Collection on Nov. 9
Twelve fan favorite characters including He-Man, Battle Cat, Skeletor, Panthor and more to become available as digital action figure collectibles
Miami, FL By the Power of Grayskull…I Have the Power! Today, Cryptoys, the revolutionary new NFT platform that combines toys, gaming and entertainment, and Mattel, Inc. (NASDAQ: MAT) announced they will release the first drop of their highly anticipated Masters of the Universe series on Wednesday, November 9. The collection of limited-edition digital action figures will feature 12 fan favorite characters, with the first release including He-Man/Prince Adam, Evil-Lyn, Battle Cat/Cringer and Tri-Klops.
Today marks the 40th anniversary of the iconic Masters of the Universe franchise, and as part of that celebration, Cryptoys and Mattel have revealed details from the next three waves of digital toy drops planned from November 2022 through January 2023. Cryptoys is creating an expansive universe that offers fans new ways to collect and play. Over the coming months, MOTU fans can expect to see additional characters such as Orko, Teela, Beast-Man, Trap-Jaw, Skeletor, Sorceresses, Panthor and Man-At-Arms released as digital action figures.
"With a unique ability to remain at the forefront of pop culture for 40 years, Mattel's Masters of the Universe IP has an extremely high consumer awareness level and strong collectability value," said Mike DeLaet, Global Head of Digital Gaming at Mattel. "As the first toy company to launch NFTs and the only toy partner on the Cryptoys platform, we are thrilled to bring this project to life, bridging the gap between traditional toys and the future, providing fans of all ages a new way to experience He-Man and Masters of the Universe."
Cryptoys is bringing the surprise pack toy experience into the virtual world with digital action figures that come to life the moment they're unwrapped. Collecting Cryptoys is more like collecting physical toys than typical NFT offerings. Each MOTU drop will contain 10,000 toys per character and offer multiple skins across seven rarity levels; the more scarce the rarity skin is, the more powerful and valuable it will become.
"Many of us grew up with Masters of the Universe, which is why we felt it was the perfect property to kick off our partnership with Mattel," said Will Weinraub, CEO and Co-Founder at OnChain Studios. "We're excited to bring these beloved characters to life as Cryptoys, giving fans a new way to collect and play, ushering in a new era for the world of toys."
The Cryptoys experience makes it easy for anyone to build an interactive collection, beginning with surprise pack Cryptoys Cubes. Fans can choose to keep cubes in mint condition or unbox them to reveal blister-packed toys. Once the toy is unwrapped, the new digital friend will come to life and is ready to go for a walk. Priced at $39.99 each, collectors can purchase with a credit or debit card (5% transaction fee) or crypto since the platform is built on the Flow blockchain. Each time a collector max mints five Cryptoys Cubes per transaction, they'll receive early access to future drops.
The Masters of the Universe collection is the first brand to launch on Cryptoys' NFT platform as part of its multi-year, global partnership with Mattel. The MOTU digital toy collection is available exclusively at https://cryptoys.com/#!collect/motu and https://creations.mattel.com/pages/motu-cryptoys.
ABOUT CRYPTOYS
Cryptoys is a revolutionary new NFT (non-fungible token) platform that combines toys, gaming, and entertainment to create an expansive playable universe. The 2022 launch will introduce animated collectibles that come to life the moment you unwrap them and usher in a new era for the toy and game industry on the Flow blockchain. Cryptoys is poised to elevate and expand the NFT marketplace by making it fun and easy for everyone to collect and play. Cryptoys is reimagining the future of play. Learn more at Cryptoys.com.
ABOUT ONCHAIN STUDIOS
OnChain Studios was formed with a clear mission to engage, entertain, and empower the next generation of NFT (non-fungible token) collectors of all ages around the world.  CEO Will Weinraub was inspired by his daughter's obsession with collecting physical surprise pack toys when he co-founded OnChain Studios in 2018 with CTO Emilio Cueto, CXO Alfonso Martinez, CCO Freddy Oropeza, and COO Jhonathan Torres. Together the team is reimagining what a world-class toy company looks like in the future with the studio's flagship digital product, Cryptoys.
ABOUT MATTEL
Mattel is a leading global toy company and owner of one of the strongest catalogs of children's and family entertainment franchises in the world. We create innovative products and experiences that inspire, entertain, and develop children through play. We engage consumers through our portfolio of iconic brands, including Barbie®, Hot Wheels®, Fisher-Price®, American Girl®, Thomas & Friends®, UNO®, Masters of the Universe®, Monster High® and MEGA®, as well as other popular intellectual properties that we own or license in partnership with global entertainment companies. Our offerings include film and television content, gaming and digital experiences, music, and live events. We operate in 35 locations and our products are available in more than 150 countries in collaboration with the world's leading retail and ecommerce companies. Since its founding in 1945, Mattel is proud to be a trusted partner in empowering children to explore the wonder of childhood and reach their full potential. Visit us online at mattel.com.