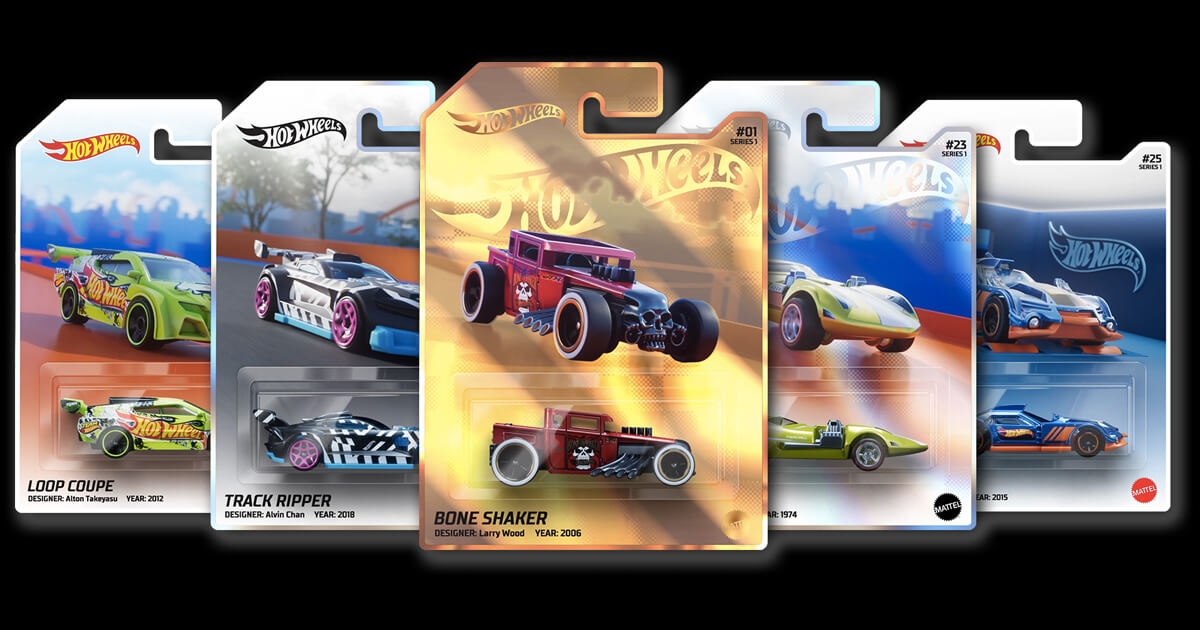 Mattel and WAX Team Up to Release Epic Digital Collectibles with Hot Wheels NFT Garage Series 2
Hot Wheels' latest NFT series Includes Corvette C8.R, Honda S2000 and others on World's Leading Blockchain
LOS ANGELES, Calif, March 24, 2022 – Mattel Inc. and WAX, are thrilled to announce the launch of Hot Wheels NFT Garage™ Series 2. Continuing its new and exciting approach for Hot Wheels® fans, the collection includes 40 unique Hot Wheels NFTs, four brand-new Mini-Collections, and features vehicles from Chevrolet, Honda and other automotive manufacturers. The sale begins on March 31, 2022, at 10 AM PT/ 1 PM PT, and can be unboxed at 1 PM PT/ 4 PM ET.
"Last year, we saw a thrilling sell-out Hot Wheels NFT event with the Series 1 collection, and now, our passion for car culture reignites with some exciting news – the Hot Wheels NFT Garage Series 2 is revving up to take a lap on WAX this March," said David Kim, Head of Publishing at WAX Studios.
Users may enjoy finding either a Premium or Treasure Hunt (NFTH) within their packs, providing the option to redeem the vIRL® for a physical limited-edition die-cast collectible. There are also 10 licensed vehicle models spread across the different Mini-Collections available.
Fans will have the opportunity to acquire a range of distinct Mini-Collections across five available rarities — Base, Rare, Premium, NFTH (Treasure Hunt), and Showroom. All packs contain a randomized selection of 40 unique Hot Wheels Series 2 NFTs from four (4) different Mini-Collections:
Hot Wheels Car Meet: 1990 Acura NSX, Fast Fish, Glory Chaser, Corvette C8.R, Dimachinni Veloce and 2018 Honda Civic Type R
Hot Wheels Flames: Max Steel, Mod Rod, Muscle Bound, 1991 GMC Syclone, 1971 Buick Riviera, Custom Otto and Purple Passion
Nightburnerz: Muscle and Blown, GT-Scorcher, Crescendo, HW 40, Mad Manga, GT Hunter, Honda S2000 and Custom 2001 Acura Integra GSR
Rod Squad: Rodger Dodger 2.0, Erikenstein Rod, Aristo Rat, 1967 Oldsmobile 442, 1955 Chevy Bel Air Gasser, FusionBusta and Lethal Diesel
Fans who participate and unpack any of the below NFTs can redeem them for a physical die-cast:
Premium: Custom Otto, Honda S2000, Corvette C8.R, Aristo Rat
NFTH: 1955 Chevy Bel Air Gasser
"Hot Wheels continuously strives to develop impactful innovation, while ensuring relevance and authenticity in today's car culture, that's why we're so excited to continue growing the Hot Wheels NFT Garage with Series 2" said Ron Friedman, VP Future Lab at Mattel. "We are introducing beloved automotive brands such as Honda and Chevrolet to the series to continue expanding the love of Hot Wheels vehicles to a new generation of collectors."
For over 50 years, Hot Wheels has brought joy to collectors around the globe with more than 8 billion die-casts sold, along with a growing number of life-sized designs that car fans of all ages adore. The Hot Wheels NFT Garage continues to evolve with the release of its second NFT Garage Series.
Fans can follow Hot Wheels on Facebook, Instagram and Twitter and join the Discord for the upcoming Promo Pack giveaways. These packs will contain an extra-special Promo Car to top-off growing collections.
Packs of seven collectible NFTs will be priced at $25 USD. Fans can purchase up to four packs per credit card transaction.  Click here to learn more.
Why WAX?
Wax is the #1 metaverse blockchain for video games and NFTs and the most utilized blockchain in the world with over 12 million accounts and 20 million daily transactions. Purchasing NFTs on WAX and its associated marketplaces ensures a green future for the blockchain. Officially certified as carbon-neutral, WAX provides fans with the collectibles they desire while offering the chance for partners and artists to flourish and supply valuable treasures for years to come. Visit https://on.wax.io/CO2/ for more info.
Share your thoughts on WAX Community Channels:

Discord: go.wax.io/Discord
Twitter: go.wax.io/Twitter
Website: wax.io
About Hot Wheels
As a 54-year-old brand more relevant today than ever before, Hot Wheels is the world's leading vehicle franchise which represents and unites all segments of car culture. For decades Hot Wheels has proven its influence in automotive and pop culture with legendary design and epic performance. Through unparalleled collaborations with global leaders in streetwear, fashion, luxury, entertainment, action sports and motorsports, Hot Wheels is the #1 selling toy in the world with over 8 billion vehicles sold. The brand engages fans of every generation through immersive live events, global competitions, theme park attractions, world-class digital gaming, consumer products and film and television content.
About Mattel, Inc.
Mattel is a leading global children's entertainment company that specializes in design and production of quality toys and consumer products. We create innovative products and experiences that inspire, entertain, and develop children through play. We engage consumers through our portfolio of iconic franchises, including Barbie®, Hot Wheels®, American Girl®, Fisher-Price®, Thomas & Friends® and Mega®, as well as other popular brands that we own or license in partnership with global entertainment companies. Our offerings include film and television content, gaming, music, and live events. We operate in 40 locations and sell products in more than 150 countries in collaboration with the world's leading retail and technology companies. Since its founding in 1945, Mattel is proud to be a trusted partner in exploring the wonder of childhood and empowering kids to reach their full potential. Visit us online at www.mattel.com.
About WAX
The Worldwide Asset eXchange™ (WAX), aka the King of NFTs, is the world's #1 blockchain, as measured by number of users and transactions, according to Dappradar.com. WAX's mission is to bring NFTs to the mass market in the safest, most secure, environmentally friendly, and easy-to-use marketplace in the world. WAX is also the leading entertainment NFT network — in 2018, WAX