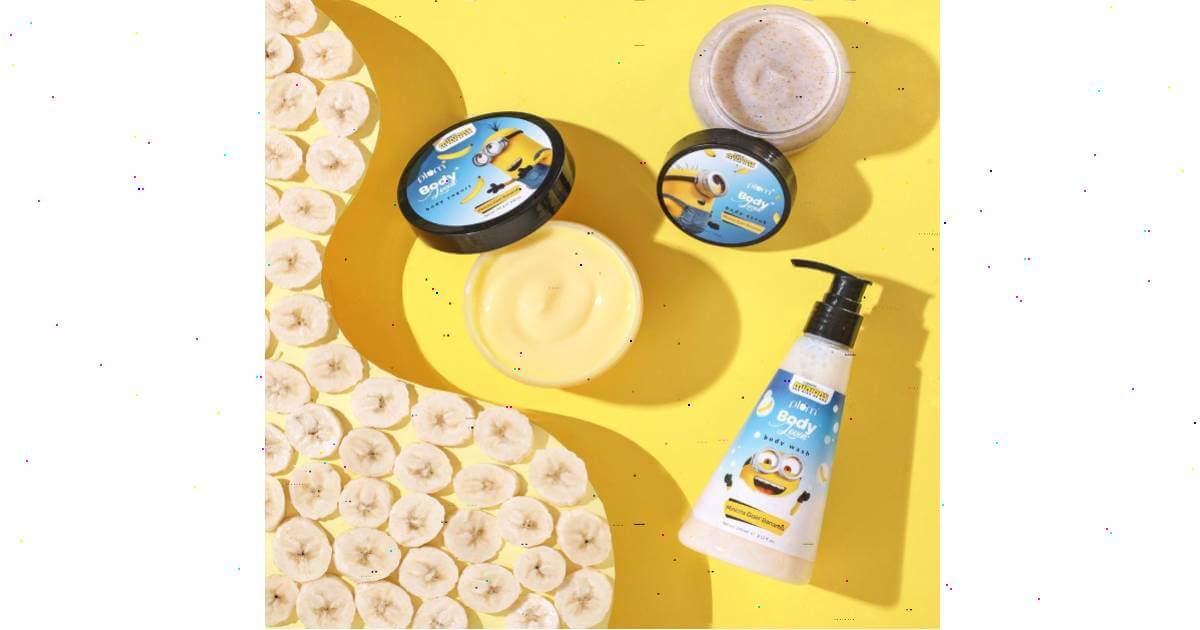 Plum BodyLovin' Launches Minions Goin' Bananas Bodycare Collection
Bello! If you're a Minion fan, you're in for a sweet treat with the latest collection by Plum BodyLovin'. Created in partnership with Universal Brand Development and licensing agent Black White Orange, the ever so quirky bath and body brand has launched the scrumptious looking Minions Goin' Bananas Bodycare Collection with Illumination's iconic Minions. Launching as a Limited-Edition collection, the body wash, body yogurt, and body scrub will transport you to a delightful banana paradise, in a jiffy. For those who are always on the lookout for fun, summery, innovative, of course, inspired by Minions pamper sessions, this collection will be hard to resist.
The Minion Goin' Bananas Collection, is all set to become your go-to body polishing trio, including:
Plum BodyLovin' Minions Goin' Bananas Body Wash: An oh-so-creamy sweet banana scented body wash that's sulphate-free, super-cleaning and deep-moisturizing for that soft, supple skin.
Plum BodyLovin' Minions Goin' Bananas Body Scrub: With finely crushed walnut powder, nourishing' oat oil & biodegradable cellulose beads, get ready to reveal your smoothest skin ever! This gentle exfoliating gel-cream scrub will make you want to keep touching your petal-soft skin! As smooth & slippery as a banana peel one could say.
Plum BodyLovin' Minions Goin' Bananas Body Yogurt: The ultimate body moisturizer a.k.a. aloe-infused banana body yogurt that, for real, cools your skin while giving it oodles of hydration. Looks & feels like banana gelato on the skin while being extremely quick absorbing and non-greasy.
The best part of the collection? The sweet and subversive Minions on the packaging, will bring joy to your summer. So, get yourself the best mood-booster & pamper sesh with this fab-smelling limited edition bath & body collection, because one can never have enough of the Minions OR bananas.
With the Minions franchise being one of the most loved & iconic franchises, of all time, by GenZ and millennials, the brand plans to tap into that audience with this one-of-kind collaboration while simultaneously, disrupting the bodycare market in India.
Shivani Behl, Chief Marketing Officer at Plum, sharing her thoughts on the launch, said, "We're thrilled to introduce India to our most exciting launch an collaborationyet i.e. Minions Goin' Bananas Bodycare.
With Plum BodyLovin', we're always looking for playful ways to bring joy to consumers & this banana & Minions-themed limitededition collection allows us to do exactly that while simultaneously establishing us as the most creative and fun bath and body brand championing never-before-seen concepts, in a cluttered market. We're particularly excited to market this collection in exciting new ways & explore newer marketing avenues & we're confident that the fans will love this new bath and body experience."
This exciting launch is backed by multiple marketing driven campaigns led by an innovative two-pronged influencer strategy –
First and foremost, to create awareness and consideration for the collection, Plum BodyLovin' is tying up with beauty mavens who have a strong millennial connect & subscriber base such as Sarah Sarosh, Mridul Sharma, Himadri Patel etc. who have previously used & loved Plum BodyLovin's offerings. Next, the brand is collaborating with undergrad & B-School content creators, at scale, to generate buzz & excitement around the launch with relatable & youthful content on Instagram. If you see bananas all over the internet, you'll know why.
About Plum BodyLovin'
Launched in June 2020, Plum BodyLovin' is a quirky bath & body brand by the immensely loved vegan beauty brand- Plum. Known as India's foremost 100% vegan personal care brand, Plum has always been at the forefront of spreading goodness in the world with its wide range of skincare, makeup and hair care products. With Plum BodyLovin', Plum has forayed into the bath & body market, but with a sassy & fab smellin' twist! We're talking 80+ exciting body care products in 12+one-of-a-kind yum fragrances & delightful sensorial experiences like never before. When Plum BodyLovin' says Bodycare never smelled SO GOOD, they mean business.
For more information, please visit https://plumgoodness.com/pages/plum-bodylovin
Follow us on Instagram:https://www.instagram.com/plumbodylovin/?hl=en