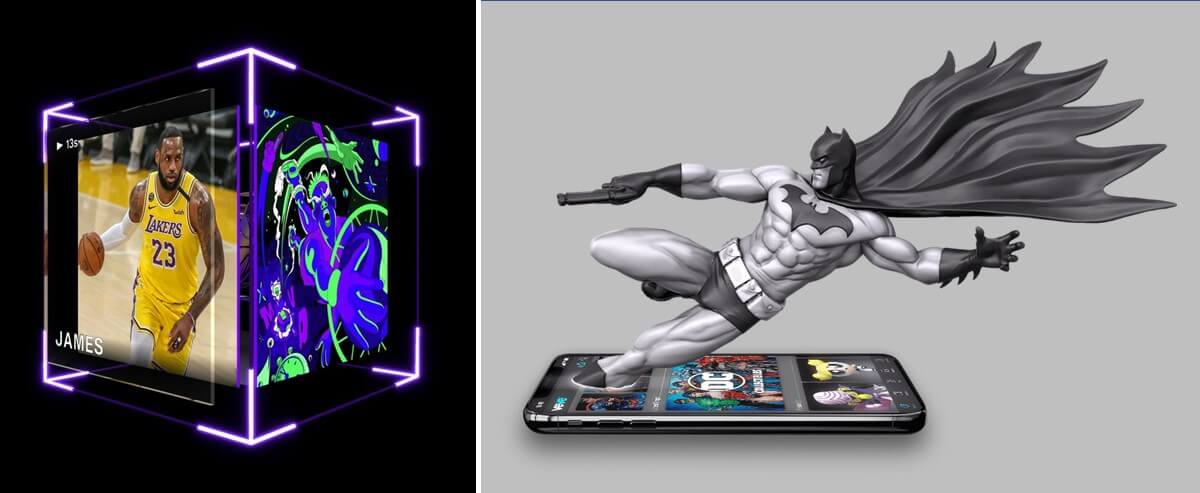 Technology Puts a New Spin on Business of Collectibles
It's a throwback of sorts, but with a thoroughly modern twist. Rather than lining up outside a store (remember those) for the latest fashion and footwear, consumers are queuing up on virtual lines for blockchain-based licensed digital collectibles.
Those collectibles, sold across marketplaces such as NBA Top Shot, Ecomi's VeVe and Exposition Park Holdings' Worldwide Asset Exchange (WAX), promise licensors not only higher return than for their physical counterparts, but also royalties on resales in the secondary market.
A $208K video clip?
In many respects, it's a combination of marketing and advanced technology. Bitcoin-based blockchains have been around for several years. But it wasn't until NBA licensee Dapper Labs launched NBA Top Shot last October that the digital collectibles market began to build, before exploding in recent weeks when a LeBron James video highlight was resold on Feb. 22 for $208,000 —  a sharp rise from its initial $100 purchase price.
The LeBron James collectible was assembled by Dapper using NBA video into a non-fungible token (NFT) — a virtual object whose identity, authenticity and traceability is indisputable, since it's secured on Dapper's Flow blockchain – a digital ledger of sorts.  Blockchain technology allows the NFTs to be publicly authenticated as one-of-a-kind or part of a limited edition
Getting a piece of the secondary sale
The lure, for licensors and collectors alike, is that the collectibles, in the case of NBA Top Shot's "moments", are sold in limited editions ranging from a single copy to more than 1,000 at prices that fluctuate in the secondary market based on demand and scarcity. The hook is that the digital "item" can be resold an unlimited number of times, with the licensor — in this case the NBA —  getting a 5% royalty on each sale.

The marketplaces apparently are substantial; Dapper says NBA Top Shots has posted $230 million in transactions since October with the bulk coming since January, involving more than 100,000 buyers.
The basic deal structure is similar to what's common in  other licensing businesses – a negotiated royalty and minimum guarantee. Ecomi Co-Founder Daniel Crothers says some royalty rates go as high as 30% on initial sales, though the average is closer to 15%. Those royalties may be artificially high based on the number of companies competing to establish themselves in a relatively untapped market. And licensees don't incur the typical manufacturing, shipping and other costs of physical inventory. In the case of Ecomi, if the licensor provides the assets fully formed in 3D, the royalty may be higher. If Ecomi supplies more of the work, it may be lower, says Crothers.
Even if a licensing agreement ends, payments to the brand owner's blockchain account will continue to accumulate on each resale of the collectible, says Eric Wood, CEO of dDominium and a co-founder of an early marketplace developer, Quidd Market, which worked with Funko and others. Wood's dDominium partnered with GIT Media Group to develop a marketplace that will launch in April-May starting with Valiant Entertainment properties including Bloodshot and Faith.
New consumers… and speculators
Licensors say digital collectibles represent a new way of connecting with a younger, millennial fan that eschews collecting physical products. The high selling prices also have attracted speculators more interested in profit potential than fandom. "I wouldn't say the behavior now [is] necessarily indicative of what is going to continue, but it is very encouraging that people are doing a lot of collecting," says Crothers. "You have hard core collectors that have to have everything in a set and the more casual user who might buy 1-2 items a year because they are a fan of the character or brand."
"We are unsure of the full potential, but the market has proven that there is an appetite, especially among fans and collectors, for digital products," says Russell Brown, President of Consumer Products and Promotions at Valiant Entertainment. "Why are we here if not to serve fans with exciting new offerings to support their interest in our IP through innovation and technology, just as we do with our print product."
Other marketplaces are emerging.  Ecomi's VeVe launched on Dec. 20 with a mix of Cartoon Network, DC Comics and other properties that have so far attracted 12,000 users, some of whom have assembled collections of products in "showrooms" that the service provides for the 3D digital sculptures, says Crothers. Some initial users have built collections of up to 185 items. VeVe's products are priced at $9-$100 depending on the size of the "production" run (200-5,000 units) but have fetched up to $1,000 on the secondary market, such as for a Ghostbusters Gold Mooglies logo, only 188 of which were released at $89 each.
Technology in the background
To reach the mass market, Crothers says, the technology that underpins the business has to be "in the background. For our audience, we don't want anyone to have to go through a learning curve so they can come in buy the same way they would with an in-game app."
Among recent developments in digital collectibles: