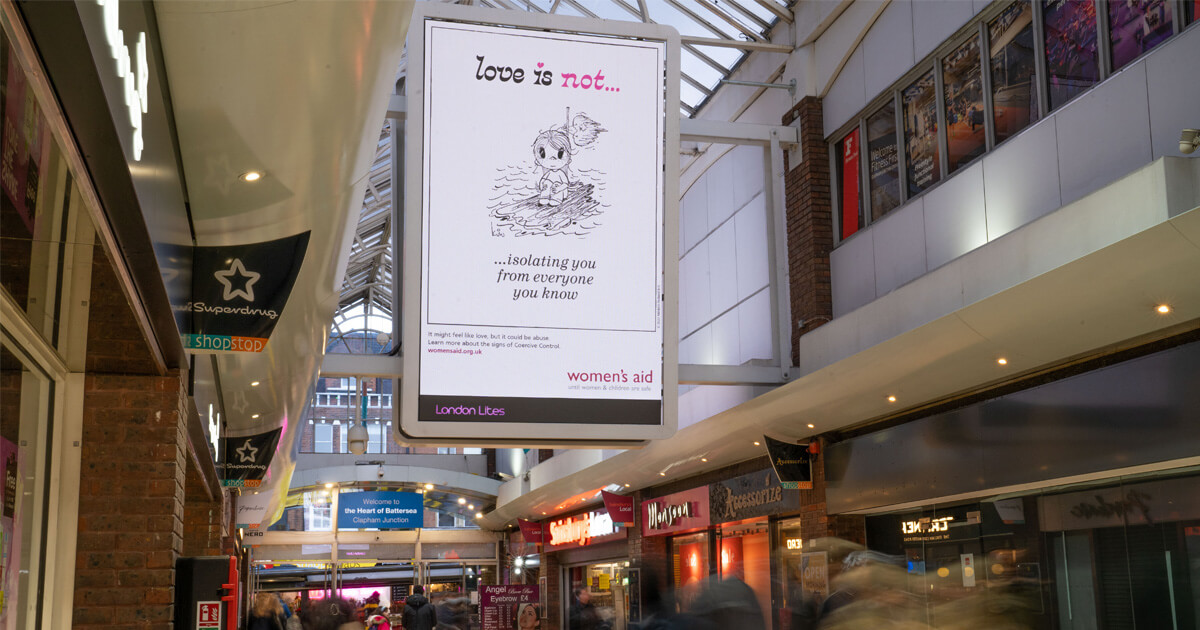 'Love Is…' features in Women's Aid campaign
The initiative, devised by Engine Creative, highlighted what 'Love is Not…', reaching 16.5 million impacts
Rocket Licensing has collaborated with Engine Creative and Women's Aid for a pro bono marketing campaign using iconic illustration brand, 'Love Is…' The brief for the artwork was to disrupt people's expectations of Valentine's Day, and educate consumers on the signs of unhealthy relationships and coercive control, twisting the instantly recognised 'Love Is…' illustrations into a 'Love is Not…' message.
The Digital Out of Home (DOOH) and social media initiative ran nationwide on Valentine's Day at prominent sites, with some continuing throughout the week, and was also promoted via 43 key influencers' social media platforms. Throughout the week, the campaign reached an enormous 16.5 million impacts.
A successful campaign from Women's Aid made coercive control illegal in December 2015, but records of the abuse have been steadily rising, according to the charity. Police recorded 24,856 offences in England and Wales in the year ending March 2020, a rise of 50% on the previous year.
The pandemic has further exacerbated the problem, with a 41% increase in users visiting the Women's Aid Live Chat site to seek help on the issue in the first two weeks of lockdown alone.
Rocket Licensing, which manages the UK rights for 'Love Is…', worked with global rights owners, J&M Brands, for approval on the artwork used in the collaboration.
Engine's 'Love is Not…' creative is born from the agency's Truth and Friction creative philosophy, which pits the 'truth' against 'friction' to tell a story. The truth in this campaign being that many people mistake controlling behaviours for love; while the friction built around subverting the norms of traditional Valentine's Day imagery.
Engine Creative's Christopher Ringsell, commented: "These playful but hard-hitting executions illustrate what love is not… After all, love does not mean repeatedly putting you down, telling you they'd die without you, or controlling where you are. We were honoured to bring the iconic 'Love Is…' illustrative brand back this Valentine's Day, but with a new twist. These cartoons have been adored for decades; by subverting them, we are able to provide a simple way to education audiences about coercive control."
Farah Nazeer, Chief Executive of Women's Aid, said: "This campaign helps spread the vital message that many behaviours commonly perceived to be romantic – such as jealousy, demanding constant contact, and somebody wanting you all to themselves – are actually dangerous. Domestic abuse isn't just physical: perpetrators use controlling behaviour to make a person dependent by isolating them from support, exploiting them, depriving them of independence and regulating their everyday behaviour. Coercive control creates invisible chains and a sense of fear that pervades all elements of a survivor's life. Women's Aid will challenge this abuse, help survivors recognise it, and continue to transform the lives of so many women."
Melissa Satterly, Brand Manager, Rocket Licensing, added: "We were honoured to work with Women's Aid on this campaign and use the iconic 'Love Is…' illustrations in such an impactful campaign to portray this incredibly important message. The 'Love Is…' brand was born from a series of love notes that cartoonist Kim Grove drew for her future husband, and from a place of true love. So if they can help people understand the true meaning of what love is and what it isn't, the origins of the brand are being truly bought to life with this brilliant initiative."
About Rocket Licensing
Fifteen years old and one of the UK's leading award winning licensing agents, Rocket Licensing represents a diverse and focused roster of brands that spans entertainment, preschool, heritage, lifestyle and specialist interest properties. Rocket's portfolio currently manages UK licensing programmes for an array of leading entertainment studios and licensors including: Bapper; Beano; Studios; Bob Ross/Firefly; BocPix; Eastman Kodak Co; The European Space Agency (ESA); Hat Trick International; Kiri and Lou Ltd; Kyandi, Legendary; Metro-Goldwyn-Mayer Studios (MGM); Peckings; Scholastic/Horrible Histories; The Joester Loria Group/Eric Carle; The Lumistella Company; Timbuktu Labs; Toho International and Yakka Dee! Ltd. For more information, please visit www.rocketlicensing.com
Image by Rapport.